Recipes
Sesame Teriyaki Cauliflower
by Iona Berry
4min read
Most of us grew up with meat as the hero of our meals and with vegetables taking up the mere corners of our plates. It can be hard to know where to start if you're trying to flip the script and cook plant based meals that don't feel like just eating a plate full of sides. Building an exciting, yet satisfying meal around vegetables - whether that's a bunch of carrots or a humble head of cauliflower - can sometimes feel like a little daunting and underwhelming task. 
Our new series, Veg and Two Veg is here to tackle just that and to explore all of the ways in which every day vegetables can be the star of the table without sacrificing flavour or heartiness. Whether you're cooking for one or cooking for a bunch, these recipes will fill your table with vibrant, deeply flavoured and satisfying dishes that you'll be making on repeat.
This sticky, salty yet still sweet cauliflower recipe is a complete game changer. It has a crunchy coating that tastes like it's been deep fried, but actually the panko breadcrumbs crisp up excellently in the oven so no need to deep fry. It can be on the table in just over 30 minutes which makes it the perfect addition to a week night feast.
This vegan cauliflower dish is great served with a zingy coleslaw and quick pickled carrots. I have also tried using desiccated coconut in the panko coating and that has been a great addition (especially if you don't like sesame or have an allergy).The teriyaki sauce is also really easy to make, but if you don't feel like making your own then store bought will work absolutely fine. I think the tahini works really well as a binding ingredient as it's quite sticky, which means that the panko coating sticks to it really well and creates a delicious crunchy coating.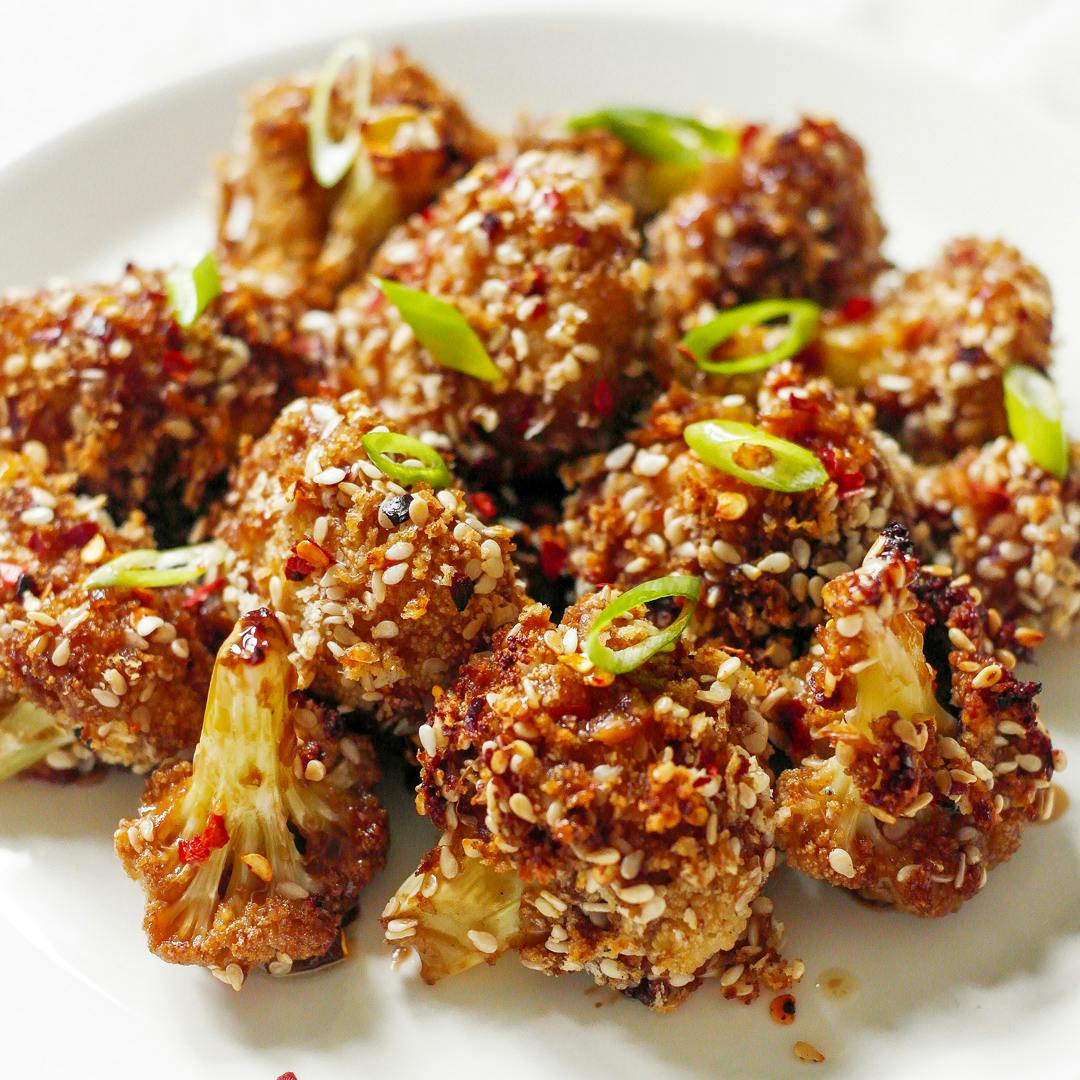 Ingredients
Cauliflower Marinade 
1 head of cauliflower (roughly 500g) 
50g tahini 
50ml water 
120ml teriyaki sauce 
A drizzle of oil 
Cauliflower Coating 
30g white sesame seeds
30g black sesame seeds
10g red pepper flakes (or chilli flakes if you prefer more of a fiery flavour) 
150g panko breadcrumbs 
Extra teriyaki for drizzling 
Teriyaki Sauce (Optional, makes roughly 400ml teriyaki sauce)
85ml tamari or soya sauce 
350ml water
75g molasses sugar (you could use a different sugar or maple syrup)
15ml (1 tbsp) white wine vinegar or rice wine vinegar 
2 cloves garlic, finely minced 
15g (tbsp) ginger, minced 
10g arrowroot 
30ml water 
Method
STEP 1
Heat oven to 220C/200C fan/gas 7, line a baking sheet with baking parchment.
STEP 2
To make the teriyaki sauce, add the sugar, water, soya sauce or tamari, ginger and garlic to a small saucepan. Slowly heat the mixture until the sugar dissolves and then let it simmer for 5 minutes. Make a slurry with your extra water and arrowroot, taking care to dissolve the arrowroot until you have a milky but smooth liquid. Slowly whisk in the arrowroot slurry to the saucepan (it should noticeably thicken the sauce). Take off the heat and allow to cool at room temperature (or in the fridge if you are in a hurry).
STEP 3
Mix the sesame seeds, red pepper flakes and panko breadcrumbs together with a pinch of salt & black pepper. Whisk the tahini, water and teriyaki sauce together until smooth. Coat the cauliflower in the wet mixture and then piece by piece put the cauliflower into the dry ingredients. Make sure the cauliflower is covered in the coating and then place each piece on the lined baking tray.
STEP 4
Bake for 20 mins. Once done remove the tray and drizzle over a few tablespoons of teriyaki sauce and return to the oven for a final 5 minutes. Garnish with fresh red chillies & finely chopped spring onions and drizzle over even more teriyaki sauce! This dish is great served with sticky rice, some wok fried greens or on top of a noodle stir fry.
---
By Iona Berry
Iona is our Development Chef, aka our go-to girl for developing, testing and tasting delicious dishes for you to all enjoy at home. When she's not in the kitchen, you'll find her either running or cycling, or trying out food markets and new restaurants around London. Continuous market research it would seem.
---
Let us take care of dinner
After getting creative in the kitchen, give yourself the weekend off by letting us take care of dinner. Check out our delicious meals here.