Recipes
Spicy Creole-Caribbean Potato Salad
2min read
There are few things that prove summer has arrived more than a growing desire to make a potato salad. Minimal stovetop time (much needed for the random heatwave we seem to get every year), moreish, and great eaten cold, this easy recipe is smoky, tangy and puts your spice cupboard to great use. 
This potato salad recipe combines elements of Cajun-style cooking and potato salad by way of seasoning, with a typical Caribbean potato salad. The homemade Creole seasoning gives the salad a smoky, earthy flavour, with a nice kick thanks to some generous shakes of Tabasco hot sauce and a dash of cayenne. Feel free to amend these two ingredients to give your salad either more or less of a kick. The dressing also contains wholegrain mustard as opposed to Dijon mustard, to get the coarse texture typically found in Creole mustard like Zatarain's (a Southern staple). These key ingredients of a Creole potato salad are excellent when mixed with some of the staples found in a Caribbean-style salad – quick pickled shallots, finely chopped red bell pepper, celery and spring onion – for added texture and extra brightness. (Also, side note: I don't believe in leaving the potato in very big chunks, because the way I see it, the smaller the piece of potato, the bigger the surface area that gets coated in the tasty dressing.)
It's pretty apparent why this potato salad is such a hit at barbecues and picnics – it combines the comfort and simplicity of a classic potato salad with the brightness and freshness of both Caribbean and Southern cooking. Not that anybody asked, but I for one will be going back for thirds.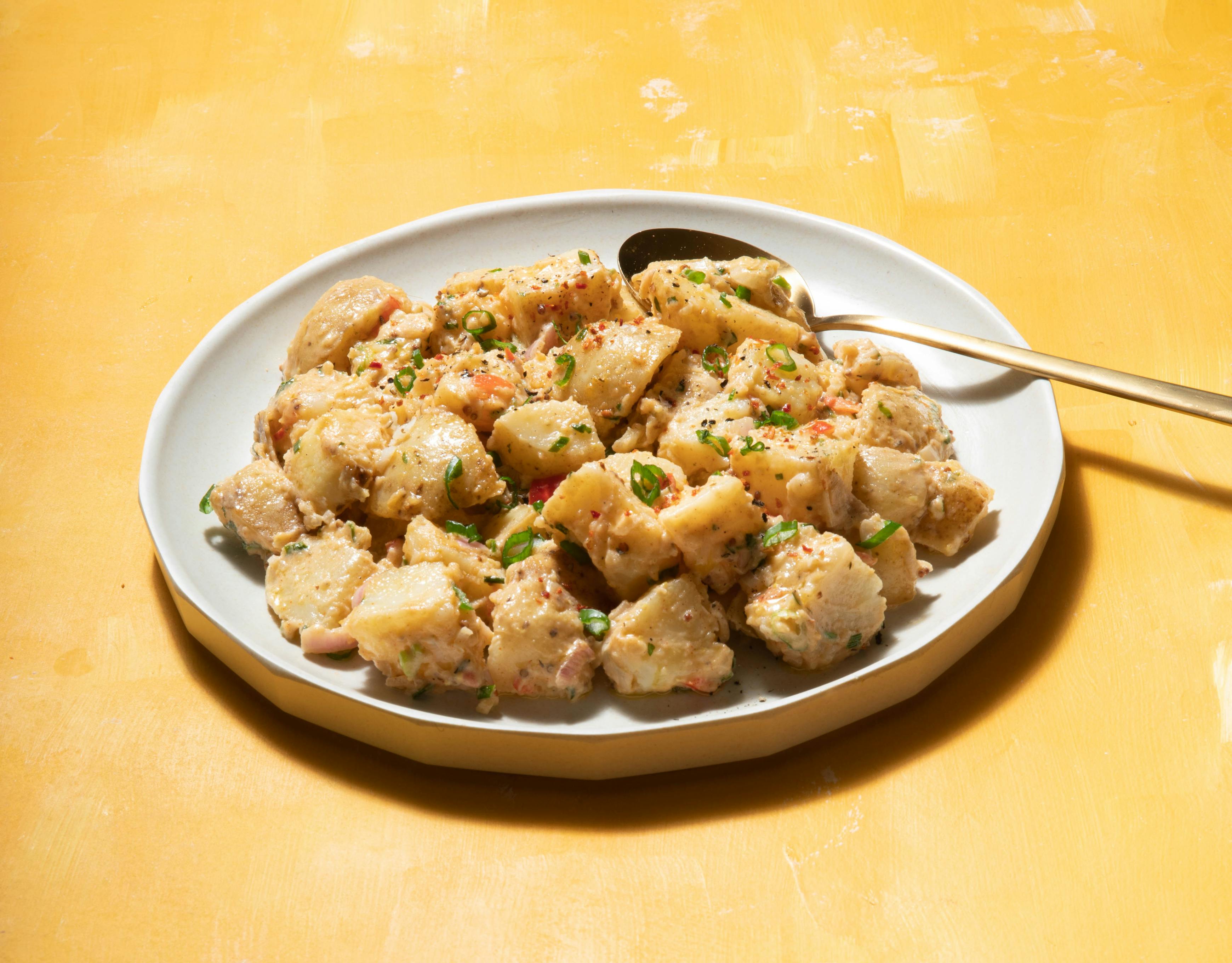 Ingredients
1kg Potatoes, Maris pipers work well for this
150g vegan mayo, or 2 ½ tbsp
1 tbsp apple cider vinegar
½ lemon
1 tsp sugar
2 shallots
½ small red bell pepper
1 celery stalk
Bunch of parsley
Bunch of chives
2 spring onions
1 tsp paprika
½ tsp onion powder
½ tsp garlic powder
½ tsp cayenne pepper
½ tsp thyme
½ tsp black pepper
½ tsp oregano
½ tsp Tabasco sauce
Pinch of salt
Method
STEP 1
Start by prepping your potatoes. Cut them up into chunks and boil them until fork tender, which should take around 10 minutes.
STEP 2
While the potato is boiling, finely chop up your shallots. Add them to a small bowl with a tablespoon of apple cider vinegar, a teaspoon of sugar, and a pinch of salt. Put aside to lightly pickle. 
STEP 3
By the point, your potatoes should've finished boiling. Remove them from the hob, drain the water, and leave them to cool.
STEP 4
In a large bowl, add mayo, mustard the juice of ½ a lemon and all your spices together, and mix well. 
STEP 5
Roughly chop your spring onion, chives, and parsley, and add to the dressing.
STEP 6
Finely chop your red bell pepper and celery, and add to the dressing alongside the now lightly-pickled shallots, mixing it all in well. Add in a few dashes of Tabasco sauce to your preferred heat level. 
STEP 7
Once the potatoes have cooled, add them to your bowl with the dressing and mix, ensuring each piece of potato is coated.
STEP 8
Garnish with chilli flakes, black pepper, and extra spring onion. Serve and enjoy! 
---
By Toni Olukiran
Toni is one of our lovely Content Marketing Assistants, and when she's not writing posts about everything from Jamaican cooking to vegan champagne, she's making a Spotify playlist (she was at 200, at her last count) or playing tennis in the park.
---
Let us take care of dinner
After getting creative in the kitchen, give yourself the weekend off by letting us take care of dinner. Check out our delicious meals here.