Recipes
Spicy Vegan Mushroom Ragù
6min read
This vegan mushroom ragu is spicy, earthy and creamy. It uses different types of mushrooms - including fresh and dried - to create layers of deep and rich mushroom flavour, which are then balanced by the sweetness of carrots and leeks as well as by the acidity of white wine and tomato paste. 
If you've made our recipe for vegan bolognese, the method of this ragù might feel familiar. Both recipes use a soffritto and finely chopped mushrooms to achieve a silky and flavourful sauce reminiscent of the classic meat-based ragu. But whilst that recipe uses mushrooms as its texture base, this one really celebrates and leans into them. Basically, it's an extremely mushroom-forward sauce that benefits from as many different types of mushrooms you can get your hands on, each contributing something different both texture and flavour wise. If you can't get your hands on a variety of mushrooms, using just button mushrooms along with dried porcini mushroom - which bring depth and punchiness to the sauce - will still create a delicious ragu.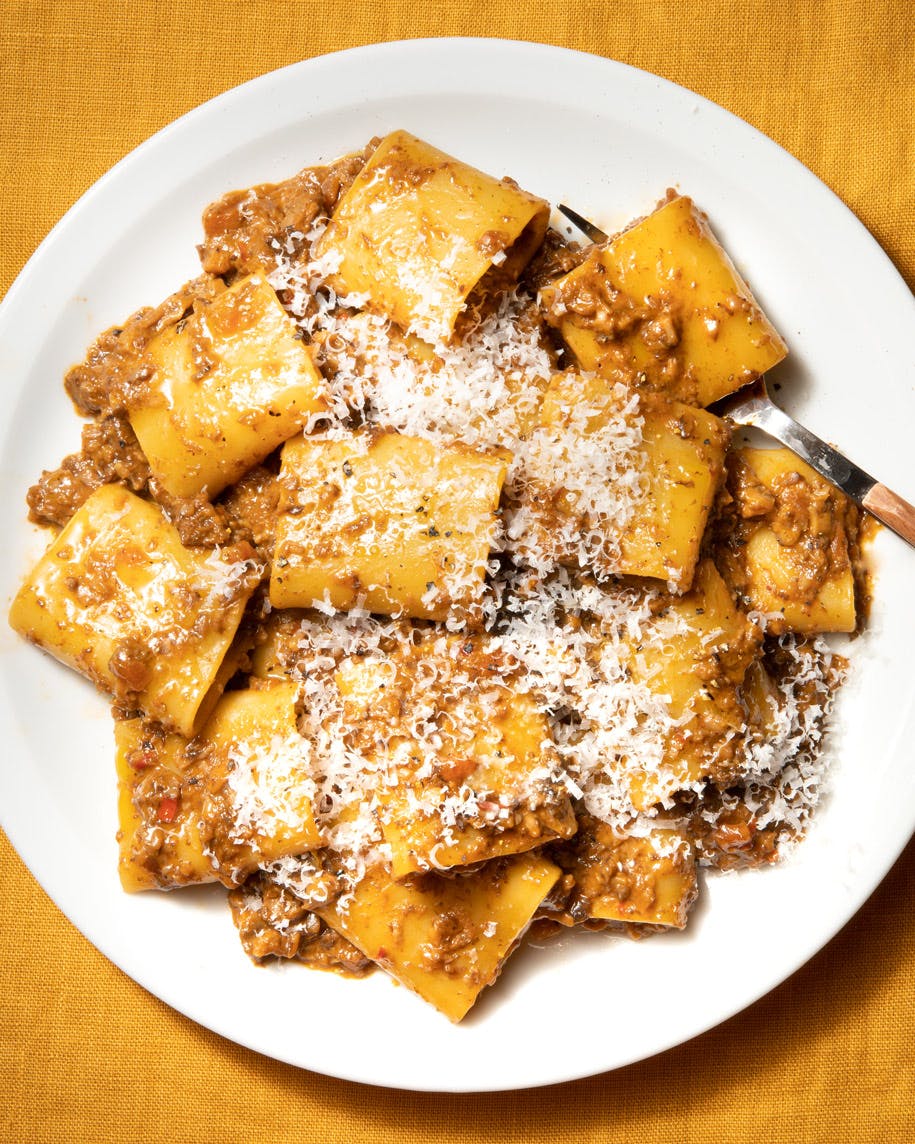 Ingredients
3 tbsp (45g) olive oil
1 leek (around 100g)
2 carrots (around 100g)
2 cloves garlic, smashed
2 chillies, finely chopped
1 tsp salt, divided
450g mixed mushrooms (we used button, oyster and shiitake)
350ml vegetable stock 
20g dried porcini mushrooms 
50ml white wine 
20g tomato paste 
250ml plant based cream
400g pasta
Method
STEP 1
Start by preparing the vegetables. Finely mince the leek and carrots by hand, or use a food processor to pulse them until minced. 
STEP 2
Heat the olive oil in a large saucepan over medium heat. Add the minced leeks and carrots and a big pinch of salt, and stir to coat them in the oil.
STEP 3
Cook the leeks and carrots for 14-16 minutes - adding the garlic and chilli half way through - until the leeks and carrots have halved in size and are sticking to the bottom of the saucepan. 
STEP 4
Working in 2-3 batches, place the mushrooms into a food processor and pulse them until they're finely chopped. If you don't have a food processor, you can do this by hand. 
STEP 5
Add the mushrooms to the saucepan, stir to coat them in oil, sprinkle them with salt and cook them down for 16-18 minutes, until they've visibly reduced in size and darkened. 
STEP 6
While the mushrooms cook, combine the vegetable stock and porcini mushrooms in a small saucepan. Bring the stock to a boil, then turn off the heat. Let the porcini mushrooms soak and soften in the stock for around 15 minutes. Set the stock aside. 
STEP 7
Once the sautéing chopped mushrooms have cooked, add the white wine to the saucepan and cook it for 2-3 minutes. Next, stir in the tomato paste and cook it for 4-5 minutes.
STEP 8
Last, stir the vegetable stock (and porcini mushrooms), plant based cream, and a big pinch of salt into the mushrooms.
STEP 9
Simmer the ragù over medium low heat for 25-30 minutes, until it is thick and rich. Taste for seasoning, and adjust to taste. 
STEP 10
Cook the pasta in salted boiling water until al dente, then transfer it into the ragu along with 100ml of pasta water.
STEP 11
Stir the pasta into the ragù over medium heat for 3-4 minutes, until the pasta is glossy and fully coated in the ragu.
STEP 12
Serve the pasta topped with freshly ground black pepper, a drizzle of olive oil and vegan parmesan (optional). 
---
By Valentina Concordia
Valentina is our Food Editor, who dreams up our tasty dishes and recipes for our social channels. She has loads of experience cooking up a storm in Italian kitchens, so it's no surprise she can't live without good-quality olive oil (don't come between her and her olive oil) and fresh pasta.
---
Let us take care of dinner
After getting creative in the kitchen, give yourself the weekend off by letting us take care of dinner. Check out our delicious meals here.