Recipes
Sticky Sesame Tofu
4min read
This sticky sesame tofu is reminiscent of the very best, crispiest and stickiest Chinese takeaways. The tofu here is torn into pieces rather than sliced - which creates more surface area to crisp up - then coated in cornstarch and pan fried before being tossed in a savoury and sweet sauce. The result is very crispy, teriyaki-like tofu that is satisfying, moreish and very hard to put down.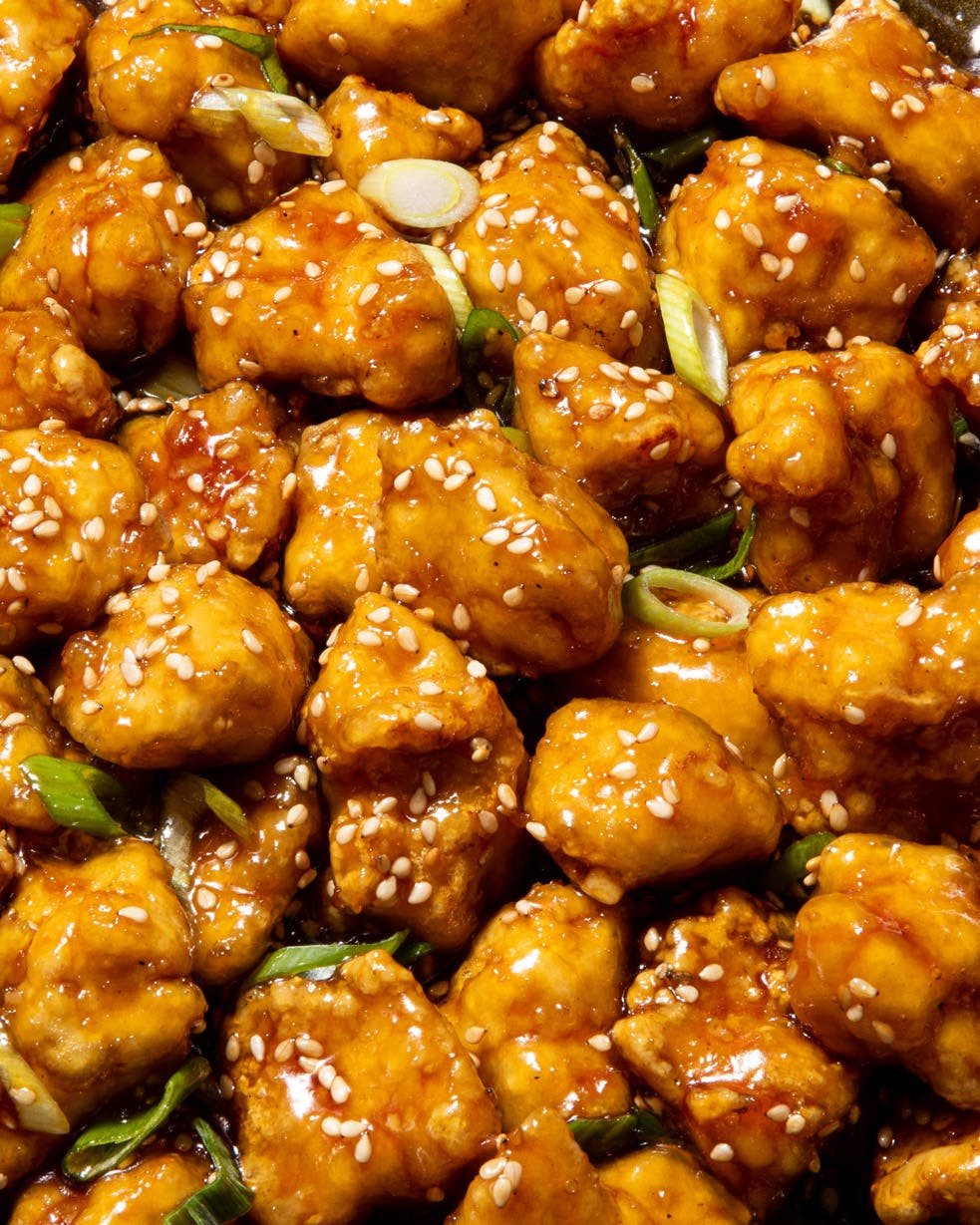 Ingredients
Tofu:
500g firm tofu, patted dry
60g cornstarch
½ tsp salt
4 tbsp (60ml) oil 
Sauce:
1 tbsp oil 
40g ginger, finely chopped
3 cloves garlic, finely chopped
80g soy sauce
40g mirin 
40g maple syrup
30g rice wine vinegar 
5g cornstarch 
60ml water
To serve:
1 tbsp sesame seeds
2 spring onions, finely chopped
Method
STEP 1
Start by preparing the tofu. Use your hands to break the tofu into small and irregular chunks - the more rough edges the better, as all of those craggly sides will crisp up and create a crunch. 
STEP 2
Add the tofu pieces into a large bowl. Sprinkle the cornflour and salt into the bowl, and use your hands to toss it into the tofu, until it's fully coated. 
STEP 3
Heat 2 tbsp of oil in a wok or large frying pan over medium heat. Add half of the tofu pieces, and fry them for 8-10 minutes, stirring every couple of minutes, until they're golden brown on each side.
STEP 4
Remove the tofu from the pan, and add 2 tbsp of oil back into the pan. Add the remaining tofu, and repeat the frying process until the second batch of tofu is crispy. 
STEP 5
Next, make the sauce. Heat 1 tbsp oil in a pan over medium heat, then add the chopped ginger and garlic. Sauté the ginger and garlic for 4-5 minutes, until soft. 
STEP 6
Whisk in the soy sauce, mirin, maple syrup and rice wine vinegar. Bring the sauce to a simmer and cook it for 6-8 minutes. 
STEP 7
 In a small bowl, whisk together the cornstarch and water to make a slurry. Pour the cornstarch slurry into the sauce, and whisk for 4-5 minutes over medium heat as the sauce thickens. Taste for seasoning and adjust, adding more soy sauce or maple syrup to taste.
STEP 8
Pour the sauce over the tofu and stir it into the tofu for 2-3 minutes, until it's fully coated.
STEP 9
Stir in the sesame seeds and spring onions. Serve the tofu with rice, topped with extra spring onions. 
---
By Valentina Concordia
Valentina is our Food Editor, who dreams up our tasty dishes and recipes for our social channels. She has loads of experience cooking up a storm in Italian kitchens, so it's no surprise she can't live without good-quality olive oil (don't come between her and her olive oil) and fresh pasta.
---
Let us take care of dinner
After getting creative in the kitchen, give yourself the weekend off by letting us take care of dinner. Check out our delicious meals here.