Recipes
Sweet Potato and Black Bean Jamaican Curry
6min read
Super fragrant and deliciously savoury, this creamy curry combines comfort food with spice in true island style.
Jamaicans are all about their aromatics and spices, which is the foundation of this curry. This is why it's important to use specifically Jamaican curry powder, as the blend is naturally different to other curry powders of other cuisines. I would recommend Dunn's River, which I use, and is available at most supermarkets. Tropical Sun and Grace's curry powders are also great if you can find them. Like lots of curries, this can be versatile, too. You can swap out the sweet potato for maris pipers or butternut squash, or maybe play around with the black beans and use butter or kidney beans.
Jamaican curry has always been a staple in my house. I started making this in my final year of university when I was missing my mum's cooking, so to me it is the ultimate comfort food! It's creamy, a little sweet and it's got a kick to it, so I hope you enjoy this little taste of the island!
No time to cook? Shop our range of delicious, chef-prepared curries here - ready to heat and eat in minutes.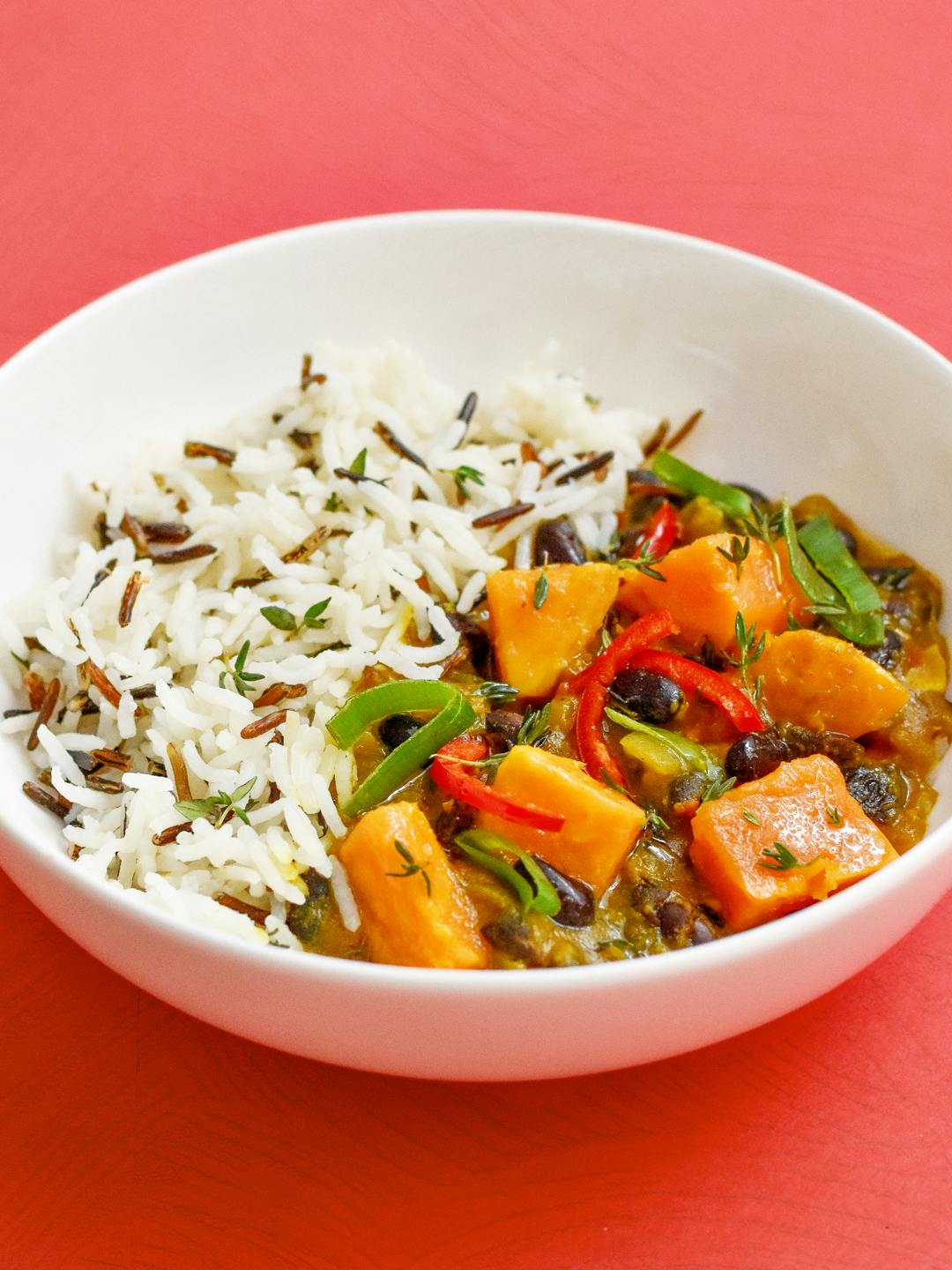 Ingredients
For the curry
1 large sweet potato
400g can of black beans
3 garlic cloves
1 knob of ginger, minced
1/2 spring onion
1 medium tomato
½ red chilli
½ brown onion
400g coconut milk
2 tbsp Jamaican curry powder
1 sprig of fresh thyme
1 red pepper
1/2 vegetable stock cube or bouillon
Cayenne pepper
Black pepper
To Serve:
400g wild rice
Chopped spring onion, for garnish
Fresh thyme leaves, for garnish
Chopped red chilli, for garnish
Method
STEP 1
Roughly chop your garlic cloves, ½ brown onion, ½ of a spring onion and fry in a pot using a neutral oil for about 3 minutes. Add in your minced ginger and stir.
STEP 2
Chop up your tomato and red pepper into chunks and add to the pan, leaving to fry until the tomato starts to lose its colour and the onion begins to caramelise.
STEP 3
In the meantime, peel and chop your sweet potato into chunks and boil in a separate saucepan, until it becomes tender but not mushy. This should take around 6-7 minutes. Drain the water and set aside.
STEP 4
Add 2 tablespoons of your Jamaican curry powder to your pot. Deseed your red chilli and chop finely, then add it to the pan. Stir for a minute before adding your coconut milk, fully combining the milk with the spices.
STEP 5
Stir in ½ vegetable stock cube. Add a couple of thyme leaves and your drained black beans, and let simmer for 10 minutes. 
STEP 6
While the curry is simmering, prepare your wild rice and leave to boil.
STEP 7
After 10 minutes, stir your curry and add some cayenne pepper to taste, as well as a little salt and black pepper. Add the sweet potato back in the curry and leave to simmer for another 2 minutes.
STEP 8
Serve with the wild rice, and garnish with some chopped spring onion, red chilli and sprigs of fresh thyme, and don't be afraid to come back for seconds!
---
By Toni Olukiran
Toni is one of our lovely Content Marketing Assistants, and when she's not writing posts about everything from Jamaican cooking to vegan champagne, she's making a Spotify playlist (she was at 200, at her last count) or playing tennis in the park.
---
Let us take care of dinner
After getting creative in the kitchen, give yourself the weekend off by letting us take care of dinner. Check out our delicious meals here.
Shop now