Recipes
Sweet Potato and Date Salad
4min read
A sweet, savoury, crunchy and creamy sweet potato salad that will keep you full, satisfied and happy through to dinner. Due to its resistant and robust components - including dates, walnuts, and cannellini beans - it lasts for hours in a tupperware without wilting, making it an ideal picnic and lunch-al-fresco candidate.
Aside from it's favourable non-wilting qualities, this salad is also extremely adaptable to whatever you have on hand. You can easily swap the sweet potatoes for squash or pumpkin, with similar results, or you can go wild and swap them for turnips, swede or regular potatoes. The end result will be different, but delicious nonetheless. If you're not a fan of dates, you can swap them for dried figs or dried apricots. And last but not least, if you don't have any cannellini beans on hand, feel free to sub them for any other white bean or chickpeas.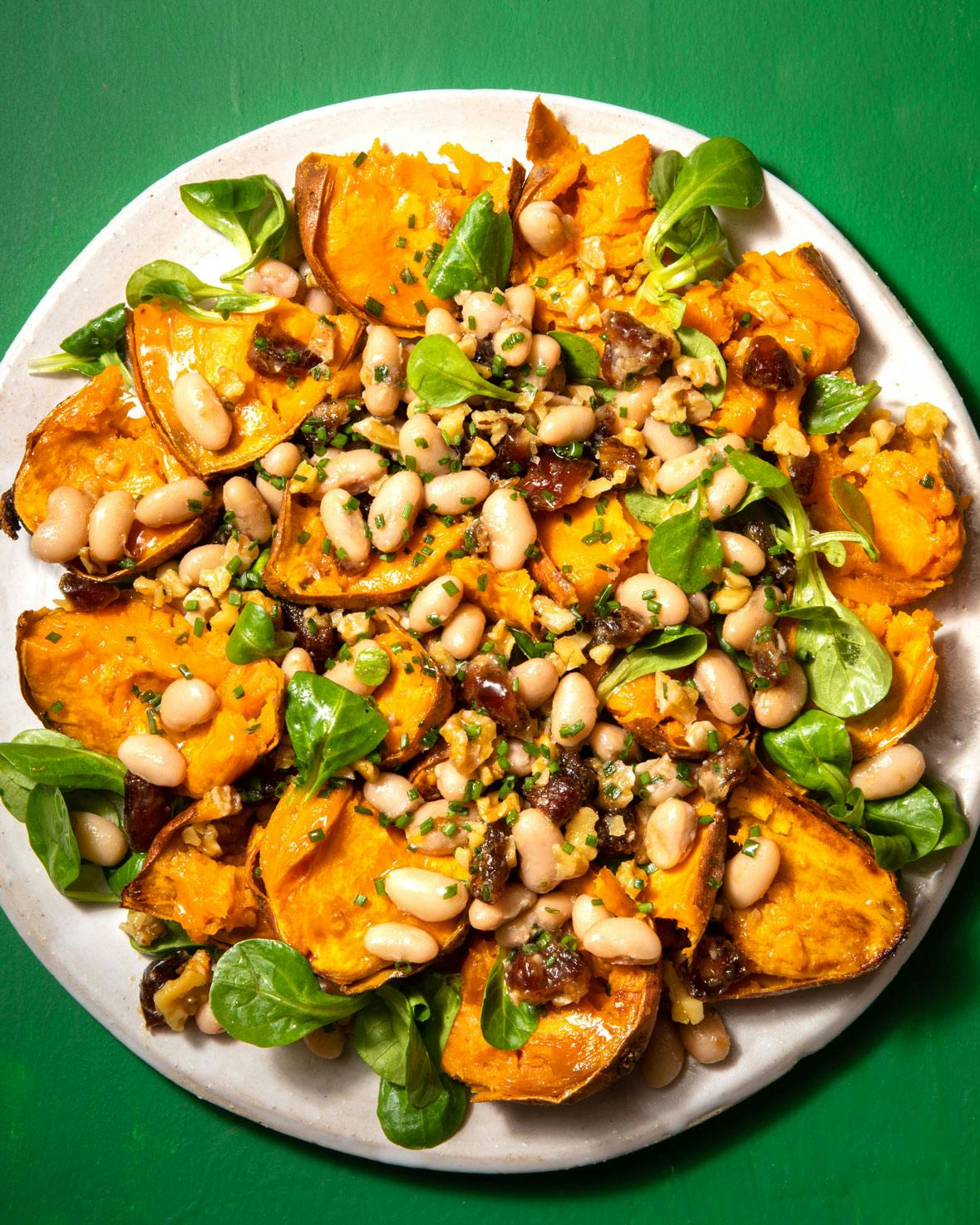 Ingredients
900g sweet potatoes (7-8 small)
80g walnuts 
100g dates, pitted 
1 x 400g tin cannellini beans 
1 + 3 tbsp olive oil, separated
1 lemon, juiced
½ + ½ tsp salt, separated
10g chives, chopped 
100g lambs lettuce or rocket
Method
STEP 1
Preheat the oven to 190˚C fan/210˚C conventional.
STEP 2
Wash, scrub and then dry the sweet potatoes. Slice them in half lengthwise, poke them with a fork, then transfer them to a large baking tray. 
STEP 3
Rub them 1 tbsp of olive oil and sprinkle them with ½ tsp salt. 
STEP 4
Bake the sweet potatoes for 35-40 minutes, turning them around half way through, until they're very soft and crisp around the edges. Remove them from the oven and let them cool down. 
STEP 5
While the sweet potatoes cook, prepare the remaining ingredients. Place the walnuts in a pan and toast them over medium heat for 5-6 minutes. Transfer them onto a cutting board, and chop them up. Next, chop the pitted dates. 
STEP 6
Add the walnuts and dates to a large bowl. To that bowl, add 2 tbsp of olive oil, ½ tsp salt, and the juice of a lemon. Toss to combine the dates and walnuts in the oil. 
STEP 7
Next, drain and rinse the cannellini beans. Add them to the bowl, and stir them through the date and walnuts. 
STEP 8
Last, fold in most of the chopped chives, reserving a tbsp for serving. Taste for seasoning, and adjust to taste - adding more salt or lemon juice to taste. 
STEP 9
When you're ready to serve the salad, fold the lettuce into the bowl with the beans, dates and walnuts. 
STEP 10
Slice the sweet potatoes in half, then lay them on a plate. Top them with the bean mixture. Serve the salad topped with extra chives and a squeeze of lemon. 
---
By Valentina Concordia
Valentina is our Food Editor, who dreams up our tasty dishes and recipes for our social channels. She has loads of experience cooking up a storm in Italian kitchens, so it's no surprise she can't live without good-quality olive oil (don't come between her and her olive oil) and fresh pasta.
---
Let us take care of dinner
After getting creative in the kitchen, give yourself the weekend off by letting us take care of dinner. Check out our delicious meals here.