Recipes
Tomato, White Bean and Pitta Salad
4min read
This tomato salad tastes like summer on a plate and is about to become the quick dinner you'll be making all summer long. The tomatoes here are first salted (to remove excess moisture) and then tossed with creamy white beans, crispy pitta chips, basil and a sweet and bright tomato-y vinaigrette, made with the liquid left behind from the tomatoes.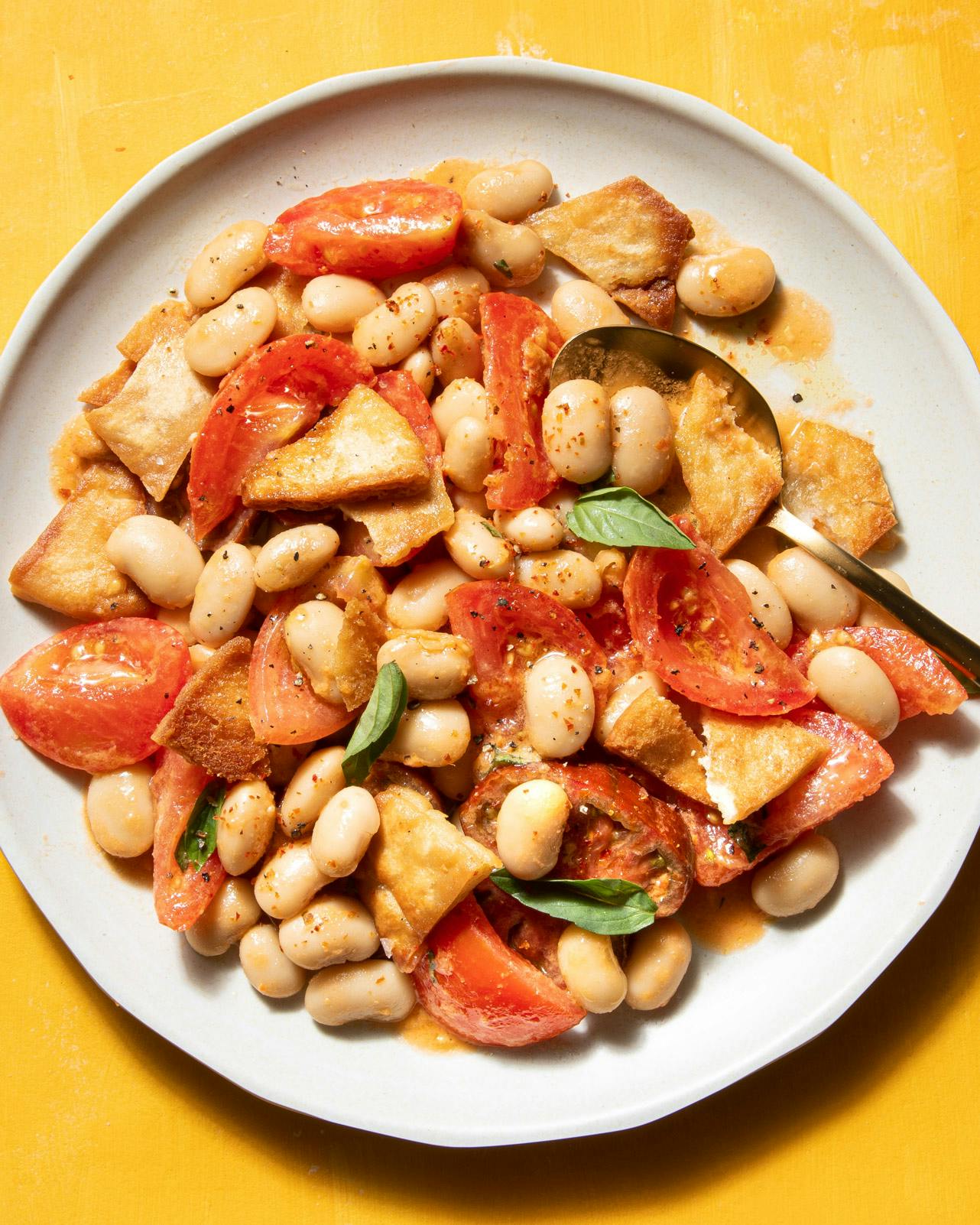 Ingredients
Salad:
550g ripe tomatoes 
1 tbsp + ½ tsp salt, divided 
100g pitta bread
3 tbsp olive oil 
240g good quality white beans
5g basil, torn 
Dressing:
50ml olive oil
2 tbsp white wine vinegar
1 clove garlic, peeled
Method
STEP 1
Preheat the oven to 180˚C fan/ 200˚C conventional.
STEP 2
Next, prep the tomatoes. Slice the tomatoes and add them to a bowl. Sprinkle them with 1 tbsp of salt, and use your hands to massage the salt into the tomatoes. Let them sit for at least 30 minutes. 
STEP 3
In the meantime, prepare the pitta chips. Use a knife to slice the pitta bread into roughly 2x2cm pieces and add them to a baking tray. 
STEP 4
Drizzle the pitta bread with 2 tbsp olive oil and ½ tsp salt, and use your hands to toss the pitta, oil and salt together. Bake the pitta for 12-14 minutes, until golden and crisp. 
STEP 5
Set a colander over a bowl and drain the tomatoes, reserving the water the tomatoes leave behind, which will be used to make the dressing. 
STEP 6
Add the drained tomatoes to a bowl, along with the white beans and basil. 
STEP 7
Next, make the dressing. Add the olive oil and white wine vinegar to the reserved tomato water and whisk the ingredients together. 
STEP 8
Add a clove of garlic to the dressing and let it sit for 15 minutes, before removing it. Add the dressing to the tomatoes and white beans, and toss the salad together.
STEP 9
Serve the salad topped with the pitta chips and freshly ground black pepper. 
---
By Valentina Concordia
Valentina is our Food Editor, who dreams up our tasty dishes and recipes for our social channels. She has loads of experience cooking up a storm in Italian kitchens, so it's no surprise she can't live without good-quality olive oil (don't come between her and her olive oil) and fresh pasta.
---
Let us take care of dinner
After getting creative in the kitchen, give yourself the weekend off by letting us take care of dinner. Check out our delicious meals here.
Shop now