Recipes
Vegan Miso Corn On The Cob
3min read
Plain corn on the cob is great, but corn on the cob with salty, tangy, spicy, melty miso butter is a whole other story.
Putting this recipe together and eating one too many corn on the cobs reaffirmed my belief that it is in fact one of the greatest food items out there. It takes around 20 minutes to make, and tastes great with basically anything you put on it. This one is slathered with a salty sweet miso butter which enhances the sweetness of the corn kernels and adds so much richness to every! single! bite! It's then topped with chilli flakes for a little kick and chives for deeper flavour and freshness.
Corn on the cob is basically a blank canvas though, so take this recipe as a base and feel free to switch things up. You could sub the miso for vegan mayo and the chives for coriander, and add some lime, for example, for an elote style corn on the cob. You can also sub the miso for different herbs and top the grilled corn with crumbled cheese.

One thing to make sure of, no matter the toppings, is that you really let the corn char. I know the natural instinct when cooking is to prevent food from darkening too much, but charring allows for extra layers of flavour to develop. In this case, it adds dimension and smokiness to naturally sweet corn. Keep and eye on it as it grills, and turn it only once the heat facing side has charred in a few places.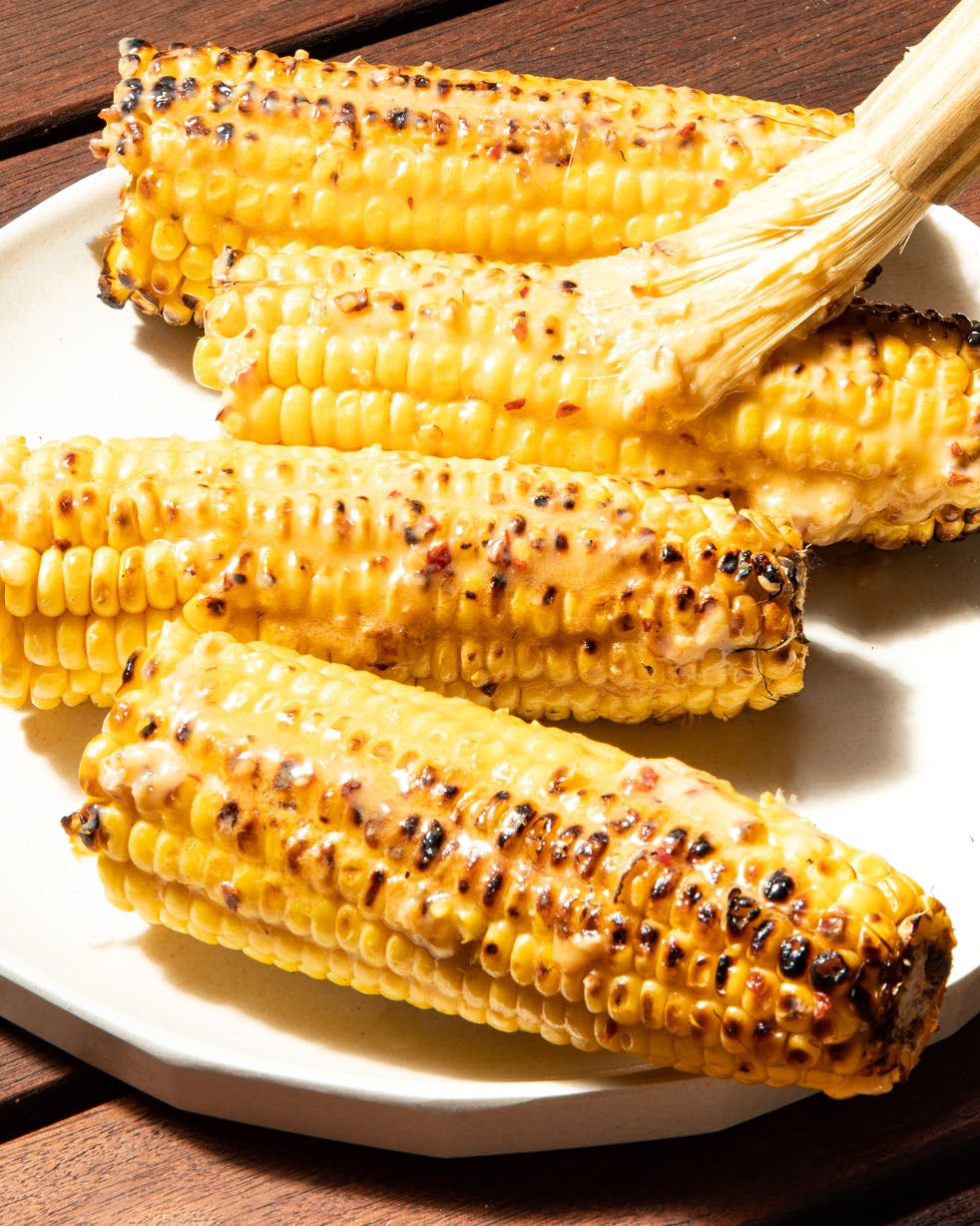 Ingredients
4 ears of corn (around 1.2 kg)
50g plant based butter 
2 tsp white miso 
1 tsp chilli flakes
10g chives, thinly sliced
Method
STEP 1
Start by husking the corn and removing as much as the silk (the strands at the end of the corn) as possible.
STEP 2
Heat a cast iron skillet, griddle pan or grill over medium high heat until it's very hot. Once hot, add the husked ears of corn.
STEP 3
Cook the corn for 3-4 minutes on each side, until charred in several places - this will take 18-20 minutes in total. Transfer the ears of corn into a large bowl and cover with foil or a tea towel for 15 minutes - this helps soften the kernels further.
STEP 4
In the meantime, prepare the miso butter. In a small bowl mix together butter, white miso and ½ tsp chilli flakes.
STEP 5
Spread the miso butter evenly over each corn on the cob, topped with chives and remaining ½ tsp of chilli flakes. Serve warm!
---
By Valentina Concordia
Valentina is our Food Editor, who dreams up our tasty dishes and recipes for our social channels. She has loads of experience cooking up a storm in Italian kitchens, so it's no surprise she can't live without good-quality olive oil (don't come between her and her olive oil) and fresh pasta.
---
Let us take care of dinner
After getting creative in the kitchen, give yourself the weekend off by letting us take care of dinner. Check out our delicious meals here.