Recipes
Vegan Aubergine Burger
by Iona Berry
4min read
Most of us grew up with meat as the hero of our meals and with vegetables taking up the mere corners of our plates. It can be hard to know where to start if you're trying to flip the script and cook plant based meals that don't feel like just eating a plate full of sides. Building an exciting, yet satisfying meal around vegetables - whether that's a bunch of carrots or a humble head of cauliflower - can sometimes feel like a little daunting and underwhelming task. 
Our new series, Veg and Two Veg is here to tackle just that and to explore all of the ways in which every day vegetables can be the star of the table without sacrificing flavour or heartiness. Whether you're cooking for one or cooking for a bunch, these recipes will fill your table with vibrant, deeply flavoured and satisfying dishes that you'll be making on repeat.
This vegan aubergine burger is indulgent, crispy and won't have anyone missing a traditional burger because it packs a punch of flavour. 
The search for the ultimate vegan burger began after being served a very disappointing soggy piece of un-battered aubergine in a bun. This did not feel like a burger to me and sent me on a quest for something much tastier. I knew I needed to mimic the texture of eggs in order to have something to cling to the breadcrumbs aubergine slices. After trial and error, I realised that making a simple batter actually did the job incredibly well. It does get messy but I promise the results are quite something. A crisp panko exterior with a soft aubergine that melts in the mouth. 
You can really go wild with the toppings that you use, vegan BBQ sauce and caramelised onions are delicious. I have also added some chopped nori seaweed to the batter before to give a fish-style taste to the burger, which was delicious served with vegan tartar sauce. Basically this recipe is a great base for you to put your own spin on and I hope you enjoy making (and eating) it as much as I did.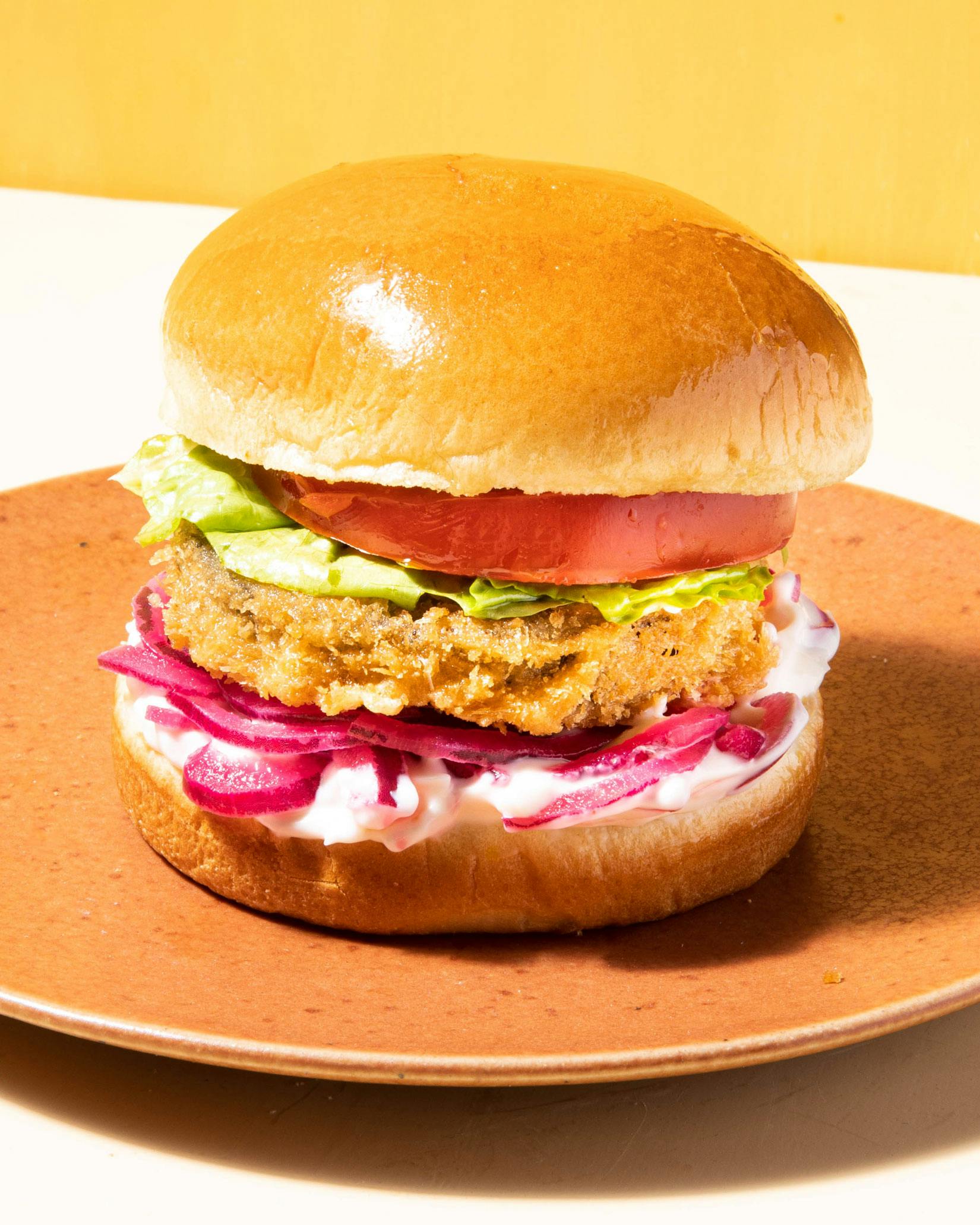 Ingredients
Aubergine and Batter:
1 large aubergine or 2 medium sized aubergines 
100g plain flour
150ml soya milk (or other plant based milk)
½ tsp english mustard powder
¼ tsp cayenne pepper
½ tsp onion powder
½ tsp garlic powder
Good pinch of salt 
Coating:
100g panko breadcrumbs
¼ tsp cayenne pepper 
1 tsp english mustard powder
A good pinch of salt
Oil, enough for a few inches of shallow frying (I used rapeseed)
To Serve:
4 burger buns of choice (I used vegan brioche buns)
4 slices of romaine lettuce
4 slices of chopped beef tomato
4 or 8 slices of vegan cheese (I used Violife) 
Vegan mayonnaise 
Quick pickled onions
Method
STEP 1
Cut four 1 cm discs from the thickest part of the aubergine, then toss them with a generous sprinkle of salt and leave them in a colander for 20 minutes. Rinse and then wipe the aubergine dry. 
STEP 2
Whisk together the plain flour, soya milk, english mustard powder, cayenne pepper and salt until you have a smooth batter. Mix the panko with the remaining cayenne, mustard powder and salt. 
STEP 3
Put the batter and panko mix into separate bowls/shallow plates and then dip the aubergine piece by piece into the batter (taking care to let any excess drop off) before placing into the panko mix. Try and evenly coat the slices in the mix so that it covers the entire surface of the aubergine slices. 
STEP 4
Heat a shallow pool of oil (an inch or two) in a large frying pan over a medium-high heat. You don't want the oil too hot as the aubergine won't cook fast enough.
STEP 5
Fry to 4-5 minutes per side or until golden brown and very crispy. I recommend using a skewer to check if the aubergine is completely tender in the centre (no one wants a chewy aubergine burger).
STEP 6
To assemble the buns, spread both sides generously with vegan mayonnaise, then layer up with pickled onions, lettuce, tomato, the aubergine patties and vegan cheese. 
---
By Iona Berry
Iona is our Development Chef, aka our go-to girl for developing, testing and tasting delicious dishes for you to all enjoy at home. When she's not in the kitchen, you'll find her either running or cycling, or trying out food markets and new restaurants around London. Continuous market research it would seem.
---
Let us take care of dinner
After getting creative in the kitchen, give yourself the weekend off by letting us take care of dinner. Check out our delicious meals here.
Shop now