Recipes
Vegan Barbecued Mushrooms
3min read
These satisfying and hearty barbecue mushroom skewers are what we'll be putting on the table at every single bbq this summer. They're smoky, salty, sweet and can be made outside on the grill as easily as they can be made indoors on a griddle pan. 
These mushroom skewers rely on a homemade under-ten-minute sauce which is perfectly sweet, salty, savoury, smoky and tangy. If you're extremely tight on time or you have a favourite bbq sauce brand you want to use, you're welcome to use that directly and adjust the consistency before brushing the mushrooms with it. If the sauce you're using is too thick to easily spread and pour, stir it with a tbsp or two of warm water to loosen it up. If you're after a bbq mushroom recipe but don't have any skewers on hand, you can grill them loose on a griddle pan and proceed with the recipe just the same.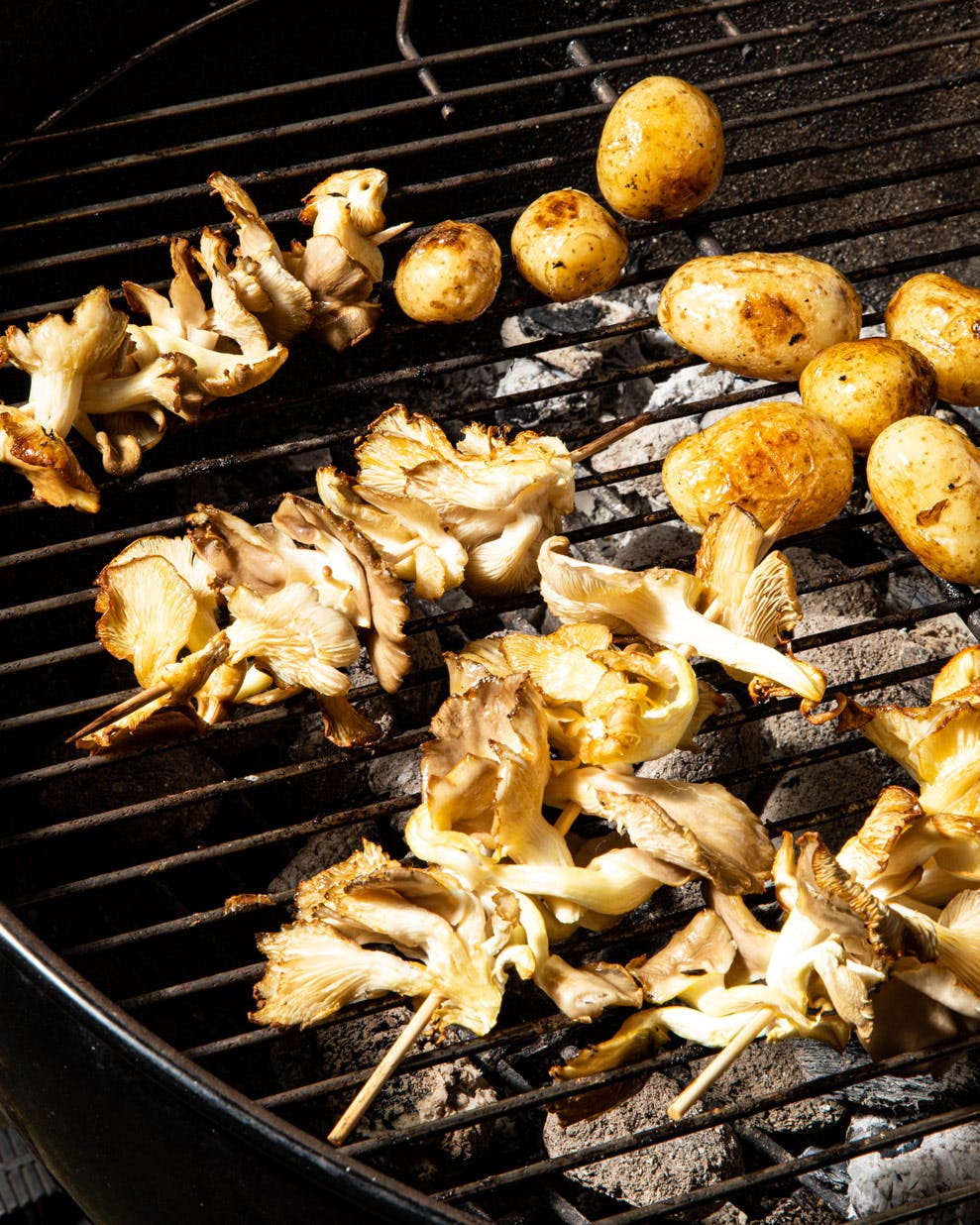 Ingredients
BBQ Sauce:
1 tbsp (15g) neutral oil 
90g tomato paste 
80g maple syrup 
4 tbsp (60g) soy sauce
1 tbsp (15g) plant based worcestershire sauce 
2 tbsp (30g) rice wine vinegar
3 tbsp (45g) water 
Mushrooms:  
600g oyster mushrooms
2 tbsp (30g) neutral oil
¼ tsp salt 
1 lime, sliced 
1 tbsp (9g) sesame seeds
Method
STEP 1
Start by making the BBQ sauce. Heat 1 tbsp of oil in a pan over medium heat. Stir in the tomato paste, and cook it for 4-5 minutes, until it darkens in colour and starts sticking to the bottom of the pan.
STEP 2
In a small bowl whisk together the maple syrup, soy sauce, worcestershire sauce, rice wine vinegar and water. Pour the mixture into the pan and whisk it into the tomato paste.
STEP 3
Let the sauce come to a boil, reduce the heat, and let it simmer for 2-3 minutes. Remove the pan from the heat and set it aside. 
STEP 4
Light your barbecue or heat a griddle pan over high heat. 
STEP 5
Next, prepare the skewers. Wipe the mushrooms clean and add them to a bowl. Drizzle them with the oil and ¼ tsp salt and use your hands to toss them together. 
STEP 6
Fill 8 skewers with 8-10 mushrooms each, depending on their size. 
STEP 7
Carefully transfer the mushroom skewers onto the barbecue or grill. Cook the mushrooms for 4-5 minutes on each side, until charred in some spots and crisp throughout. 
STEP 8
Use a basting or pastry brush to carefully coat the mushrooms with the ¾ of the bbq sauce. Let the mushrooms cook for 1-2 more minutes, then use tongs to remove them from the heat. 
STEP 9
Serve the mushrooms with a squeeze of lime juice and the remaining barbecue sauce and then sprinkle them with sesame seeds. 
---
by Valentina Concordia
Valentina is our Food Editor, who dreams up our tasty dishes and recipes for our social channels. She has loads of experience cooking up a storm in Italian kitchens, so it's no surprise she can't live without good-quality olive oil (don't come between her and her olive oil) and fresh pasta.
---
MORE GREAT READS
Let us take care of dinner
After getting creative in the kitchen, give yourself the weekend off by letting us take care of dinner. Check out our delicious meals here.