Recipes
Vegan Bean + Rice Burrito Wraps
4min read
Savoury, tangy and a hint of spice, this easy Mexican-inspired wrap recipe hits all the spots.
We challenge you to name a better burrito duo than beans and rice. This easy Mexican-inspired wrap filling, playing on savoury, spicy and tangy flavours, served with fresh salsa and a side of creamy avocados, will sure spice up your usual lunch routine.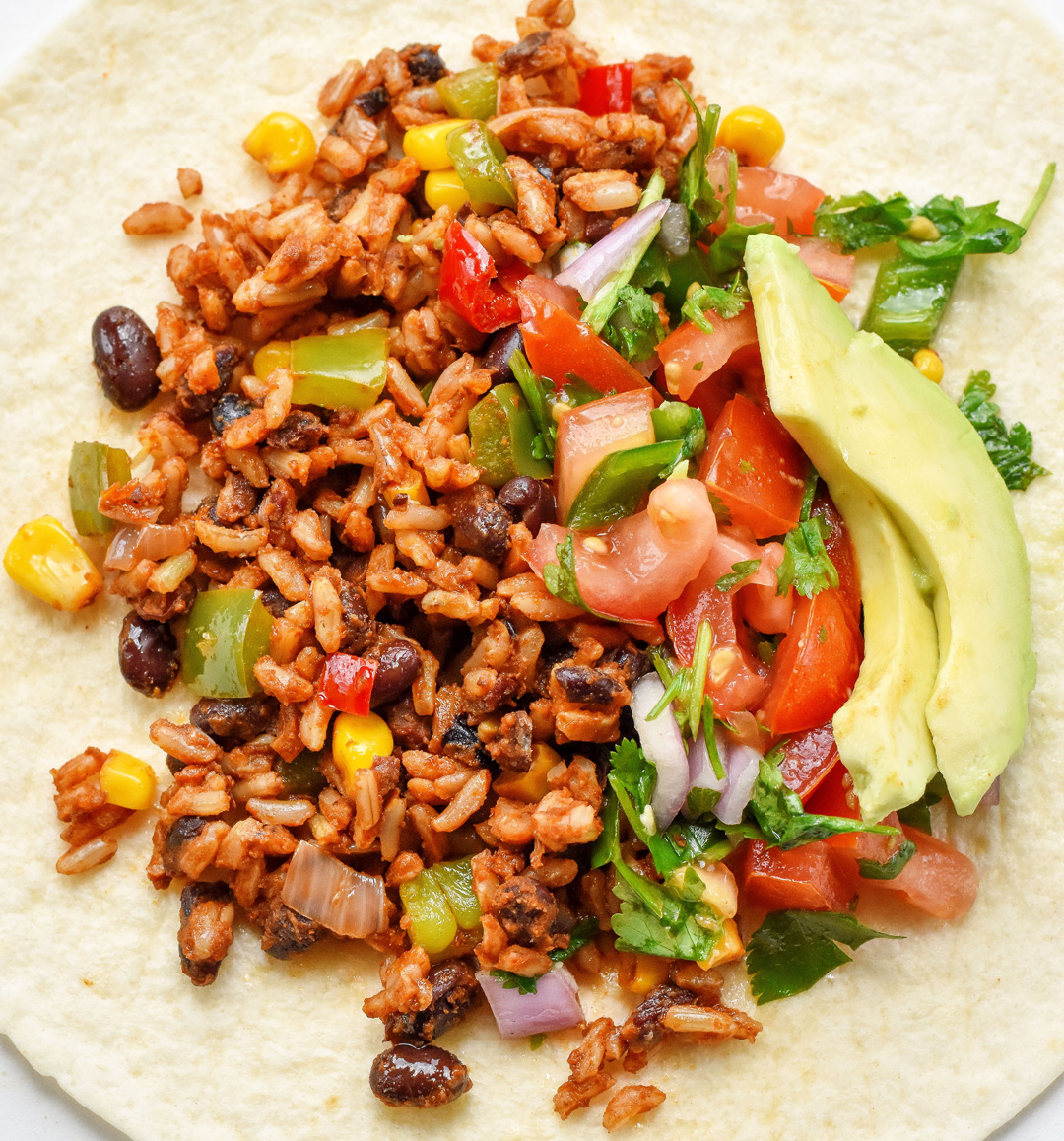 Ingredients
Filling:
1 green pepper, diced
2 tbsp neutral oil
1 onion, diced
2 garlic cloves
1 medium chilli
150g cooked brown rice
150g black beans
50g sweetcorn
2 tsp ground cumin
2 tsp paprika
½ tsp chilli powder
1 ½ tbsp lime juice
salt, to taste
For fresh salsa (optional): 
2 shallots, diced
2 1/2 tbsp lime juice
3 tomatoes, chopped
10g coriander, chopped
1 medium chilli, minced
55ml olive oil
Salt, to taste
To serve: 
4 tortilla wraps
2 avocados, sliced
Method
STEP 1
Start by making the fresh salsa. In a bowl, soften shallots, tomatoes, coriander, chillies by coating them in olive oil and lime juice. Set aside and let ingredients soften for around 15 minutes.
STEP 2
In a large pan, heat up oil and sauté garlic, onions and peppers for a couple of minutes until soft. Stir in cumin, paprika and chilli powder until combined. Then add beans, corn, rice, lime juice and salt to taste. Mix altogether and cook further for around 5 minutes.
STEP 3
To serve, heat up tortillas. Fill with bean and rice, a couple spoonfuls of salsa and avocado slices.
---
By Aliza de Lima
Aliza is our Junior Creative, in between running out for copious amounts of coffee and snacks (give her a biscuit and she's your best friend). On her day off you'll find her exploring an exhibition, and having a chat over our Mac & Greens.
---
Let us take care of dinner
After getting creative in the kitchen, give yourself the weekend off by letting us take care of dinner. Check out our delicious meals here.
Shop now