Recipes
Vegan Blueberry Muffins
5min read
These just-sweet-enough, fluffy and juicy vegan blueberry muffins make the perfect make-ahead breakfast as well being the snack every picnic needs. They're satisfying and filling thanks to the spelt flour and plant based yoghurt that hold them together, yet they feel soft, light and airy. They're topped with an easy, crisp and buttery streusel topping which make creates a coffee cake-like muffin but they taste equally delicious without it.
Spelt flour is a great muffin-friendly flour to use here, as it acts very similarly to plain flour in terms of holding the muffins together and creating a soft pillowy texture, but with a lot of added flavour and depth. If you don't have any on hand, you can sub half of if it with whole wheat flour and half with plain flour. If you're after gluten free muffins, I'd suggest substituting 3/4 of the flour with a 1:1 gluten free blend and the remaining 1/4 with buckwheat flour, which will give these the structure they need as well as a little added flavour.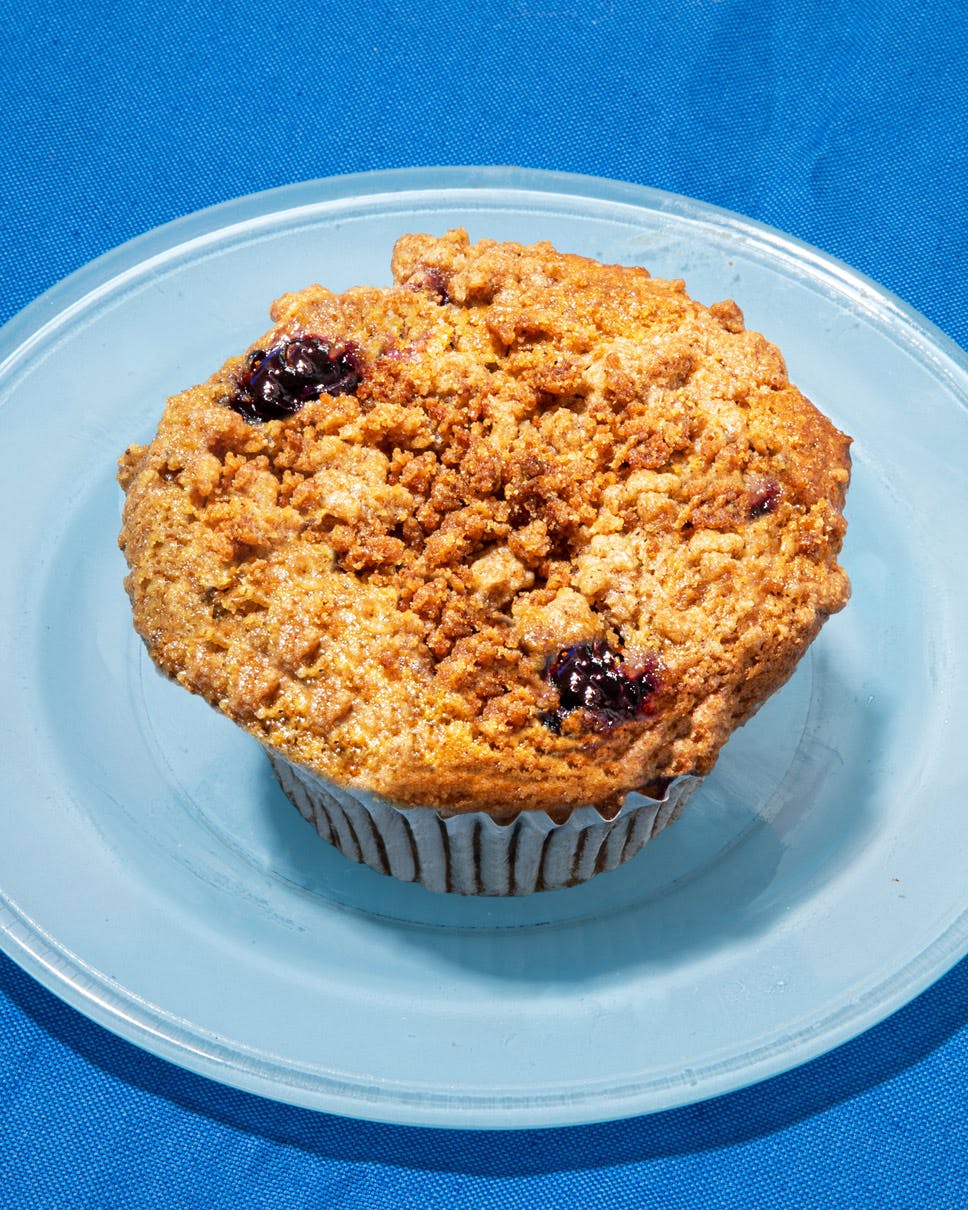 Ingredients
Topping:
50g flour (we used spelt) 
40g light brown sugar 
½ tsp salt 
40g cold plant based butter, cubed
Batter:
200g flour (we used spelt)
1 tsp baking powder 
1 tsp baking soda 
½ tsp salt 
120g light brown sugar 
210g plant based yoghurt 
90ml oil 
1 lemon, juiced and zested
90g blueberries
Method
STEP 1
Preheat the oven to 180˚C fan/ 200˚C conventional and prepare your muffin tin - grease it and/or line it with individual muffin liners.
STEP 2
In a bowl combine the flour, light brown sugar and salt. Add the cubed butter, and use your fingers to work it into the flour until the mixture is crumbly. Let the topping sit in the fridge while you prepare the batter.
STEP 3
In a large bowl combine the flour, baking powder, baking soda and salt. Stir it until combined. 
STEP 4
In a separate bowl, whisk together the yoghurt, oil, lemon juice and zest.  
STEP 5
Fold the yoghurt mixture into the flour, and stir until combined. Gently fold the blueberries into the batter, and stir until just combined. Overstirring could make the blueberries burst before they hit the oven. 
STEP 6
Fill the muffin tin with around ½ batter per muffin hole. Sprinkle the top with around 1 tbsp of the prepared topping. 
STEP 7
Bake the muffins for 30-35 minutes - until they're golden brown and a toothpick inserted into the centre of one of the muffins comes out clean.
STEP 8
Let the muffins cool in the tray for 10 minutes, then remove them from the tray and let them cool completely.
---
By Valentina Concordia
Valentina is our Food Editor, who dreams up our tasty dishes and recipes for our social channels. She has loads of experience cooking up a storm in Italian kitchens, so it's no surprise she can't live without good-quality olive oil (don't come between her and her olive oil) and fresh pasta.
---
Let us take care of dinner
After getting creative in the kitchen, give yourself the weekend off by letting us take care of dinner. Check out our delicious meals here.