Recipes
Vegan Bolognese
6min read
This bolognese is rich, hearty, velvety, deeply savoury and every other positive adjective in existence. It calls for few ingredients, little time and can be doubled (or tripled) for batch cooking.
A vegan bolognese that's rich and multilayered in flavour, as well as being glossy, velvety and clinging onto every piece of pasta. The way it achieves all of those A* qualities is by adopting a few methods and elements from a classic bolognese. The first of these is using a soffritto - a mix of very finely chopped celery, carrots and onions - used in many cuisines (and very heavily in Italian cooking) as a base for most soups, sauces and stews. Although soffritto is traditionally chopped by hand, the recipe calls for the celery, carrots and onion to be pulsed in a food processor, which is a fast and easy way to ensure these aromatics are broken down into small enough pieces to add flavour yet not be detected in the final sauce. If you enjoy chopping and prefer to do it by hand however, go for it - just make sure the pieces are very finely diced before cooking them down.
Something else you might notice is that the recipe doesn't call for any tinned tomatoes nor passata. This bolognese - and a lot of traditional bolognese recipes - gets all of its tomato flavour from tomato paste, which adds body and richness without diluting the sauce and the flavour of the other ingredients. It also includes plant based milk, which rounds out and balances the acidity and richness of the tomato. I like to use a high-fat milk for this, such as Oatly whole or barista, as it makes for a creamy rather than runny sauce. Speaking of fat, one of the post important things in this recipe (and Italian cooking in general), is to not shy away from olive oil - it's there for a reason. It's especially important in plant based cooking, which is pretty lean due to vegetables and plant proteins being naturally low in fat. Using enough olive oil gives plant based sauces and stews the richness and depth they're sometimes missing, and also helps achieve a glossy, silky texture.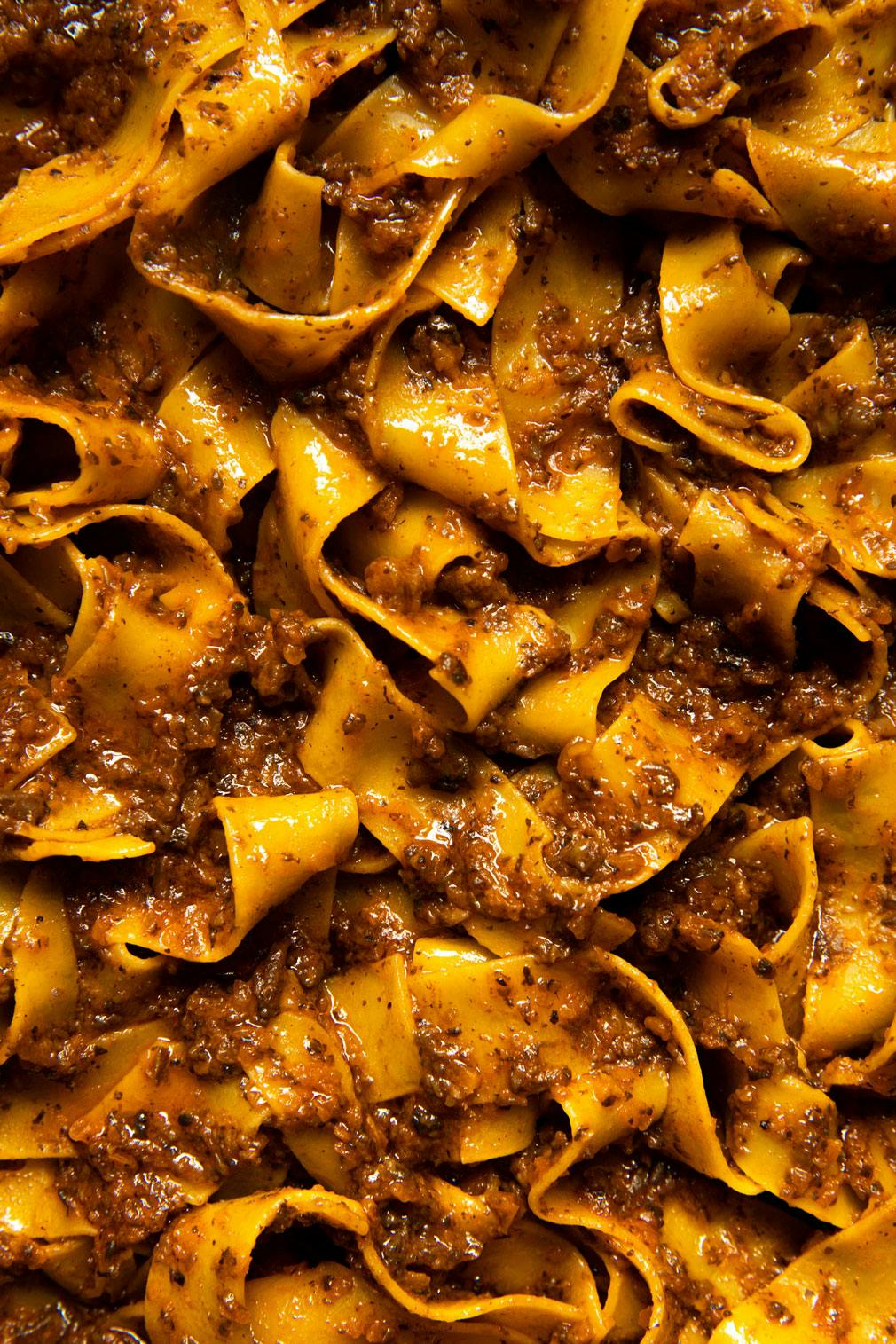 Ingredients
2 large stalks celery (around 120g)
2 large carrots (around 160g)
1 white onion (around 200g)
5 tbsp olive oil (75ml)
600g mushrooms (such as chestnut or cremini)
1 tsp salt 
100g tomato paste
1 tbsp balsamic vinegar
250ml plant based milk 
2 bay leaves 
400g pappardelle, tagliatelle or rigatoni
Method
STEP 1
Chop the celery, carrots and onion into large pieces and transfer them to a food processor. Pulse them for one minute, until the mixture is finely minced and broken down. Transfer the minced veg to a bowl and set the bowl aside. 
STEP 2
Heat the olive oil in a large heavy set pot over medium heat. Add the minced carrots, celery and onion and stir to coat them in oil. Cook them down for 14-15 minutes, adding ½ tsp salt half way through. After 15 minutes the soffritto (the carrots, celery and onion) should have halved in size and should be sticking to the bottom of the pot. 
STEP 3
In the meantime, prepare the mushrooms. Wipe the food processor clean and add half of the mushrooms to it. Pulse the mushrooms until they're finely minced, then transfer them to a bowl. Add the second half of mushrooms to the processor and pulse them until just broken down, rather than minced. 
STEP 4
Add all the mushrooms to the pot with the soffritto and stir to combine them. Cook the mushrooms down for 15-18 minutes, adding another ½ tsp salt, until any liquid has cooked down and the mushrooms have halved in size. 
STEP 5
Add the tomato paste and balsamic vinegar and cook them down 4-5 minutes, until the tomato paste has darkened in colour. Stir in plant based milk and bay leaves, lower the heat and simmer the bolognese for 8-10 minutes. Test the sauce for seasoning and adjust to taste.
STEP 6
In the meantime, cook the pasta in salted boiling water according to package instructions. Reserve 150ml of cooking water before draining the pasta. Drain the pasta and add it to the pot with the bolognese. 
STEP 7
With the pot set over medium heat, stir the pasta into the bolognese, adding the reserved pasta water as you go along, until the pasta is glossy and coated. 
STEP 8
Remove the bay leaves before serving. Divide the pasta amongst 4 bowls and serve topped with a drizzle of olive oil and freshly cracked black pepper.
---
By Valentina Concordia
Valentina is our Food Editor, who dreams up our tasty dishes and recipes for our social channels. She has loads of experience cooking up a storm in Italian kitchens, so it's no surprise she can't live without good-quality olive oil (don't come between her and her olive oil) and fresh pasta.
---
Let us take care of dinner
After getting creative in the kitchen, give yourself the weekend off by letting us take care of dinner. Check out our delicious meals here.
Shop now