Recipes
"Just Like My Granddaughter Used to Make It" Bread and Butter Pudding
4min read
We recently asked our Instagram community if they'd ever struggled with being 100% plant-based. It turned out the answer was yes. So much yes. And it inspired us to turn your fess ups into tasty recipes, but no judgement if the pans stay in the cupboard.

When one of our readers told us "I feel like my grandparents are too old to learn new recipes" we were inspired to create a recipe her grandparents could make for her with ease. Enter this delicious, soft and pillowy vegan bread and butter pudding, which is just as easy as the classic and follows the same method as its non-vegan counterpart. Vegan baking made extra easy!
When shopping for this recipe, I have a couple ingredients I always go with for consistent (and great) results. Bread wise, I always go for an unsliced loaf of bread that's quite soft on the inside. Rather than a sourdough for example, I tend to go for a pullman loaf or a plant based brioche or challah bread if I can find it. Milk wise, I almost always use oatly barista when baking. It has a fat content similar to regular milk, which creates soft doughs and creamy custards. If you can't find it, look for patly whole or another plant based milk that isn't low fat or "skimmed".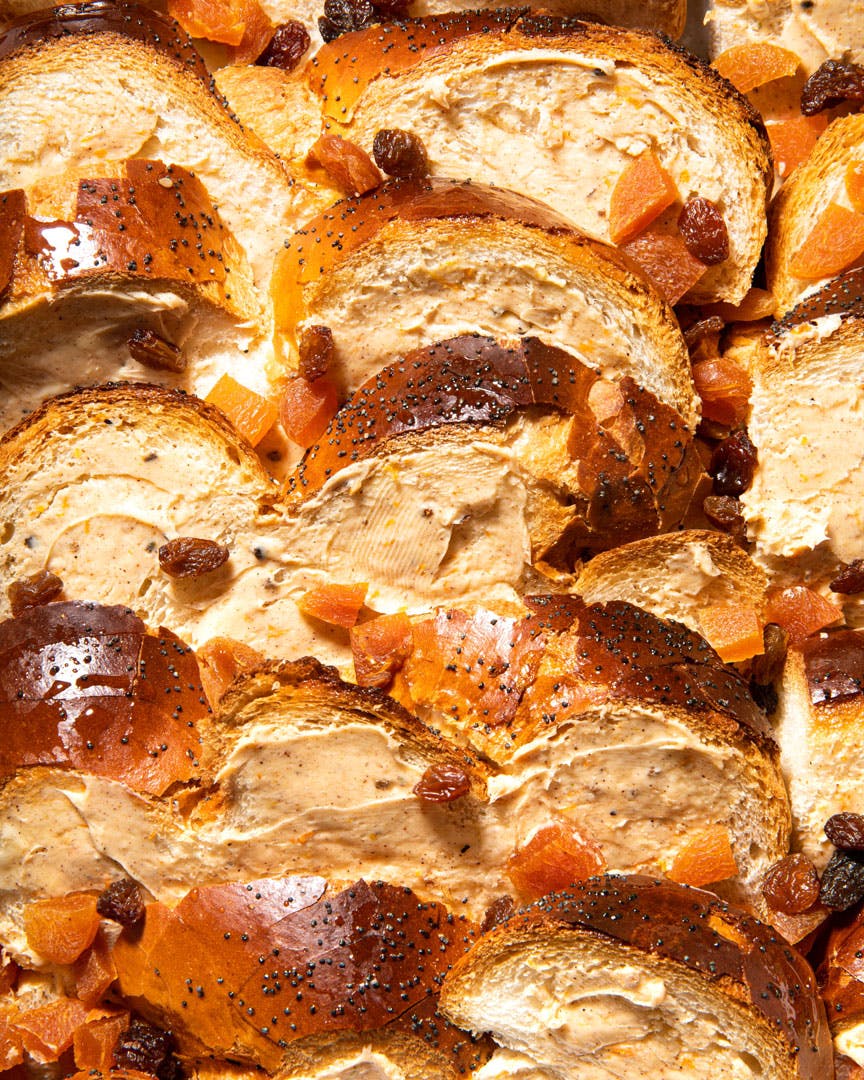 Ingredients
Base:
600g stale pullman bread (or plant based brioche)
90g plant based butter, at room temp
½ tsp cinnamon
¼ tsp ground cardamom
1 orange, zested
¼ tsp salt 
150g dried fruit (we used chopped apricots and sultanas) 
Custard: 
900ml plant based milk
2 tsp vanilla extract
50g caster sugar
40g cornstarch
¼ tsp salt 
To top: 
60g orange marmalade (or maple syrup)
Method
STEP 1
Lightly grease a large baking dish with plant based butter. Slice the bread into roughly 2cm slices. 
STEP 2
Next, slice the bread into roughly 2cm slices. 
STEP 3
In a small bowl combine the butter, cinnamon, cardamom, and salt and mix until creamy and smooth. Spread the spiced butter onto the slices of bread one at a time, placing them into the baking dish in overlapping rows as you go.
STEP 4
Sprinkle half of the dried fruit over the buttered slices of bread, tucking some pieces in between the slices.
STEP 5
Next, make the custard. Add the milk, vanilla extract and sugar to a pot, and bring it up to a gentle simmer over medium heat, stirring occasionally as the sugar dissolves. 
STEP 6
In a small bowl whisk together the cornstarch and 100ml of water until combined. Whilst whisking the milk, add the cornstarch mixture. Continue to whisk for 3-4 minutes, while the mixture thickens. Whisk the salt in and remove the custard from heat. 
STEP 7
Pour the custard evenly over the bread, making sure to get it in the cracks. Sprinkle the remaining dried fruit over the top. 
STEP 8
Let it sit for at least 30 minutes - this helps the bread soak the custard and makes for a stickier and softer bread and butter pudding. 
STEP 9
In the meantime, preheat the oven to 160˚C fan/180˚C convention. Transfer the baking dish into the oven and bake it for 30-35 minutes, until golden and bubbling. 
STEP 10
While the pudding is baking, warm up the marmalade (if using), in a small saucepan or in the microwave. 
STEP 11
Brush the marmalade over the warm bread and butter pudding, or drizzle it with maple syrup. Let the pudding cool slightly before serving. 
STEP 12
Serve the bread and butter pudding on its own or topped with a drizzle of maple syrup.

Confessions are in session, submit them here and we'll pop a Treat in your next allplants order. We might just make your story into a recipe, too!
---
By Valentina Concordia
Valentina is our Food Editor, who dreams up our tasty dishes and recipes for our social channels. She has loads of experience cooking up a storm in Italian kitchens, so it's no surprise she can't live without good-quality olive oil (don't come between her and her olive oil) and fresh pasta.
---
Let us take care of dinner
After getting creative in the kitchen, give yourself the weekend off by letting us take care of dinner. Check out our delicious meals here.