Recipes
Vegan Buttermilk Waffles
5min read
These waffles have vegan buttermilk to thank for their texture, which is crisp on the exterior and soft in the interior. What the buttermilk helps achieve is a thick base, which both holds the waffles together without eggs or egg replacers and creates a fluffy, spongy consistency. 
To say this waffle recipe has had a lot of iterations and tests to get to where it is would be an understatement. The perfect yoghurt to milk ratio was achieved after attempting countless versions with lemon and apple cider vinegar to replicate the texture of buttermilk. Although those forms of acidity are usually used to achieve buttermilk-like qualities, and usually work wonders for me when making pancakes, those batches of waffles lacked body and failed to crisp once being cooked. What plant based yoghurt brought, along with its acidity, was the creaminess required to create a consistent and crisp waffle, which couldn't be achieved with milk and lemon or vinegar alone.
The amount of rising agent might seem excessive, but this was also heavily tested and what three teaspoons of baking powder replicate is the lift and air that eggs create in waffles. When tested, one and two teaspoons of baking powder created a considerably flatter and less fluffy waffle, so put your trust into the baking powder and it won't let you down.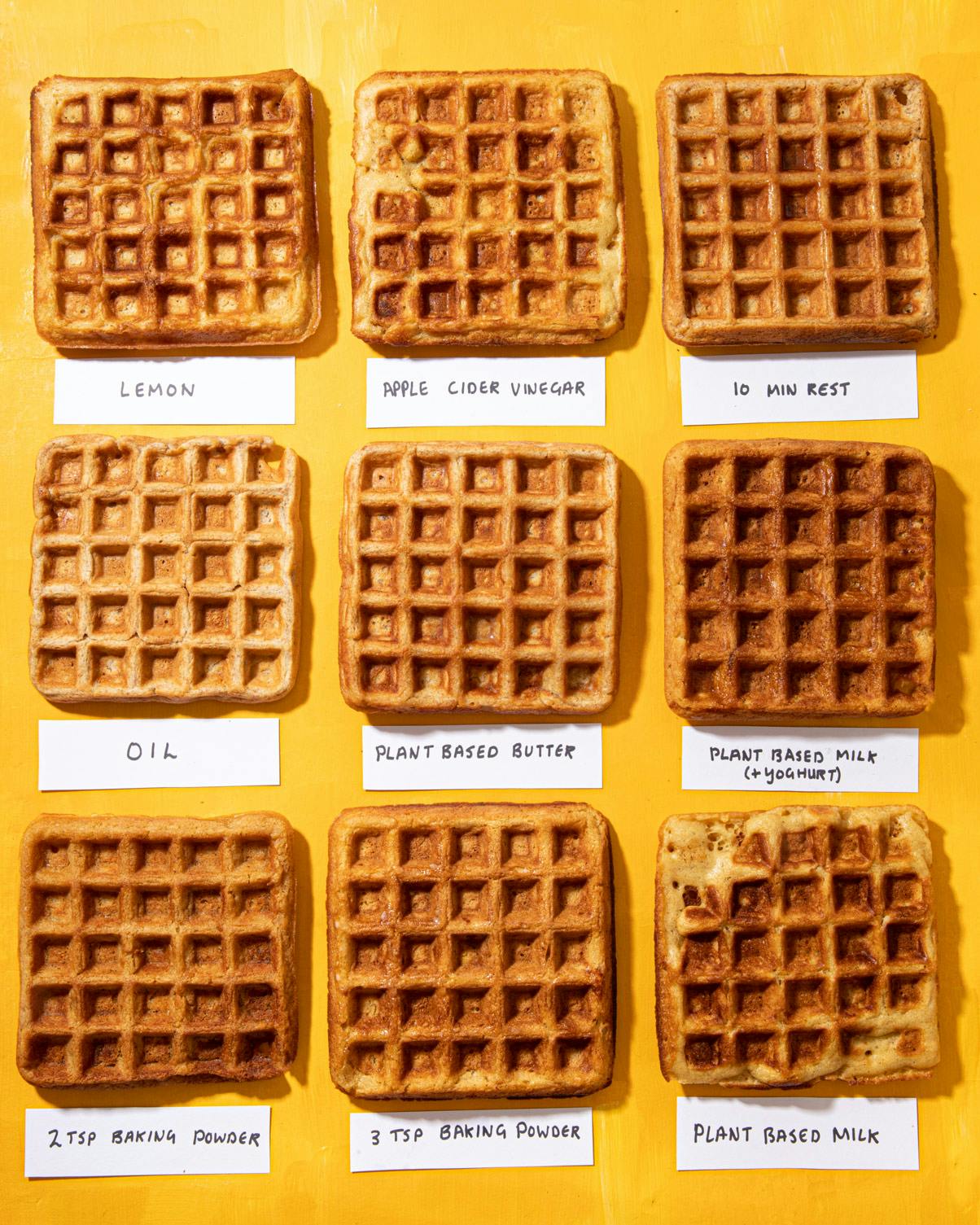 Ingredients
Waffles:
280g plain flour 
60g caster sugar 
½ tsp baking soda
3 tsp baking powder
½ tsp salt 
300ml plant based milk 
180g plant based yoghurt
3 tbsp (45g) plant based butter, melted 
1 tsp vanilla extract 
To Serve:
250g strawberries, sliced
1 lemon, juiced 
100g maple syrup 
4 tbsp (60g) plant based yoghurt
Method
STEP 1
Add the flour, sugar, baking soda, baking powder and salt to a large bowl and whisk to combine. 
STEP 2
Into a separate bowl, add the milk, yoghurt, melted butter and vanilla extract and whisk together. 
STEP 3
Use a spatula to fold the wet ingredients into the dry, until just combined. Try to avoid overmixing the batter, as an overmixed batter creates dense, rather than fluffy waffles. Let the batter rest for 8-10 minutes. 
STEP 4
In the meantime, heat your waffle iron. Once ready, brush the inside of the waffle iron with melted butter. 
STEP 5
Pour around a ½ cup of batter into each side of the waffle iron, or into the centre if your waffle iron only makes one waffle at a time. Depending on the size of your waffle iron, you might have to adjust the amount of batter necessary to fill the waffle iron. 
STEP 6
Cook the waffles for 4-5 minutes, until golden and crisp. Repeat the process with the remaining batter, brushing the waffle iron with melted butter between each waffle. You can keep the waffles warm in a 90˚C oven, while you prepare the rest. 
STEP 7
While the waffles cook, prepare the strawberries. In a large bowl combine the sliced strawberries, the lemon juice and one tbsp of maple syrup. Let the strawberries sit for ten minutes, then add the rest of the maple syrup. 
STEP 8
Serve the waffles topped with a dollop of yoghurt, a big spoonful of the strawberries and a spoonful of maple syrup. 
---
By Valentina Concordia
Valentina is our Food Editor, who dreams up our tasty dishes and recipes for our social channels. She has loads of experience cooking up a storm in Italian kitchens, so it's no surprise she can't live without good-quality olive oil (don't come between her and her olive oil) and fresh pasta.
---
Let us take care of dinner
After getting creative in the kitchen, give yourself the weekend off by letting us take care of dinner. Check out our delicious meals here.
Shop now