Traditional cacio e pepe is made with three ingredients and three ingredients only - cacio (a sharp cheese from central Italy), pepper and pasta. Excluding one of three ingredients in a recipe makes it harder but not impossible. Instead of using cacio and cooking water to create a creamy emulsified pan sauce, this pasta comes together with plant based butter, miso and a drop of soy or oat cream. Whilst nowhere near traditional, it's just as simple, salty and velvety as the cacio e pepe I grew up eating.
Why miso? Although not used in Italian cooking, miso - a Japanese fermented paste typically made from soybeans (but also rice, barley, seaweed and other ingredients) - has a distinctly salty, funky and sometimes sweet flavour which opens up a world of possibilities when cooking without animal products. There is so much room for it in every day cooking, adding layers of flavour and umami to the soups, dressings, stews, roasts and desserts (yes desserts!) it's incorporated into. Here it's mixed with plant based butter which helps create a sauce that coats and clings onto each piece of pasta. The cream is there to round out the saltiness of both the miso and butter. A little miso goes a long way, so I only use 1 tbsp here, but feel free to experiment and adjust to taste. I chose white miso as it's slightly milder and has a little sweetness to it, but red miso also works really well in this pasta.

The secret to making this pasta velvety is the same secret the traditional method holds. It uses the water the pasta is cooked in, added in small increments whilst stirring constantly, to create a perfectly emulsified sauce that is neither too thick or runny. I know, It's counterintuitive to add water to a creamy sauce, but pasta water is full of starches that when heated and stirred, help glue the pasta to the sauce. That doesn't just count for this cacio e pepe, always reserve a few ladlefuls of water when cooking pasta to loosen up and thicken any pasta you're making. You'll never go back, I promise.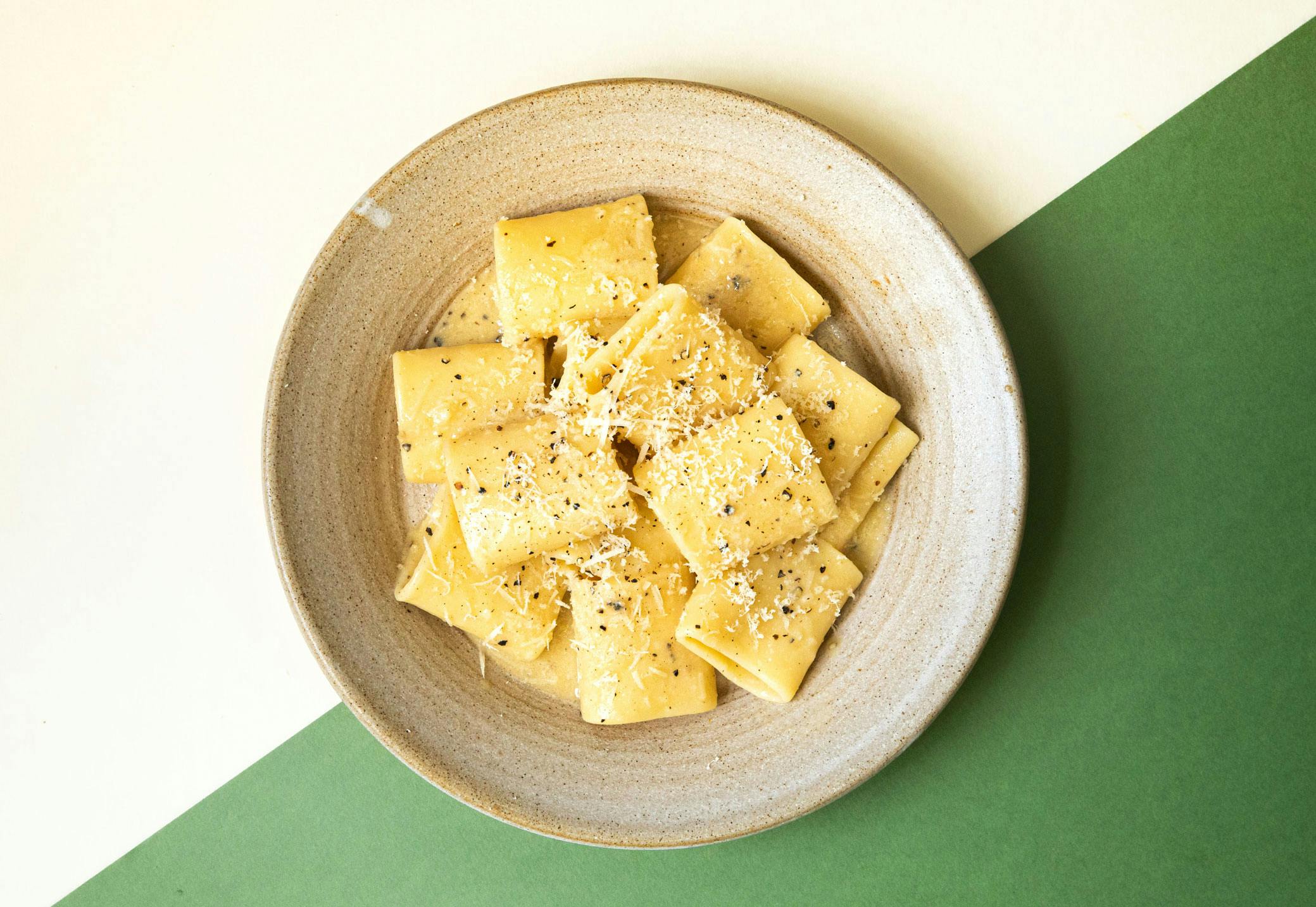 350g pasta 
1 tsp freshly ground black pepper
80g high fat plant based butter (such as naturli) 
1 tbsp white miso 
60ml soy/oat cream
50g vegan parmesan, optional (we used violife)