Recipes
Vegan Crispy Polenta Bites
by Iona Berry
5min read
Up your vegan canapé game with these crispy polenta bites. They're packed full of flavour, easy to make and are a hit with every dinner guest. Winning combination for an easy vegan appetiser.
I first made these for a dinner party that I hosted and I liked the fact that the prep can be done in advance before your guests arrive. You can get creative with the toppings on the polenta - other versions I have made included caramelised red onions and pine nuts & I also used aubergine caponata which worked excellently too. They are the ultimate finger food & will bring the wow factor to any evening (celebratory or not!).
Top tip: Once cooled you can keep the slow cooked cherry tomatoes in a jar for up to 2 weeks and use on anything and everything. The tapenade itself will keep for up to 3 days in the fridge.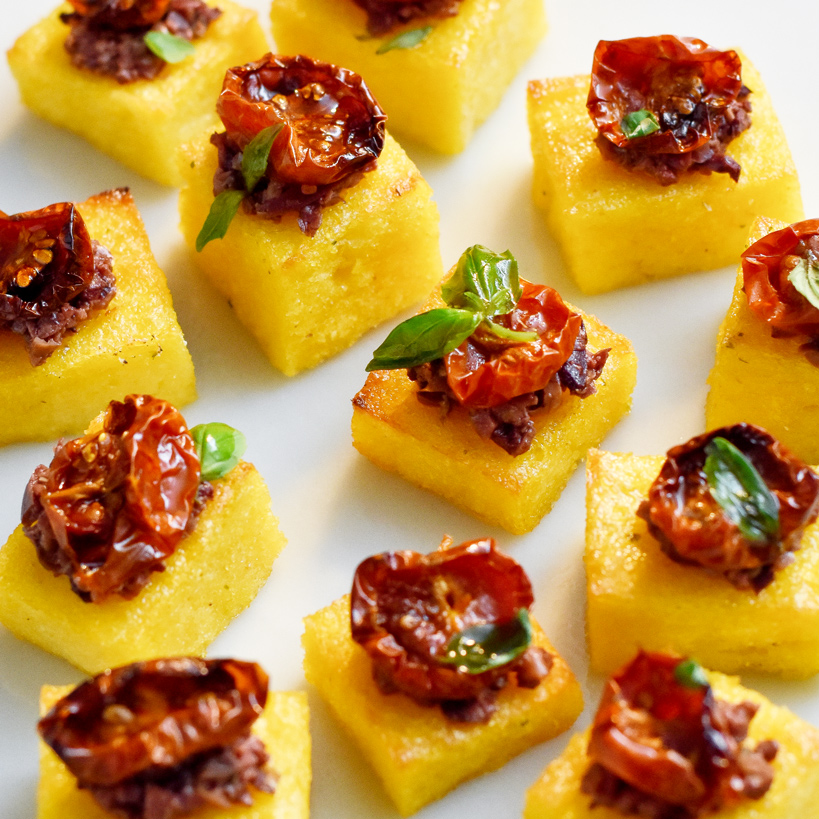 Cook Time
2 ½ HOURS (TOMATOES SLOW COOKING IN THE OVEN)
Ingredients
Polenta:
Olive oil to grease the tray for the polenta 
240g quick cook polenta  
1 litre vegetable stock (homemade is best but good quality shop bought will work)
3/4 tsp salt
1/4 tsp black pepper 
Slow roasted tomatoes:
2 tbsp olive oil 
250g cherry tomatoes, halved
Salt to taste
Pepper to taste 
Tapenade:
160g (drained weight) kalamata olives
60ml extra virgin olive oil
1 tbsp capers (optional)
1 tsp red wine vinegar 
To serve:
Fresh basil leaves
Method
STEP 1
Lightly grease and line a square tray with olive oil. The depth and width of the tray will impact the size of the polenta squares. I recommend using a 33x23cm non stick baking tin but this will still work with any size tray you have.
STEP 2
Preheat the oven to 150C and place the cherry tomatoes on the tray and brush with olive oil & season to taste. Cook for 30 minutes and then reduce the oven temperature to 90C and cook for another 2 hours.
STEP 3
Bring the stock to the boil and then turn the heat down as you slowly whisk in the polenta (taking care to remove any lumps). Once the mix has been cooking for a few minutes and has noticeably thickened and is getting harder to whisk, remove the pan from the heat. Pour the mix into your prepared tray and smooth out the top with a spatula. Once cool put in the fridge for a minimum of 1 hour until firm.
STEP 4
While your polenta is chilling, make the tapenade by blending the olives, extra virgin olive oil, capers & red wine vinegar in a blender (you can also finely chop the ingredients for a more textured tapenade). Place into a jar & put in the fridge until you need to plate.
STEP 5
Remove the chilled polenta from the fridge and cut into small squares using a sharp knife. Place the squares onto a lined tray, brush them with oil and cook under a hot grill until golden and crispy (5-10 minutes). Plate up the squares with a spoonful of tapenade, a slow roasted tomato each & a baby basil leaf. 
---
By Iona Berry
Iona is our Development Chef, aka our go-to girl for developing, testing and tasting delicious dishes for you to all enjoy at home. When she's not in the kitchen, you'll find her either running or cycling, or trying out food markets and new restaurants around London. Continuous market research it would seem.
---
Let us take care of dinner
After getting creative in the kitchen, give yourself the weekend off by letting us take care of dinner. Check out our delicious meals here.
Shop now