Recipes
Vegan Caramelised Onion Dip
2min read
Like French onion soup, but make it a dip. This vegan onion dip relies on plant based greek yoghurt and silken tofu, which come together to make a creamy, silky and tangy base for sweet and salty caramelised onions. Best of all, it turns a bag of crisps into a respectable meal and we're always here for that. 
I know, the cook time looks long, and I hear you. It's a dip after all, and dips are meant to be quick. But this is a caramelised onion dip, and there is no shortcut to caramelising onions. But, the good news is that what caramelised onions require in time they give back in flavour, love and affection. The method suggests cooking the onions for 40 minutes or so, but this can vary depending on the water content of your onions. Onions that contain less water will take less time to caramelise, and those with a higher water content will require the higher end of that time spectrum. Keep an eye on them and don't stop cooking them until they're deeply golden throughout and jammy. The recipe suggests to let the dip sit for 20 minutes after you make it as the flavours become more intense and delicious the longer it sits. When I can, I like to let it sit in the fridge overnight - but most of the time, twenty minutes does the trick.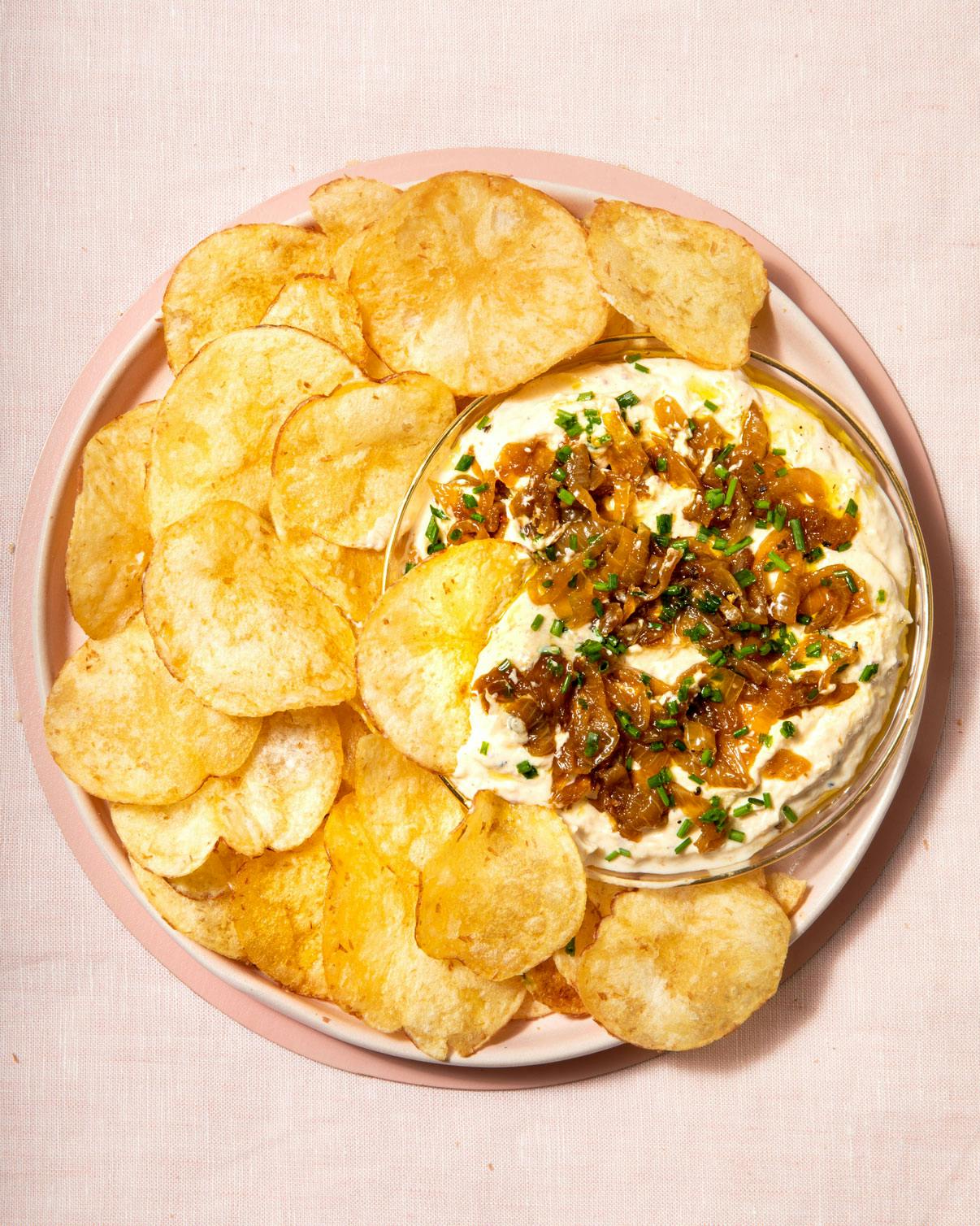 Ingredients
2 tbsp + 1 tbsp olive oil, divided 
450g white onion (around 3), finely sliced 
½ tsp + ½ tsp salt, divided
250g plant based greek yoghurt (we used oatly)
300g silken tofu  
½ lemon, juiced
½  tsp paprika 
5g chives, finely chopped 
Method
STEP 1
Heat 2 tbsp of olive oil in a large pan over medium heat.  Add the sliced onions and stir to coat in oil. Stir in ½ tsp salt. Cook the onions for 10-15 minutes, until soft and starting to caramelise. 
STEP 2
Lower the heat to medium low, and continue cooking the onions for 30-35 minutes, stirring every couple of minutes and adding a splash of water if the onions are sticking to the bottom of the pan. By this stage, the onions should be a deep golden brown. Set the onions aside. 
STEP 3
While the onions cook, prepare the dip. Add the yoghurt and silken tofu to a food processor and blend for 2-3 minutes, until smooth and combined. Next, add the lemon juice, 1 tbsp olive oil, ½ tsp salt and paprika. Blend for 1-2 minutes, until combined and creamy. 
STEP 4
Add ¾ of the caramelised onions to the food processor, and pulse it 3-4 times to combine them into the mixture. 
STEP 5
Pour the dip into a bowl and let it sit for at least 20 minutes - the longer you leave it, the more flavour will develop. 
STEP 6
Once you're ready to serve it, top it with the reserved caramelised onions and finely chopped chives. 
---
By Valentina Concordia
Valentina is our Food Editor, who dreams up our tasty dishes and recipes for our social channels. She has loads of experience cooking up a storm in Italian kitchens, so it's no surprise she can't live without good-quality olive oil (don't come between her and her olive oil) and fresh pasta.
---
Let us take care of dinner
After getting creative in the kitchen, give yourself the weekend off by letting us take care of dinner. Check out our delicious meals here.