Recipes
Vegan Cauliflower Steaks
4min read
The secret to preparing vegetables that mimic how meat acts and tastes in a recipe is pretty straight forward: just treat it like meat. What we mean by that is to just adapt and replicate the processes typically associated with cooking meats, when cooking plants. Our new series, "How to Replace Meat in Everything" explores just how to do that in an easy, unfussy and delicious way. 
In this recipe we're using cauliflower as a base to practice a technique that really changes the vegetable game: charring. The result is cauliflower like you've never had it before - deeply savoury, perfectly caramelised and bursting with punchy flavour.
As a cooking process, charring can raise a lot of questions. Is it burnt? Isn't burnt bad? Let's explore. When food is burnt, the elements in it reach a blackened, carbonised, bitter state, due to being exposed to levels of high heat for too long. Charring is to an extent burning - it's taking something over to the edge of over-exposure to high heat - but when balanced, the result is a the release of robust and caramelised flavours. When charring we're slightly burning the outer layer of the surface to a high level of sharpness and bitterness, but because we're controlling it, we have the power to decide just how sharp and to balance that with the other flavours in the food. The million pound question: Is it safe? Yes, fruits and vegetables are safe to char because they don't contain elements that could create carcinogens - unlike say, toast. So let's char away.
You'll notice that in this recipe, the cauliflower is first charred on the stove and then roasted. The first step creates our charred surface, whereas the second brings the balance I mentioned above - it allows for cauliflower to cook through and become sweet and tender. Try to follow both steps - they're less time consuming than they sound. If you're really opposed to cooking the cauliflower in two steps, you can crank the oven up to 220˚C fan/200˚conventional directly and oven cook them for 35-40 minutes, but you'll have less charred and crisp edges because of the lack of that strong and direct heat. You can also cook them fully on the grill, but they will take around 15-20 minutes on each side and will require a lid to trap some of the heat and moisture in to avoid burning.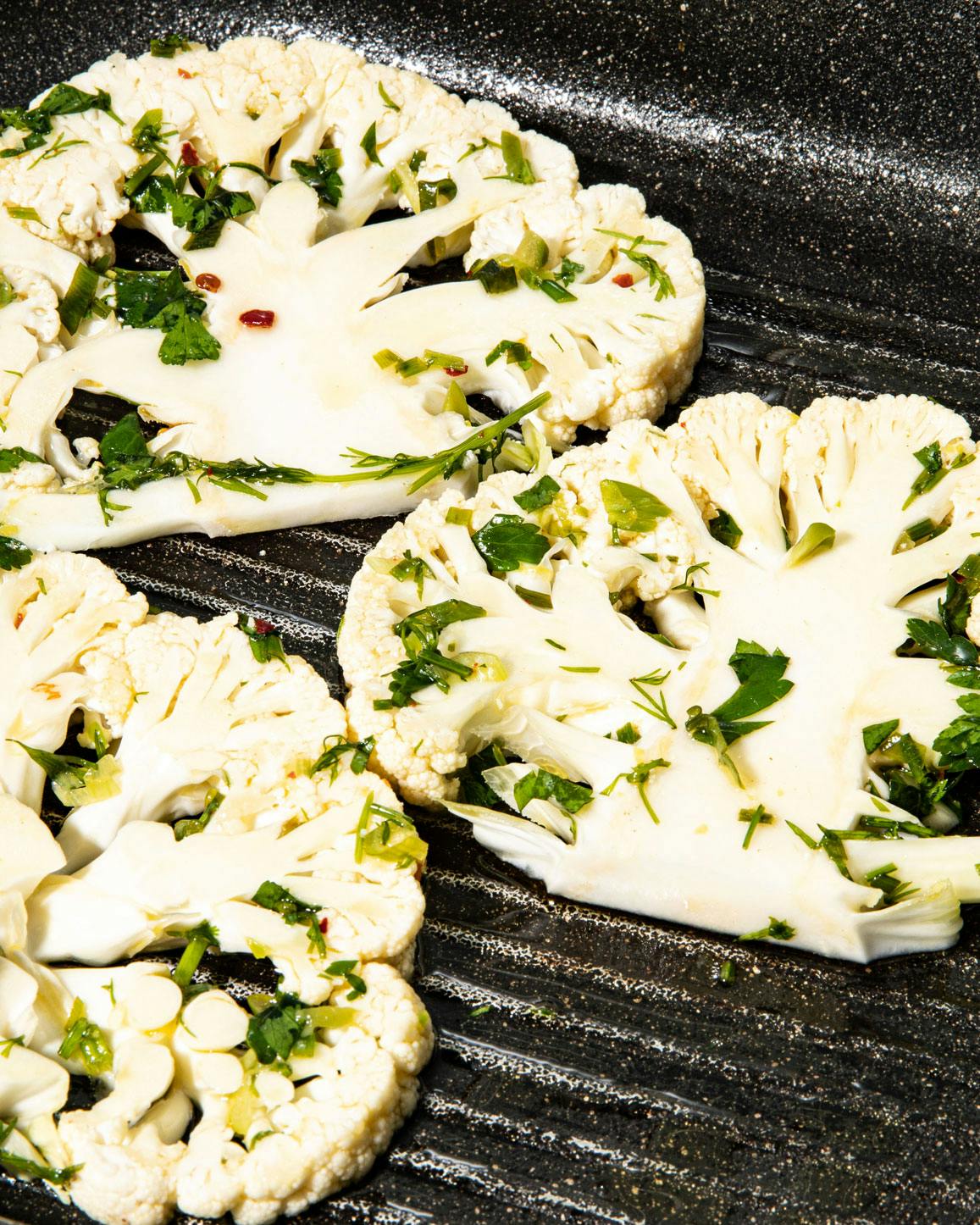 The marinade in this recipe is one of my most trusted. I use a variation of it on everything, in the form of marinade for tofu, a sauce for crispy potatoes, and even a topping for toast. Its flavour comes from spring onions, soft herbs, chilli, olives, lemon zest and a generous amount of olive oil, which create a punchy base that can both withstand strong flavours and brighten weaker ones. The same marinade is then tossed with walnuts and sultanas to create a topping for the (roasted) cauliflower that adds and extra pop of sweetness and crunch whilst still complementing the original marinade. It's also pretty adaptable as long as you follow the right ratios. You can use any soft herb you have on hand, and you can sub the spring onions for very finely chopped shallots, the olives for around 40g of capers, the walnuts for any other nut (or seed for that matter), and the sultanas for dates.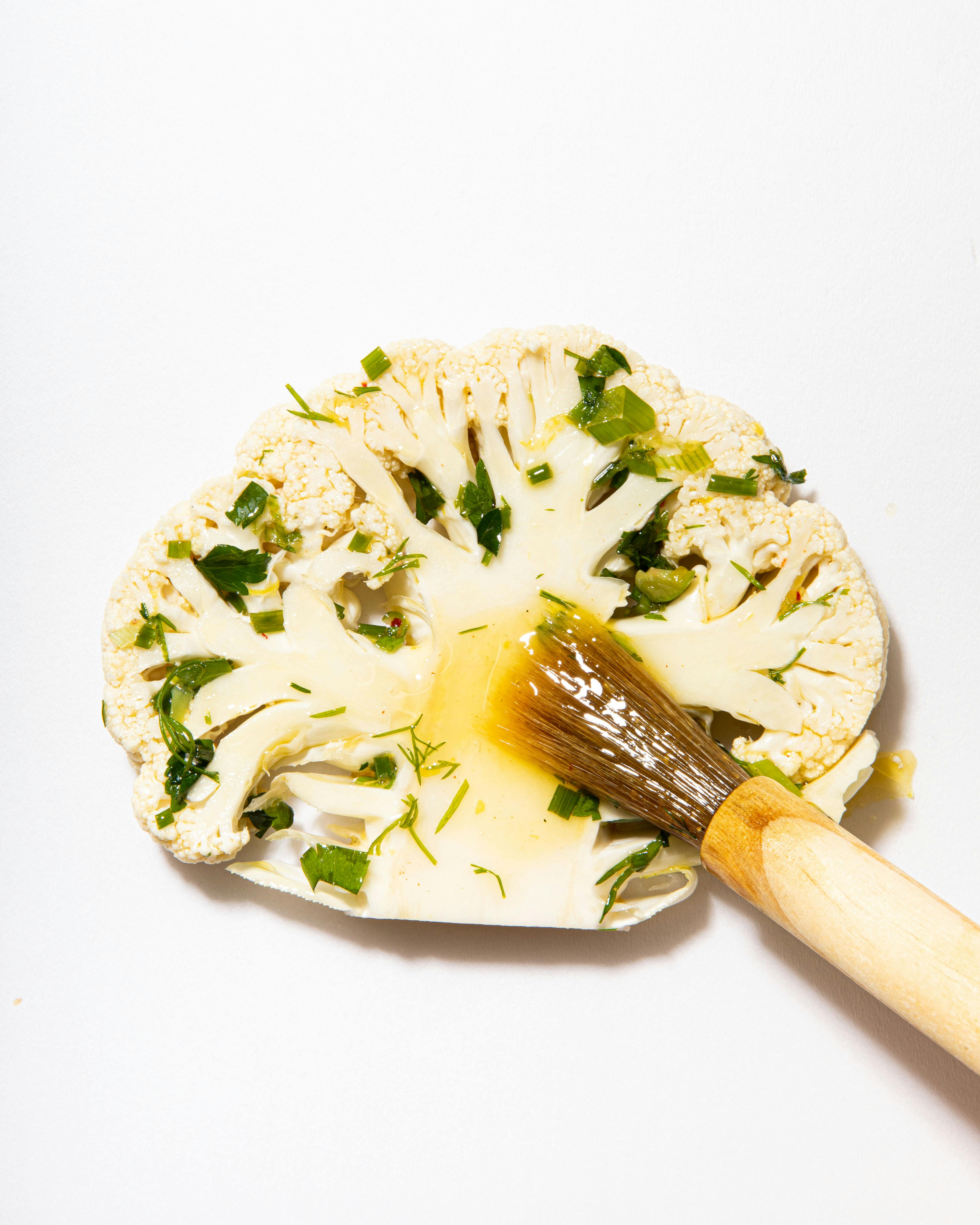 One last thing, you'll notice you get four steaks from this. That's because the stalk can only really support two large slices per head, but fret not - all of the other bits of cauliflower are finely chopped and roasted at the same time as the steaks, creating a lot of crispy bits and more than enough cauliflower for every serving.
Ingredients
Steaks: 
60g soft herbs (we used parsley, coriander and chives), finely chopped
2 spring onions, sliced
1 red chilli, finely chopped  
80g green olives, chopped
60ml olive oil
2 lemons, juiced and zested
2 tbsp maple syrup 
1 tsp salt 
2 heads cauliflower (around 1.5kg)
60g walnuts
50g sultanas
To serve: 
150g thick plant based yoghurt
Method
STEP 1
Preheat the oven 180˚C fan/200˚C conventional. 
STEP 2
In a large bowl, combine the herbs, spring onions, olives, chopped chilli and lemon zest and toss together. Stir in the salt, olive oil, lemon juice and maple syrup. Let the marinade sit while you slice the cauliflower. 
STEP 3
Remove the outer leaves off of the cauliflower and trim the stalk but leave most of it intact, as it will keep the steaks together. 
STEP 4
Use a sharp knife to slice two thick slices from the middle of each head of cauliflower - leaving you with four slices in total, and an extra slice if your cauliflower allows.
STEP 5
Finely chop the remaining loose pieces of cauliflower and transfer them into a roasting dish. These will get roasted while the cauliflower steaks cook. 
STEP 6
Lay the cauliflower slices flat onto a chopping board. Brush roughly ¼ of the marinade over the tops of the cauliflower steaks, making sure to get it into all the gaps. Flip the steaks over, and coat them with another brushing of marinade. Let them sit for 20 minutes.
STEP 7
Spoon 2 tbsp of the marinade onto the finely chopped cauliflower in the roasting dish and toss to combine. Transfer the dish into the oven and roast for 20-25 minutes. 
STEP 8
Heat a griddle pan or cast iron skillet over medium high heat. When it's very hot, place the cauliflower steaks onto it. Let them cook for 4-5 minutes on each side, until they're a deep golden brown. Sprinkle them with a pinch of salt. 
STEP 9
Transfer the pan or skillet into the oven. Roast the steaks for 16-18 minutes, until the thickest part of the cauliflower is tender and easily pierces with a knife. By this point, the chopped cauliflower in the other roasting dish should also be very tender and a deep golden brown in some places. 
STEP 10
While the cauliflower cooks, prepare the topping. Finely chop the walnuts and sultanas, and add them to the reserved marinade. Taste for seasoning and add extra salt, maple syrup or lemon to taste. 
STEP 11
Remove the cauliflower from the oven and let it cool for 10 minutes. 
STEP 12
To serve, spoon a couple tbsp of yoghurt onto each dish. Transfer one steak onto each plate, along with a couple spoonfuls of roasted chopped cauliflower. Spoon a couple tbsp of the herb walnut topping onto each dish and serve! 
---
By Valentina Concordia
Valentina is our Food Editor, who dreams up our tasty dishes and recipes for our social channels. She has loads of experience cooking up a storm in Italian kitchens, so it's no surprise she can't live without good-quality olive oil (don't come between her and her olive oil) and fresh pasta.
---
Let us take care of dinner
After getting creative in the kitchen, give yourself the weekend off by letting us take care of dinner. Check out our delicious meals here.