Recipes
Emily's 20 Nug Share Box For One
6min read
We recently asked our Instagram community if they'd ever struggled with being 100% plant-based. It turned out the answer was yes. So much yes. And it inspired us to turn your fess ups into tasty recipes, but no judgement if the pans stay in the cupboard.
This recipe was inspired by Emily, who told us she was "veggie throughout uni unless drunk, then it was a 20 nuggets share box (to myself)". If that's not relatable, I don't know what is. Here's our very own recipe for a 20 nugget share box, a vegan one that is. Aside from being perfectly crisp and flavourful, the nuggets are also cupboard friendly and don't require any hard-to-find ingredients.
In order to achieve a filling that was as un-tofu like as possible, I tried a couple methods of preparing it with different brands of tofu. One method consisted of pressing the tofu dry, freezing it overnight and then pressing it again. Although it sounded like a hassle, I had heard a while ago that this process gives tofu a very flaky meat-like texture so despite my laziness I wanted to give it a try. To my surprise, the process had opposite effects on different types of tofu. Whilst it worked well with a block of Cauldron tofu, it made the block of Tofoo tofu crumbly and soggy instead. My maybe-innaccurate-thoery is that the freezing method works well with blocks of tofu that contain a lot of water and require a lot pressing before cooking, whereas it doesn't with drier blocks of tofu that don't require any pressing, like Tofoo.
So, what's this whole monologue about? Well, it's all to say that how you prepare your tofu for this recipe depends on what tofu you have on hand. If your tofu is stored in a container of water, it most likely could really benefit from being drained, patted dry, frozen overnight, then thawed and pressed dry. I promise it doesn't take as long as it sounds. If you're using a brand like Tofoo which doesn't suggest "pressing dry" before cooking, you can skip that process. The most important steps to follow however, regardless of which tofu you're using, are steps 2 and 3, in which you dry the slices of tofu. Don't skip it, unless you want soggy nuggets - yum.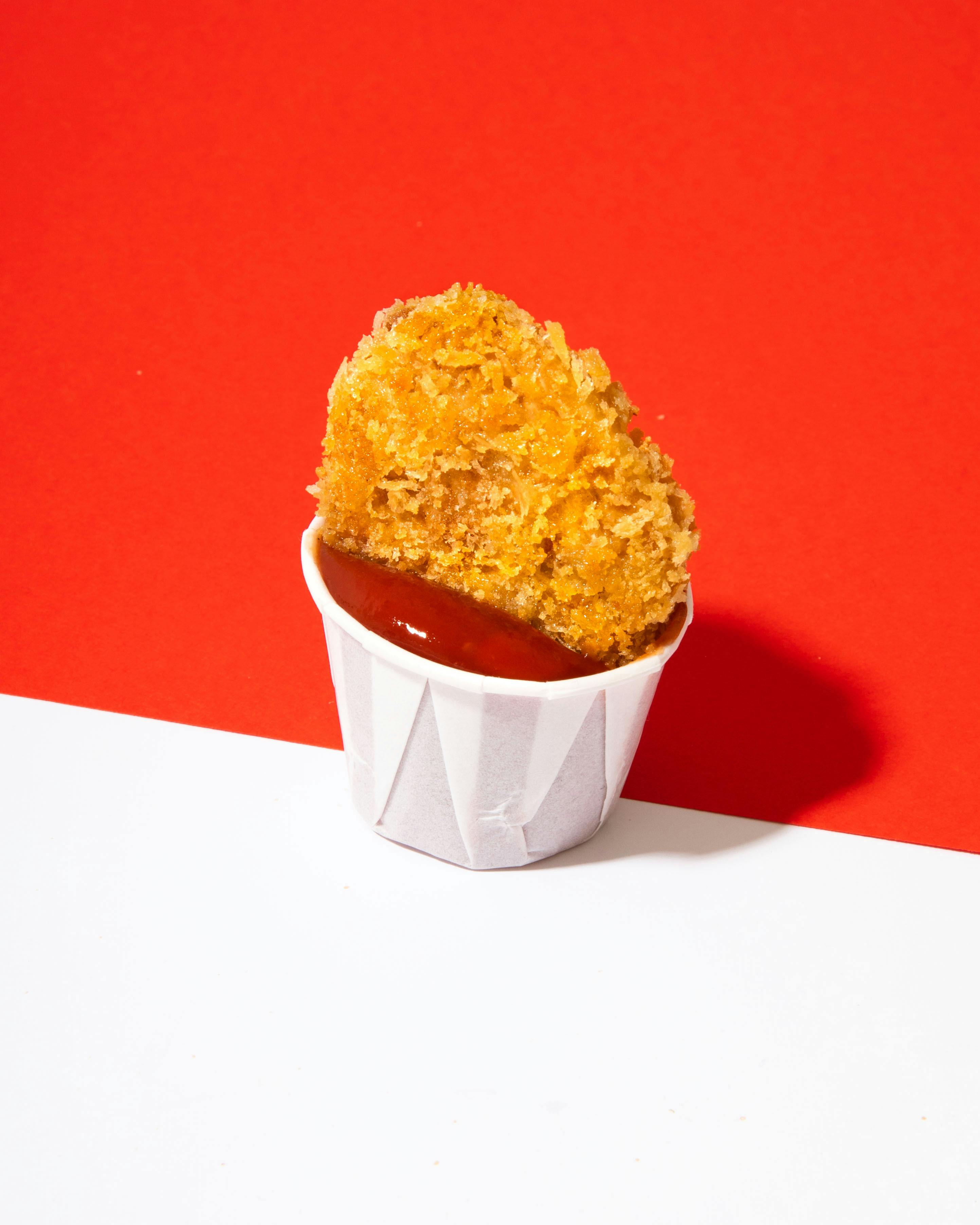 Ingredients
Filling:
800g tofu
200ml plant based milk
4 tbsp soy sauce or tamari
2 tsp apple cider vinegar
2 tbsp olive oil
1 tsp garlic powder (optional, but recommended)
1 tsp celery salt (optional, but recommended)
Coating: 
30g panko breadcrumbs (sub for regular if necessary)
30g regular breadcrumbs 
½ tsp salt 
⅛ tsp black pepper 
½ tsp celery salt (optional, but recommended)
½ tsp garlic powder (optional, but recommended)
90ml plant based milk
1 tsp apple cider vinegar 
50g plain flour 
To cook:
3 tbsp neutral oil
Method
STEP 1
Slice the blocks of tofu into twenty rectangular slices that are around 1.5cm thick (and 4x6cm in dimension). This typically means simply slicing the block into slices, but if you're using one very big block of tofu it might be the case of halving it before slicing it. 
STEP 2
Lay the slices of tofu flat on a chopping board lined with a few sheets of kitchen roll (or a clean tea towel). Cover them with a few more sheets of kitchen roll or another clean tea towel. 
STEP 3
Press down on each slice for a few seconds at a time to remove as much moisture as possible, then place a heavy cutting board topped with a heavy bowl or pan over the kitchen towels. Let the slices sit covered and pressed for 30 minutes. This step is essential for nuggets that aren't soggy, don't skip it!
STEP 4
In the meantime make the marinade. Combine the soy sauce, milk, apple cider vinegar, olive oil, garlic powder and celery salt in a large bowl and whisk to combine. 
STEP 5
Once the tofu has been pressed dry, use a knife to trim the edges of each piece into a round nugget shape. You can also leave them as is though if you prefer not to trim them - rectangular nuggets are still delish. 
STEP 6
Add the pieces of tofu to the marinade and toss them so they're all coated. Let them sit for at least 30 minutes, stirring them half way through to make sure they're all fully coated.  
STEP 7
While the tofu marinates, prepare the coating and preheat the oven to 170˚C fan/ 190˚C convention.  
STEP 8
You're going to need three small bowls. To one, add the panko breadcrumbs, regular breadcrumbs, salt, black pepper, celery salt, and garlic powder and mix to combine. To the second bowl, add the milk and apple cider vinegar. To the third bowl, add the plain flour. 
STEP 9
Working with one piece at a time, dip a piece of tofu into the flour, then into the milk and finally into the breadcrumbs. Make sure they're fully coated each time. Repeat with the rest and place on a large baking tin. 
STEP 10
Heat 3 tbsp of oil in a large nonstick pan over medium heat. Add the nuggets and pan fry on each side for 2-3 minutes, until golden. You can skip this step and bake them directly, but pan frying creates a crisper crust on the nuggets. 
STEP 11
Transfer them back into the baking tin, and into the oven. Bake them for 15-20 minutes, until they're a dark golden colour. 
STEP 12
Let cool for 5 minutes before tucking in!
---
by Valentina Concordia
Valentina is our Food Creative, who dreams up our tasty dishes and recipes for our social channels. She has loads of experience cooking up a storm in Italian kitchens, so it's no surprise she can't live without good-quality olive oil (don't come between her and her olive oil) and fresh pasta.
---
MORE GREAT READS