Recipes
Vegan Tofu Tikka Masala
4min read
We recently asked our Instagram community if they'd ever struggled with being 100% plant-based. It turned out the answer was yes. So much yes. And it inspired us to turn your fess ups into tasty recipes, but no judgement if the pans stay in the cupboard.
When one of our community, Ashleigh, told us about that time "it was my 21st bday party and I NEEDED a chicken tikka masala", we were inspired to create a recipe for a vegan chicken tikka masala that tastes just like classic. It's rich, creamy, delicious and here for when you need it the most.
Tofu instead of chicken might sound like a reach, but trust us. This tikka masala uses tofu that's torn instead of sliced (for better texture and more crisp surface area) which is first marinated in yoghurt and spices (allowing for the tofu to absorb flavour and acidity) and then braised (by being seared before being submerged in liquid). The result is an extremely tender filling with a slightly crisp and caramelised exterior that doesn't rely on the sauce for flavour - it has it's own thing going on. Does it taste just like chicken? No. Does it provide the same depth and body that chicken would in this recipe? Yes!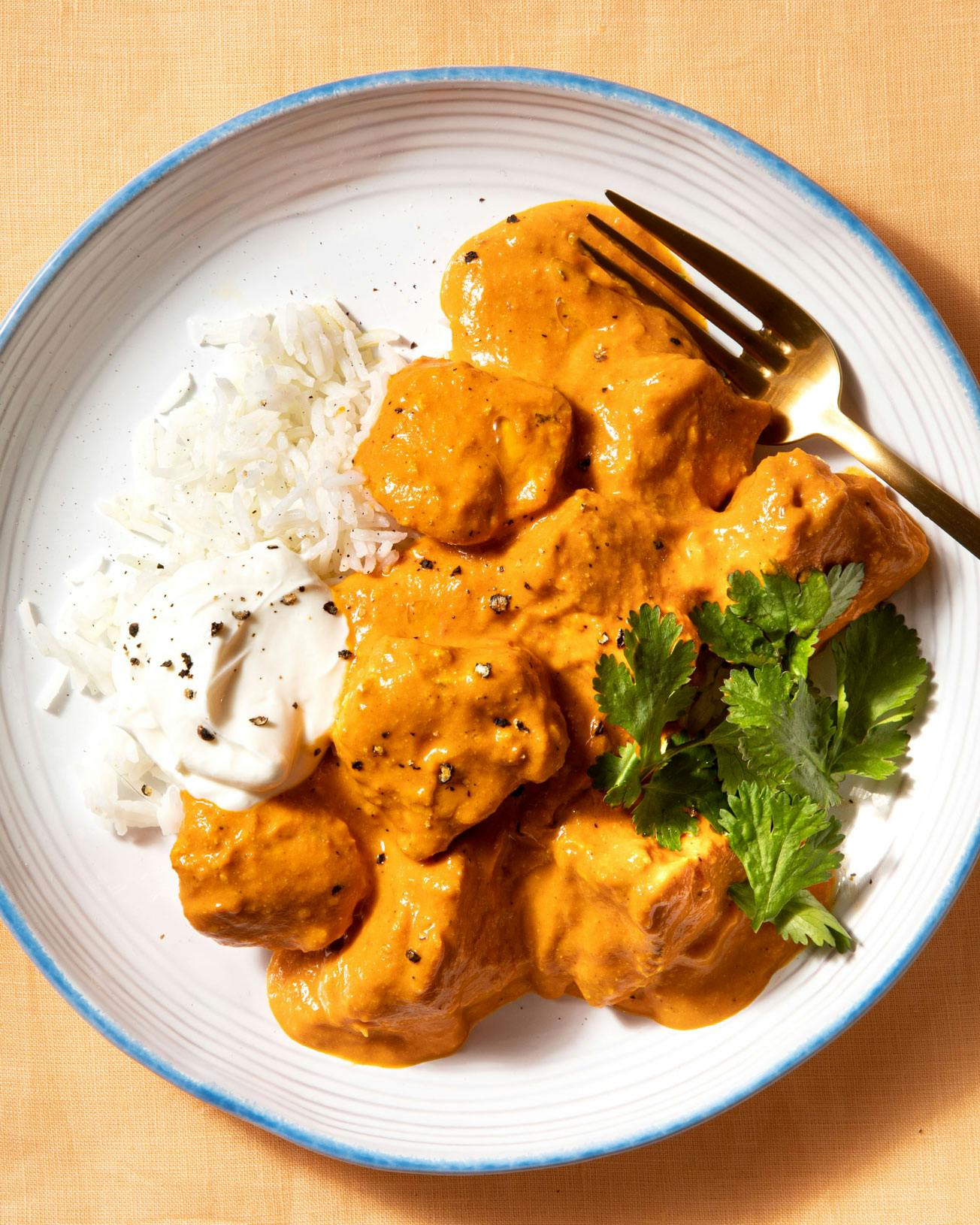 Ingredients
Tofu:
600g tofu
150g plant based yoghurt
2 cloves garlic, finely minced 
½ tsp salt
2 tsp garam masala
1 tsp cumin
½ tsp ground turmeric 
½ tsp Kashmiri chilli (or regular chilli powder)
2 tbsp (30ml) olive oil
Sauce:
1 tbsp (15ml) olive oil, divided
1 white onion, finely chopped (around 150g)
20g ginger, finely minced (around a 4cm piece)
1 clove of garlic, finely minced
½ tsp salt
1 tsp ground cumin
2 tsp garam masala 
½ tsp Kashmiri chilli (or regular chilli powder)
2 tbsp (30g) tomato paste
1x400g tin chopped tomatoes
1x400g tin coconut milk
½ lemon, juiced
To Serve: 
300g cooked basmati rice
20g fresh coriander 
50g plant based yoghurt
Method
STEP 1
Start by prepare the tofu. Pat it dry and use your hands to tear it into large rough chunks. Place the chunks onto a piece of kitchen roll or a tea towel and gently pat them dry.
STEP 2
In a large bowl, combine the yoghurt, garlic, salt and spices and stir them together. Add the chunks of tofu, and gently stir to coat them in the marinade. Let the tofu marinate for at least 20 minutes. 
STEP 3
Once marinated, heat 2 tbsp of oil in a large pan over medium heat. Carefully transfer the chunks of tofu into the pan, without overcrowding them. They should have a couple cm of space between them, so do it in two batches if necessary. 
STEP 4
Cook the tofu for 1-2 mins on each side, until it's golden all around. Use a slotted spoon to transfer the tofu out of the pan and onto a plate. Reserve it for later. 
STEP 5
Wipe the pan clean and heat 1 tbsp of oil to it. Add the chopped onion and ginger, and sauté it for 5-6 minutes, until starting to soften. Add the minced garlic and a pinch of salt, and sauté for 3-4 more minutes.  
STEP 6
Stir in the spices and toast them for 1-2 minutes, until fragrant. If they're sticking to the bottom of the pan, add a splash of water to loosen them. 
STEP 7
Stir in the tomato paste and cook it down for 2-3 minutes, until it darkens and starts to stick to the pan. 
STEP 8
Add the tinned tomatoes, coconut milk and a big pinch of salt. Bring the sauce to a boil, and lower the heat to a simmer. Let it simmer for 15-20 minutes until it has reduced slightly.
STEP 9
Transfer the sauce to a blender (or use an immersion blender), and blend the sauce until thick, creamy and smooth. This step is optional - you can leave the sauce as is without blending it, but the blended sauce tastes richer and creamier.
STEP 10
Transfer the blended sauce back into the pan, and stir in the chunks of tofu. Simmer the sauce for 10 more minutes, until it is very thick and creamy. 
STEP 11
Stir in the lemon juice. Taste for seasoning and adjust to taste. 
STEP 12
Serve the tikka masala with rice, a dollop of yoghurt, fresh black pepper, and fresh coriander. 
---
By Valentina Concordia
Valentina is our Food Editor, who dreams up our tasty dishes and recipes for our social channels. She has loads of experience cooking up a storm in Italian kitchens, so it's no surprise she can't live without good-quality olive oil (don't come between her and her olive oil) and fresh pasta.
---
Let us take care of dinner
After getting creative in the kitchen, give yourself the weekend off by letting us take care of dinner. Check out our delicious meals here.