Recipes
Vegan Chilli and Cherry Tomato Risotto
6min read
This vegan chilli and tomato risotto is the best of all worlds. It's both sweet and deeply savoury, as well as creamy yet fresh. It also makes for a quick enough weekday dinner and a special enough summer weekend dinner, making it a win win win.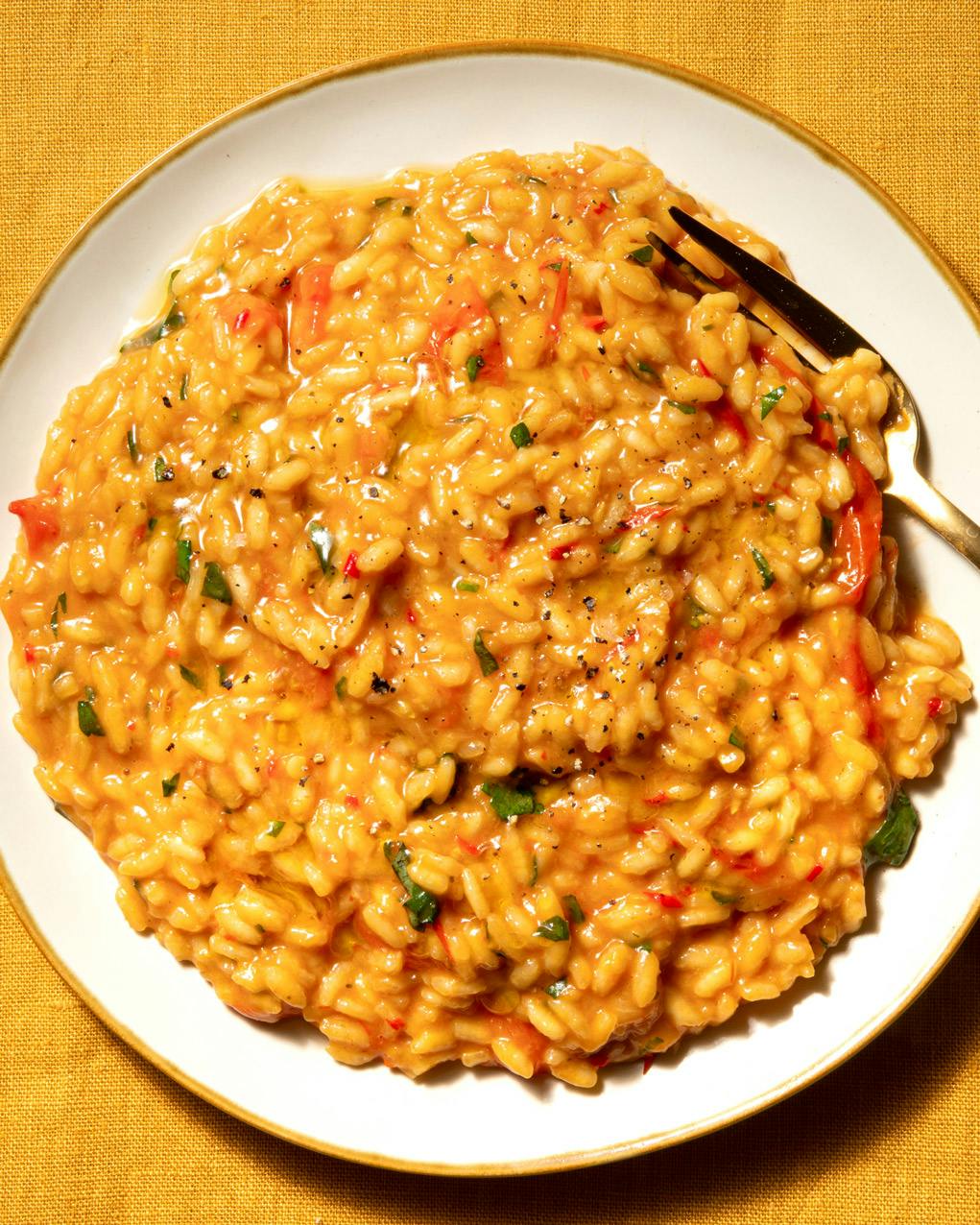 Ingredients
2 tbsp (30g) olive oil 
1 shallot, finely chopped
2 chillies, finely chopped
1 clove garlic, smashed 
400g cherry tomatoes 
1 tsp salt
200g carnaroli or arborio rice
60ml white wine
750ml vegetable stock
4-5 strands saffron
5g parsley, finely chopped
5g basil, finely chopped
½ lemon, juiced
1 tbsp plant based butter
Method
STEP 1
Start by heating up the vegetable stock in a saucepan over medium low heat. The stock should gently simmer throughout the whole cooking process. 
STEP 2
In a large wide saucepan, heat 2 tbsp olive oil over medium heat. Add the finely chopped shallots, stir to coat them in oil, and sauté them for 5-6 minutes, until soft.
STEP 3
Next, add the finely chopped chillies, the clove of garlic and a big pinch of salt. Sauté the shallots with the chillies and garlic for 5-6 more minutes. 
STEP 4
Next, add the cherry tomatoes, stir to coat them in oil, and cook them for 10-12 minutes until they've broken down and are jammy. Remove half of the tomatoes from the pot and set them aside - they'll be stirred into the risotto at the end.
STEP 5
Add the rice to the pot, stir to coat it in the shallots and tomatoes and toast it for 2-3 minutes - this will help it cook evenly. 
STEP 6
Next, add the white wine and cook it down for 2-3 minutes, until it evaporates. 
STEP 7
Reduce the heat to medium low. Add a couple ladlefuls of hot stock to the rice (around 200ml), and stir constantly while the rice absorbs the stock. 
STEP 8
Next, add the saffron to a small bowl and cover it with 2 tbsp of boiling water. Let it seep for a couple of minutes, then add it to the rice (along with the water it seeped in).
STEP 9
Continue to add the stock in increments until the rice is cooked and the risotto is creamy and loose - this usually takes around 20-25 minutes. 
STEP 10
Remove the risotto from the heat, remove the clove of garlic, then stir in the cooked tomatoes from earlier, the parsley and basil, the lemon juice and plant based butter.
STEP 11
Taste for seasoning and adjust, adding more lemon juice or salt to taste. Serve the risotto topped with a drizzle of olive oil and freshly ground black pepper. 
---
By Valentina Concordia
Valentina is our Food Editor, who dreams up our tasty dishes and recipes for our social channels. She has loads of experience cooking up a storm in Italian kitchens, so it's no surprise she can't live without good-quality olive oil (don't come between her and her olive oil) and fresh pasta.
---
Let us take care of dinner
After getting creative in the kitchen, give yourself the weekend off by letting us take care of dinner. Check out our delicious meals here.