Recipes
Vegan Chocolate Bread and Butter Pudding
3min read
The hardest part of making this vegan chocolate bread and butter pudding is standing back and letting it soak before baking it. Letting the bread sit and absorb the chocolate custard, however, is entirely responsible for a soft, satisfying and custard-y texture, rather than a mushy and soggy one.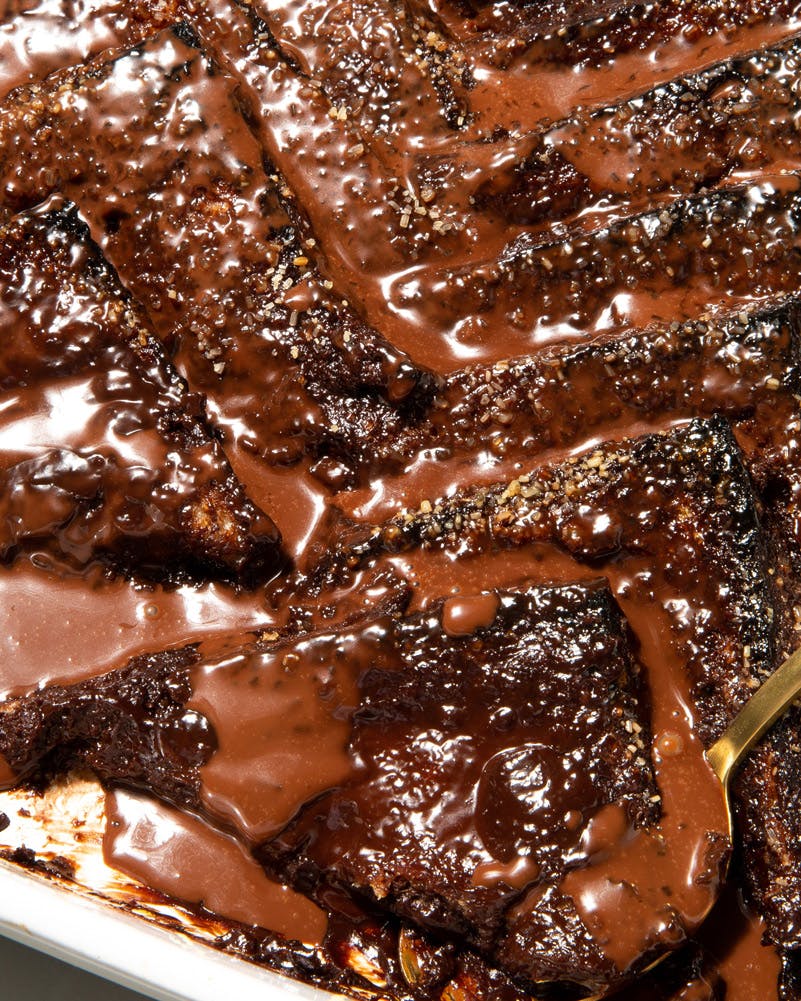 Ingredients
500ml plant based custard (we used oatly)
180g dark chocolate, chopped
5g cocoa powder
1 tbsp espresso or strong coffee
1 tsp vanilla extract
½ tsp salt 
40-60g caster sugar 
450g day old bread (around 10 slices), sliced 1cm thick
50g plant based butter
30g demerara sugar, for sprinkling
Method
STEP 1
Start by preparing the chocolate custard. Add the custard to a saucepan and heat it over medium heat for 2-3 minutes. Once hot, add the chopped dark chocolate, cocoa powder, coffee, vanilla and salt and whisk it until the chocolate melts and the custard is smooth and creamy. 
STEP 2
Whisk in 40g of caster sugar for 1-2 minutes, then taste for sweetness. Depending on the strength of the chocolate you're using, you might want to add an extra 20g.  
STEP 3
Let the chocolate custard sit while you prepare the bread. Spread the plant based butter evenly over one side of each bread slice. Use a knife to slice each buttered bread slice in half, turning them into triangles. 
STEP 4
To assemble the pudding, pour ⅓ of the chocolate custard into your baking dish. Next, arrange the slices of bread over the chocolate custard. Last, pour the remaining custard over the slices of bread. Use a spoon to nudge the bread slices into the custard, ensuring each slice is equally coated and submerged in the custard.
STEP 5
Let the pudding sit at room temperature for 1 hour, then, once cool, transfer it into the fridge to soak overnight (or for at least 6 hours). The longer you let the bread soak in the custard, the better the texture in the final pudding will be. 
STEP 6
Preheat the oven to 180˚C fan/200˚C conventional. Sprinkle the demerara sugar evenly over the bread slices, which will create a crunchy crust while it bakes. 
STEP 7
Bake the pudding for 35-40 minutes, until it's bubbling and crisp. Let the bread and butter pudding cool for 10 minutes before serving. 
---
By Valentina Concordia
Valentina is our Food Editor, who dreams up our tasty dishes and recipes for our social channels. She has loads of experience cooking up a storm in Italian kitchens, so it's no surprise she can't live without good-quality olive oil (don't come between her and her olive oil) and fresh pasta.
---
Let us take care of dinner
After getting creative in the kitchen, give yourself the weekend off by letting us take care of dinner. Check out our delicious meals here.
Shop now