Recipes
Vegan Chocolate Guinness Cookies
6min read
Did we lose you at Guinness? Come back! It both deepens the chocolate flavour and enhances the sweetness. Best of all, these vegan chocolate Guinness cookies take around thirty minutes to pull together and are here for you when you're in the mood for deeply chocolatey and rich Guinness cake, but are short on time.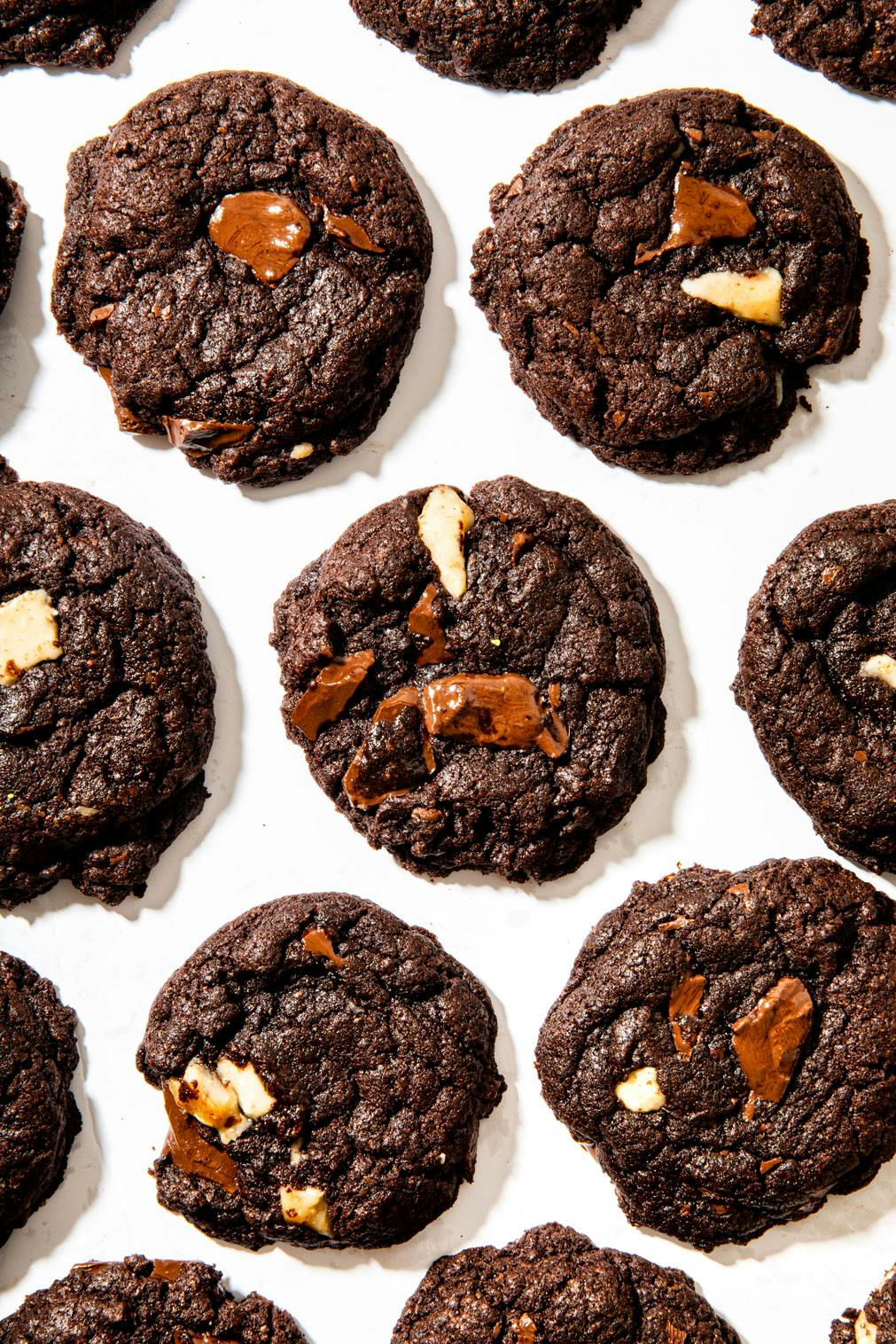 Ingredients
250g plain flour 
90g cocoa powder
100g caster sugar 
100g light brown sugar 
½ tsp baking soda
½ tsp baking powder 
½ tsp salt 
120ml neutral oil 
120ml guinness
60ml plant based milk 
160g plant based chocolate (dark and/or white), chopped
Method
STEP 1
In a large bowl combine the flour, cocoa, baking soda, baking powder and salt and whisk together.
STEP 2
Next, stir in the caster sugar and light brown sugar.
STEP 3
In a separate large bowl, whisk together the oil, Guinness and milk. 
STEP 4
Fold the dry ingredients into the wet, and stir until all of the flour has been incorporated.
STEP 5
Next, fold the chopped chocolate into the dough. Place the bowl of dough in the fridge and let it rest for at least 20 minutes.
STEP 6
In the meantime, preheat your oven to 180˚C fan/200˚C conventional and line two large baking trays with parchment paper. 
STEP 7
Once the dough has rested, use an ice cream scoop or large spoon to scoop around 1 ½ tbsp worth of dough into a ball and place it on one of the prepared trays.
STEP 8
Repeat the scooping and rolling process with 8-10 more balls of dough, or as many can fit on your tray when leaving around 6cm of space between each cookie. 
STEP 9
Use your hand to slightly flatten each ball of dough by a couple of cm. 
STEP 10
Transfer the tray into the oven and bake the cookies for 9-11 minutes, until they have puffed and spread and look set around the edges.
STEP 11
While the first tray of cookies bake, prepare the second as you did the first. Once you remove the first tray from the oven, place the second in and bake the cookies.
STEP 12
Let all the cookies cool for 15-20 minutes before tucking in, where they will set and firm up.
---
By Valentina Concordia
Valentina is our Food Editor, who dreams up our tasty dishes and recipes for our social channels. She has loads of experience cooking up a storm in Italian kitchens, so it's no surprise she can't live without good-quality olive oil (don't come between her and her olive oil) and fresh pasta.
---
Let us take care of dinner
After getting creative in the kitchen, give yourself the weekend off by letting us take care of dinner. Check out our delicious meals here.
Shop now