Recipes
Chocolate Dipped Cinder Toffee
2min read
Cinder toffee - or honeycomb - relies on a simple technique in order to achieve its trademark airy and crisp texture. Sugar is first caramelised, and then combined with baking soda, before very quickly being spread onto a baking tray where it cools and hardens. Once set, the toffee is broken apart - creating bitesize pieces that are crumbly and sweet. 
I'd say one of the most important ingredients in cinder toffee is time. Just a few seconds can make the difference between a light and airy toffee and an overly hard and chewy toffee - so it's important to have everything prepped before you start cooking the sugar. I like to set up my parchment lined tin next to my pan, as well as having my whisk and baking soda at hand from the start. It's also worth noting that the wider the dish, the thinner the toffee will be and vice versa. I like to go for a roughly 25cm brownie tin that ensures my toffee has enough room to spread but not so much that it doesn't reach the edges once poured into it.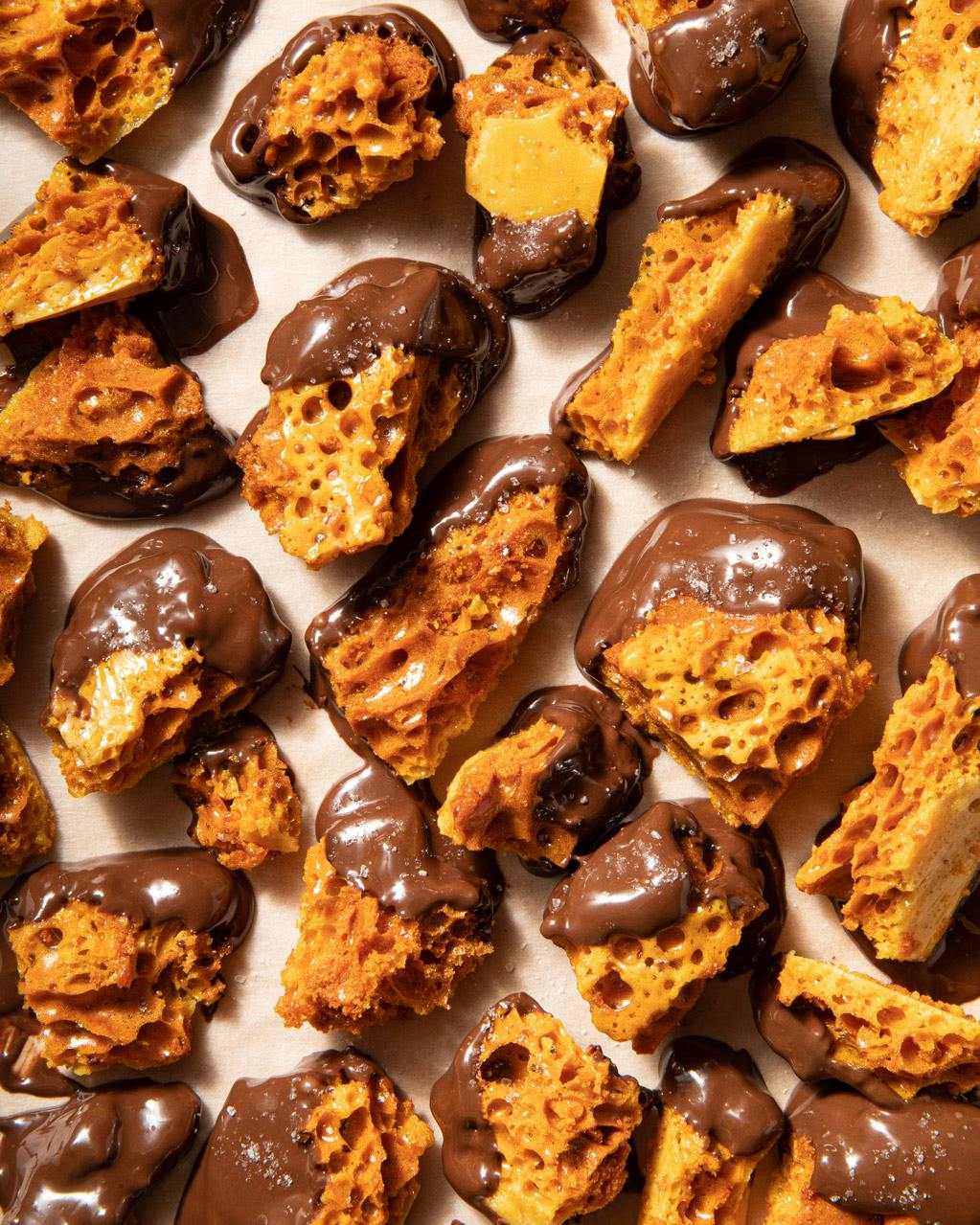 Ingredients
250g caster sugar 
115g golden syrup
50ml water
3 tsp baking soda 
100g dark chocolate, finely chopped
½ flaky salt 
Method
STEP 1
Start by lining a baking dish with parchment paper. Next, prepare the baking soda, as you'll need to move fast once the sugar is ready.
STEP 2
In a saucepan combine the sugar, golden syrup and water and stir to combine.
STEP 3
Heat the sugar mixture on medium low heat until the sugar dissolves. Raise the heat to medium, and cook the sugar until it reaches 150˚C/302˚F and is a deep caramel colour - this takes around ten minutes. 
STEP 4
Add the baking soda and use a whisk to mix it in for 8-10 seconds, until it has foamed and tripled in volume. 
STEP 5
Working quickly, pour the mixture into the prepared baking dish. Let the toffee set for at least 2 hours.
STEP 6
Use a serrated knife to slice it or a rolling pin to smash it into pieces.  
STEP 7
Add ¾ of the chocolate to a heat proof bowl and melt it over a double boiler. Once melted, stir in the remaining ¼ chopped chocolate and stir until fully melted. 
STEP 8
Dip each piece of toffee in the chocolate, and transfer them onto a sheet of parchment paper as you go. Let the chocolate set and harden for 10-15 minutes before serving.
---
By Valentina Concordia
Valentina is our Food Editor, who dreams up our tasty dishes and recipes for our social channels. She has loads of experience cooking up a storm in Italian kitchens, so it's no surprise she can't live without good-quality olive oil (don't come between her and her olive oil) and fresh pasta.
---
Let us take care of dinner
After getting creative in the kitchen, give yourself the weekend off by letting us take care of dinner. Check out our delicious meals here.