Recipes
Vegan Coconut & Lime Sweet Potato Gratin
5min read
This coconut and lime curried sweet potato gratin is rich, sweet and deeply savoury. Its base is filled with ginger, tomato, coconut milk and lime juice which create a creamy, silky sauce which gets absorbed by thinly sliced sweet potatoes as they bake. It's then topped with a spicy coconut and panko topping which adds an extra dimension of texture, sweetness and flavour to the gratin. Basically, it tastes a bit like a hug, a party and a holiday, all at the same time - if that doesn't make you want to make it for dinner tonight, nothing will. 
Most of the richness in this gratin comes from the combination of coconut milk and tomato paste, which together create a deeply sweet yet savoury and tangy sauce. Two tins of coconut milk might feel like a lot, but it's solely responsible for an ultra creamy, silky and glossy sauce. At a pinch, you can use 1 tin of coconut milk and sub the second tin for 400ml of plant based milk. Whilst the gratin might not taste as rich, it will still be delicious.
Salt and lime juice are also really important in this recipe, as they lift the rich flavours and break up the sweetness in both the gratin and the sweet potatoes themselves, so don't be afraid to salt more liberally than you normally would here and don't shy away from the lime.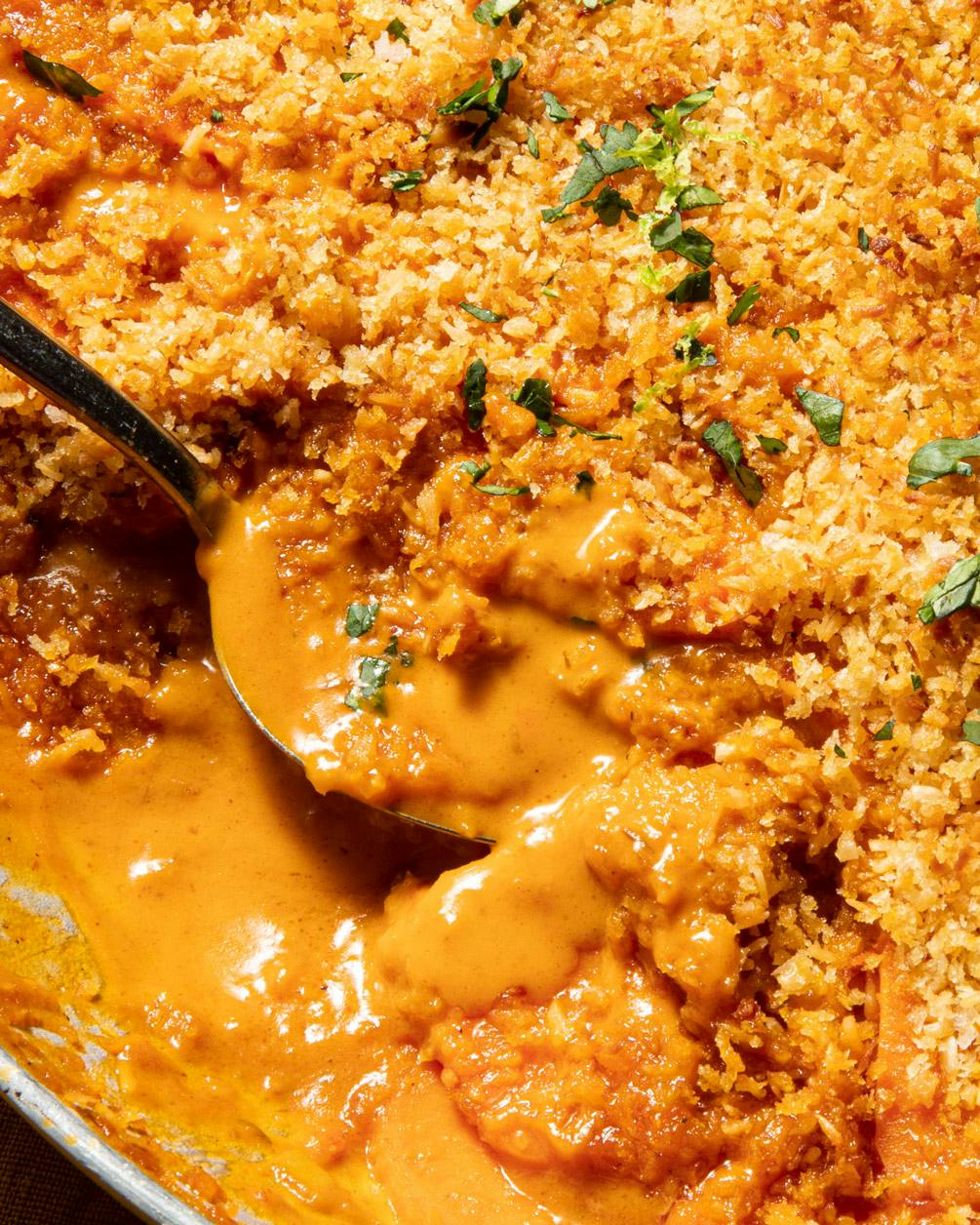 Ingredients
Base:
2 tbsp (30g) coconut or olive oil
2 shallots (around 200g), finely chopped
15g ginger, finely minced
1 chilli, finely sliced
2 tsp curry powder 
¼ tsp turmeric 
½ tsp cumin seeds
60g tomato paste 
1 tsp salt
2 x 400g tins coconut milk 
1 lime, juiced
2 large sweet potatoes (around 1 kg)
Topping:
1 tbsp (15g) olive oil
½ chilli, finely sliced 
30g shredded coconut
40g panko breadcrumbs
1 tbsp (15g) maple syrup
½ tsp salt 
5g fresh coriander, for serving
Method
STEP 1
Preheat the oven to 200˚C fan/ 220˚C conventional. 
STEP 2
Heat 2 tbsp of oil in a large frying pan or cast iron skillet. Add the shallots, stir to coat in oil, and sauté them for 5-6 mins, until they start to soften.
STEP 3
Next, add the chopped ginger and chilli. Continue to sauté the shallots with the ginger and chilli, for 8-10 minutes. Add the curry powder, turmeric and cumin seeds. Toast the spices for 2-3 minutes, stirring often, until fragrant. 
STEP 4
Stir in the tomato paste, and cook it for 2-3 minutes, until it has darkened and is sticking to the bottom pan. Next, add the coconut milk and salt and simmer the sauce for 10-12 minutes, until it has thickened and darkened in colour.  
STEP 5
Blend the sauce until it's smooth and creamy, then stir in the lime juice. Taste for seasoning and adjust, adding more salt or lime juice to taste. 
STEP 6
Use a mandolin or a sharp knife to slice the sweet potatoes into slices that are around ½ cm thin.
STEP 7
If your pan is ovenproof, add the sweet potato slices into the sauce, in batches, ensuring they're all coated and submerged in the sauce before adding more. If your pan isn't ovenproof, transfer the sauce into a baking dish. Then, add the sweet potato slices into the sauce, in batches, ensuring they're all coated and submerged in the sauce before adding more. 
STEP 8
Place the pan or oven dish into the preheated oven. 
STEP 9
While the gratin base bakes, prepare the topping. In a small pan, heat 1 tbsp of oil over medium heat. Add the sliced chilli and fry it for 4-5 minutes, then add the shredded coconut, panko, maple syrup and salt. Fry the breadcrumbs, stirring often, for 5-6 minutes, until golden. 
STEP 10
Once the gratin base has baked for 20 minutes, remove it from the oven and carefully sprinkle the coconut breadcrumb topping evenly over the sweet potatoes.
STEP 11
Place the pan or oven dish back into the oven and continue to bake it for 20-25 more minutes, until it's bubbling and the sweet potatoes are soft.
STEP 12
Let it sit for 10 minutes, then serve with fresh coriander and planted based yoghurt. 
---
By Valentina Concordia
Valentina is our Food Editor, who dreams up our tasty dishes and recipes for our social channels. She has loads of experience cooking up a storm in Italian kitchens, so it's no surprise she can't live without good-quality olive oil (don't come between her and her olive oil) and fresh pasta.
---
Let us take care of dinner
After getting creative in the kitchen, give yourself the weekend off by letting us take care of dinner. Check out our delicious meals here.