Recipes
Vegan Cottage Pie
by Iona Berry
5min read
This ultimate vegan cottage pie recipe features protein packed soya mince cooked with a medley of vegetables in a rich tomato gravy, and topped with classic creamy mashed potatoes. It's baked to perfection, for a rustic, comfort food everyone will love. 
Shepherd's pie is the ultimate easy and affordable meal and reminds me of my childhood. This version is packed full of protein and veggies, making it healthy and nourishing.
I steered clear of using lentils in this recipe because there are already plenty of vegan cottage pie recipes using them and I wanted to show a recipe that everyone around the table would be impressed by. I used dried soya mince which needs soaking for 30 minutes in cold water before being drained and squeezed of any excess liquid — to get 400g of soya mince, I recommend soaking 140g of dry.
This cottage pie recipe is the perfect family favourite meal which can be served any night of the week (and is sure to impress even the pickiest of eaters). It's also endlessly adaptable: if you want to add extra veg, why not sub half of the potatoes for butternut squash or sweet potato. I hope you enjoy serving this dish as much as I do!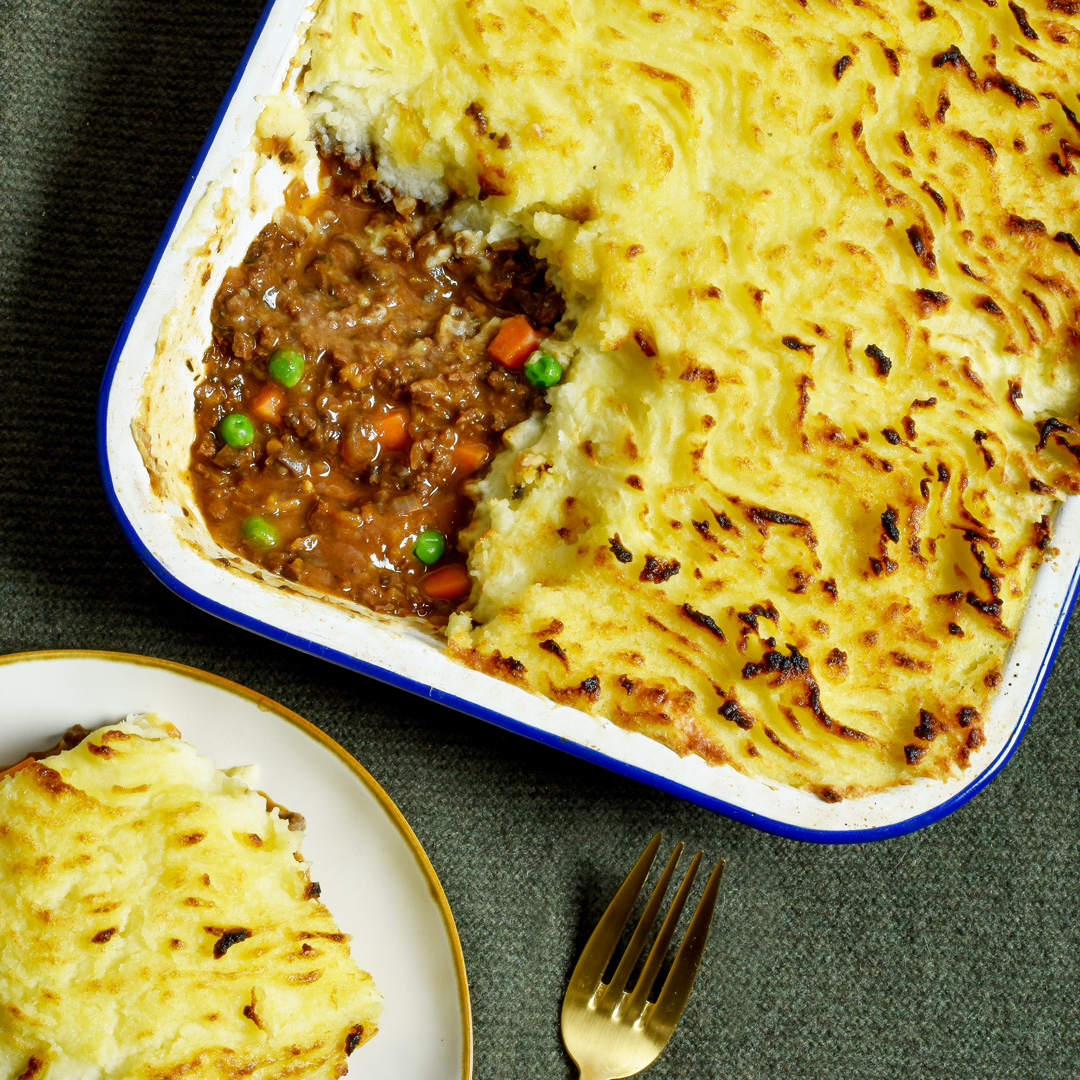 Ingredients
Base
2 tbsp rapeseed oil (or sunflower, vegetable or olive oil but not extra virgin)
2 medium onions or 1 large onion
1 tsp maple syrup (you can leave this out or add a different sweetener but I like to use it to encourage the onions to caramelise quicker)
2 sticks of celery 
2 medium sized carrots 
1 leek
4 sprigs thyme 
300g chestnut mushrooms (minced in a food processor or finely chopped)
3 cloves garlic minced 
1 tbsp vegan worcestershire sauce (optional) 
1 tbsp yeast extract (marmite)
2 tbsp tomato paste 
2 tbsp plain flour (you could sub this for a different flour if you prefer)
1 tbsp porcini mushroom powder 
2 tbsp red wine vinegar 
600ml vegetable stock
400g soya mince (you could use vegan quorn mince)
150g frozen peas 
Salt to taste
Pepper to taste 
Mashed potatoes
1kg potatoes (maris piper are perfect for this recipe)
100g vegan butter 
200ml - 300ml non dairy milk depending on how creamy you want the mashed potatoes to be (I like soya best for this) 
Salt to taste
Pepper to taste 
Method
STEP 1
Preheat the oven to 220C/200F. 
Finely chop the onions, celery, leek, carrots and mushrooms (you can do this in a food processor if you prefer). Heat oil in a large saucepan, add the onions and a pinch of salt. Begin to soften the onions. Add the maple syrup (or other sweetener of choice) and cook the onions until they are darker and jammier. 
STEP 2
Add your celery, carrots, leek and celery and cook until they have softened and the flavours have intensified around 10 minutes.  
STEP 3
Whilst your vegetables are softening you can get started on the mashed potato. Peel and chop all the potatoes into rough 2cm chunks. Place the Maris Pipers into a large pan of cold salted water over a medium heat. Bring to the boil, then simmer for 15 to 12 minutes or until tender. Drain and leave to steam dry for a couple of minutes. Heat up your milk in a small pan and add the butter, once melted pour over the potatoes and mash until smooth, then set aside.
STEP 4
Add the minced mushrooms to the saucepan and cook for 5 minutes until they have reduced in volume and turned a dark golden colour. Then add the thyme and garlic, tomato paste and yeast extract and cook for 4 minutes. Add porcini powder and flour and cook for 2 minutes so that the flour has cooked off.
STEP 5
Turn up the heat slightly and add the red wine vinegar. Once the vinegar has cooked off you can add the stock, peas and soya mince and bring to the boil then reduce to a simmer for 15 minutes. Season to taste and then put into a deep baking dish. You can make this in advance and keep in the fridge until you want to put the mashed potatoes on top and this will make it easier to spread across the base however this step is not necessary and you can use it hot.
STEP 6
Spread the mash onto the base starting in the middle and then spread to the edges  (it's nice to leave a little space around the edge so that it can caramelise in the oven cook). Drizzle lightly with olive oil and bake at 220C for 20 - 25 minutes until piping hot and golden brown. Leave to stand for 10 minutes whilst you could steam some broccoli to serve alongside. Or garlicky spinach works great here as well.
STEP 7
Will keep for up to two days refrigerated or 2 months in the freezer (cover in cling film or foil). 
---
by Iona Berry
Iona is our Development Kitchen Assistant, aka our go-to girl for developing, testing and tasting delicious dishes for you to all enjoy at home. When she's not in the kitchen, you'll find her either running or cycling, or trying out food markets and new restaurants around London. Continuous market research it would seem.
---
MORE GREAT READS