Recipes
Courgette and Spring Onion Pancakes
by Iona Berry
4min read
Most of us grew up with meat as the hero of our meals and with vegetables taking up the mere corners of our plates. It can be hard to know where to start if you're trying to flip the script and cook plant based meals that don't feel like just eating a plate full of sides. Building an exciting, yet satisfying meal around vegetables - whether that's a bunch of carrots or a humble head of cauliflower - can sometimes feel like a little daunting and underwhelming task. 
Our new series, Veg and Two Veg is here to tackle just that and to explore all of the ways in which every day vegetables can be the star of the table without sacrificing flavour or heartiness. Whether you're cooking for one or cooking for a bunch, these recipes will fill your table with vibrant, deeply flavoured and satisfying dishes that you'll be making on repeat.
These Korean-inspired vegan courgette and spring onion pancakes are crispy, salty and absolutely addictive. The pancakes are great as they are but we love to serve them with a fiery sauce to dip them into. They are quick and easy to make and are great served alongside a fresh and citrusy slaw or simply with a bowl of steamed white rice.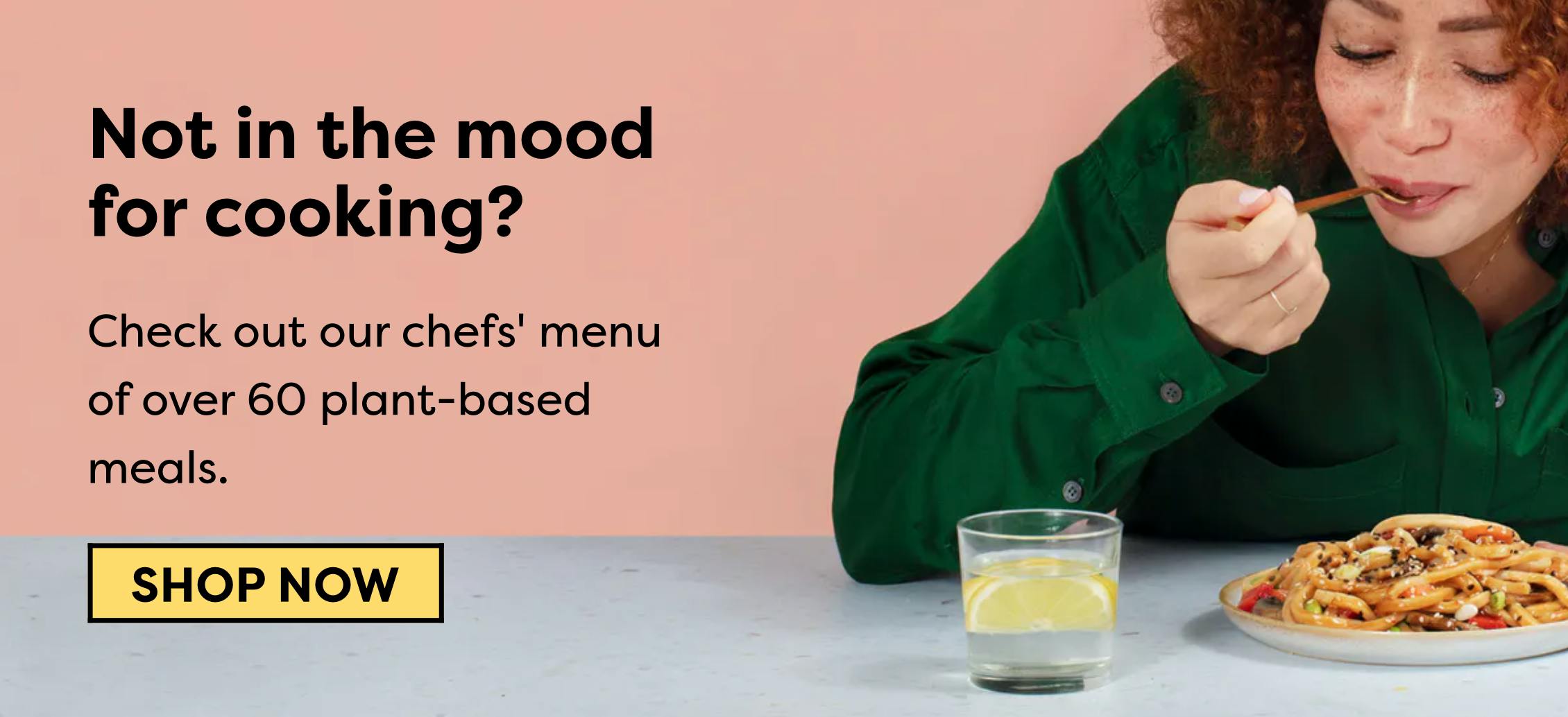 I first tried a spring onion pancake in a Korean restaurant in Sydney and ever since I have been on the lookout for one as good. They are equally chewy as they are crispy which is the perfect combination in my opinion. I have served them with a gochujang dipping sauce, which is an ingredient you might not have come across before. Gochujang is a savoury, sweet and spicy fermented condiment popular in Korean cooking. It's made from chili powder, glutinous rice, fermented soybeans and salt. It is pretty spicy so feel free to tweak the amount used in the dip but if you love chilli then you could add way more. I am able to find gochujang a lot easier these days but definitely head to your local Korean store to find it (or order online). 
Ingredients
1 courgette (200g), grated
135g plain flour
½ tbsp (7g) white miso paste 
375ml water (fridge cold is best) 
3 tsp black sesame seeds
2 tsp red pepper flakes 
¼ tsp sea salt 
3 spring onions, finely sliced (around 75g)
4 tbsp oil (60ml), divided between the 4 pancakes 
Dressing:
1/2 lime, juiced
4 tbsp (60g) vegan mayonnaise 
1 tbsp (15g) of gochujang (tweak if you prefer more or less spice!)
Method
STEP 1
Begin by taking a muslin cloth or clean tea towel and squeezing out the excess water from the grated courgette. Make sure that there is no excess water left in the courgettes, as this could lead to a less crispy pancake. After squeezing the courgette, I was left with 100g.
STEP 2
Set the courgettes aside while you prepare the dipping sauce. In a small bowl, whisk together the mayonnaise, lime juice and gochujang. Taste for seasoning and feel free to add a pinch of salt and pepper if you feel it needs it. Set aside and make your pancake batter. 
STEP 3
Sieve the flour into a large bowl. Make a well in the centre and add the miso and water and use a whisk to mix until the batter is smooth with no lumps. Whisk in the sesame seeds and red pepper flakes. 
STEP 4
Mix the grated courgette and spring onions through the batter until evenly combined.
STEP 5
Heat a medium sized frying pan with 1 tbsp of the oil. Make sure the oil is very hot before adding a ladle full of batter into the pan, spreading out the pancake thinly with a spatula. It should be hot and sizzling.
STEP 6
Cook the pancakes for five minutes on each side, after which they should be crispy and golden brown, take the pancake out of the pan and use some kitchen paper (or clean tea towel) to get rid of any excess oil.
STEP 7
Continue this process until you have cooked all 4 pancakes. Cut them into triangles and serve straight away with the dipping sauce.
---
By Iona Berry
Iona is our Development Chef, aka our go-to girl for developing, testing and tasting delicious dishes for you to all enjoy at home. When she's not in the kitchen, you'll find her either running or cycling, or trying out food markets and new restaurants around London. Continuous market research it would seem.
---
Let us take care of dinner
After getting creative in the kitchen, give yourself the weekend off by letting us take care of dinner. Check out our delicious meals here.