Recipes
Vegan Crème Brûlée
5min read
Making these 3-ingredient vegan crème brûlées with store bought custard might seem like cheating, but after having trialled six different crème brûlée methods - including homemade custard versions, coconut milk versions and silken tofu versions - we can say with certainty that this is the most delicious, rich, smooth, easy and quick way to make vegan crème brûlée.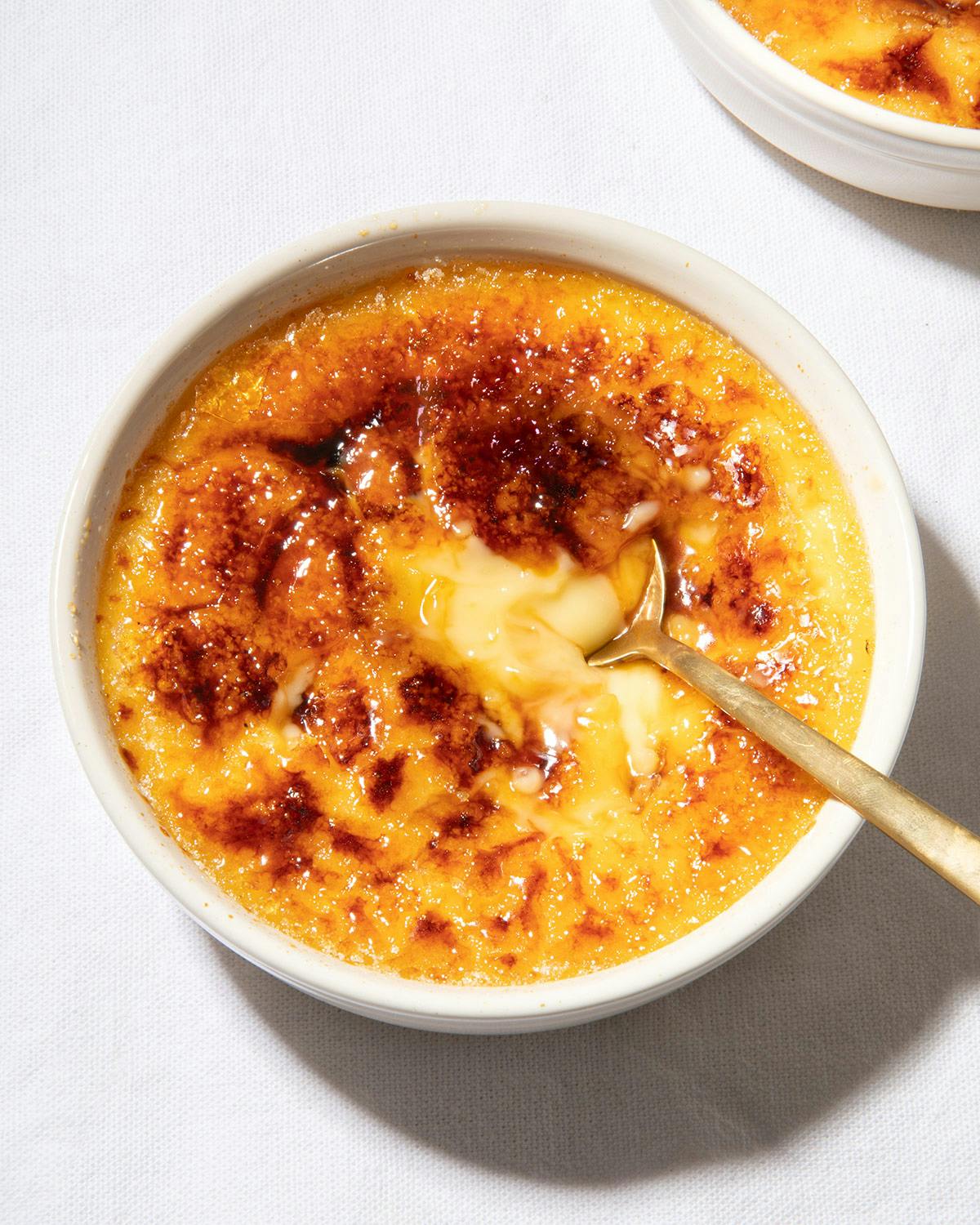 Ingredients
500ml oatly vanilla custard 
30g cornstarch 
½ tsp salt 
50g caster sugar
Method
STEP 1
Preheat the oven to 180˚C fan/ 200˚C conventional. 
STEP 2
In a saucepan, combine the custard, cornstarch and salt. 
STEP 3
Whisk the custard over medium heat, for 6-7 minutes - until the mixture thickens considerably. 
STEP 4
Pour the custard mixture into four small creme brulee ramekins or two larger ones. Place the ramekins into a baking dish, and fill the baking dish with enough boiling water to reach half way up the ramekins. 
STEP 5
Cover the baking dish with foil and place it in the oven. Bake the crème brûlée for 20-25 minutes, then remove them from the oven.
STEP 6
Remove the ramekins from the baking dish, and let them come to room temperature. Place the ramekins in the fridge to set for 1 hour.
STEP 7
Once they have chilled, remove them from the fridge and let them sit for 5 minutes, then sprinkle them evenly with the sugar until completely covered. 
STEP 8
Use a blowtorch to caramelise the sugar, or place the ramekins under the grill for 5-6 minutes. Let the crème brûlées sit for 10 minutes to allow the caramelised sugar to firm up. 
---
By Valentina Concordia
Valentina is our Food Editor, who dreams up our tasty dishes and recipes for our social channels. She has loads of experience cooking up a storm in Italian kitchens, so it's no surprise she can't live without good-quality olive oil (don't come between her and her olive oil) and fresh pasta.
---
Let us take care of dinner
After getting creative in the kitchen, give yourself the weekend off by letting us take care of dinner. Check out our delicious meals here.