Recipes
Vegan Crispy Mushroom Bao
5min read
These vegan fried mushroom bao, inspired by classic fried chicken bao, are spicy, salty and perfectly crisp. They're also simple to throw pull together and can be tailored to suit how long you're in the mood to cook for, depending on whether you make homemade or store-bought buns.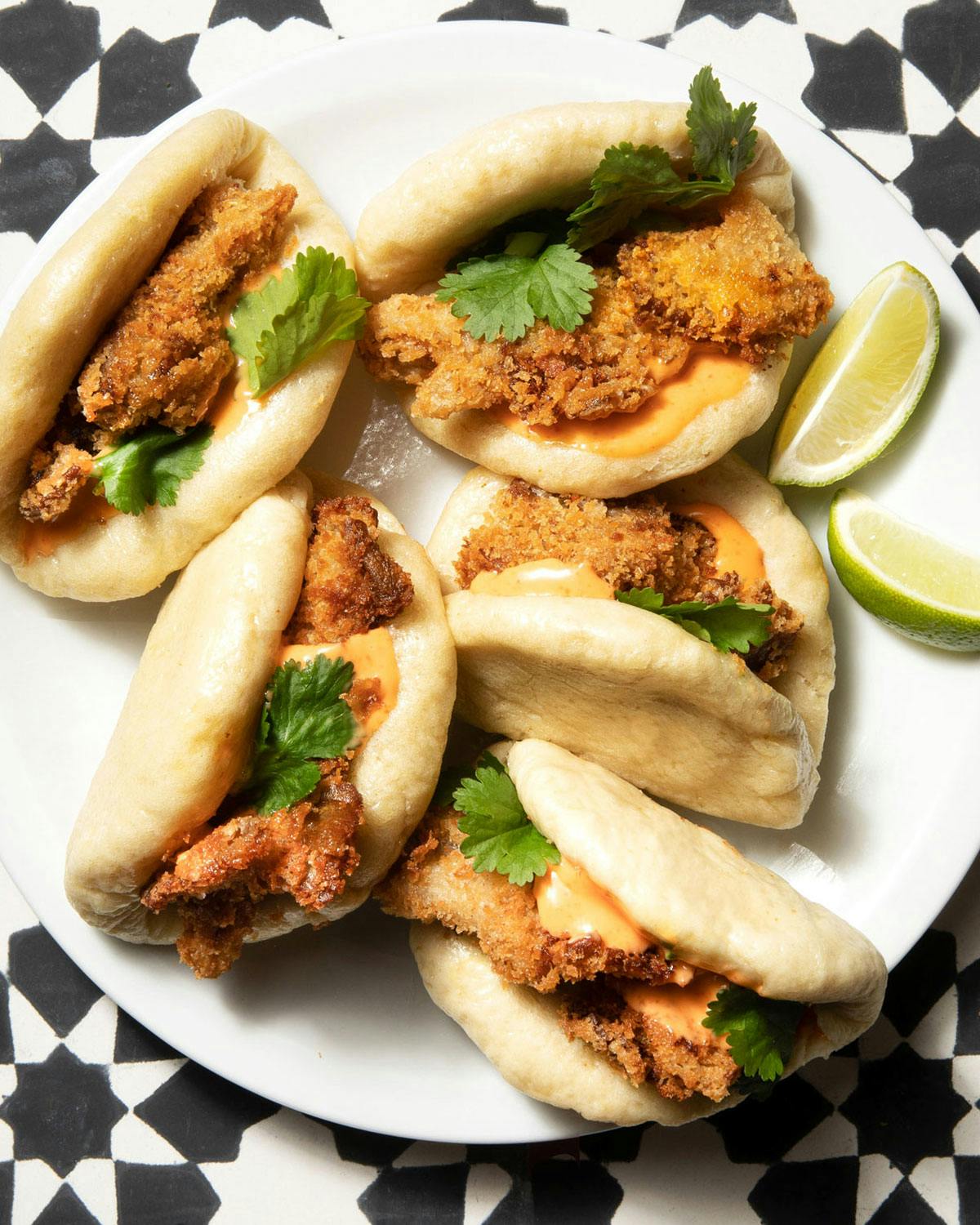 Ingredients
Mushrooms: 
180g oyster mushrooms 
90g plain flour 
¼ tsp Chinese five spice
1 tsp salt
100ml plant based milk
60g panko breadcrumbs
Vegetable oil, for frying
To serve:
2 tbsp sriracha 
3 tbsp plant based mayo
1 lime, juiced
5g fresh coriander 
2 spring onions, finely sliced
Bao, store bought or homemade
Method
STEP 1
Start by heating the oil. Add enough vegetable oil to reach around 5cm up the sides of a heavy set pot. Heat the oil over medium heat until it reaches around 170˚C. 
STEP 2
In the meantime, prepare the mushrooms. Add plain flour to a large bowl, along with the five spice and salt. Whisk to combine.
STEP 3
Add the plant based milk to a second bowl and the panko to a third bowl. 
STEP 4
Working with a few pieces of mushrooms at a time, coat them by dipping them first in the flour, then in the milk and finally in the panko.
STEP 5
Once the oil is ready, add 4-5 coated mushrooms. Cook them for 4-5 minutes, turning them occasionally, until golden brown. 
STEP 6
Use a slotted spoon to remove the mushrooms from the oil and onto a large plate lined with a few sheets of kitchen roll, sprinkling them with salt as they cool. Repeat the frying process with the remaining mushrooms. 
STEP 7
While the mushrooms fry, make the sauce. In a small bowl, whisk the sriracha, plant based mayo and lime juice together. 
STEP 8
Steam the bao buns, then by fill them with a dollop of sriracha mayo, a few pieces of fried mushrooms, fresh coriander and spring onions. 
---
By Valentina Concordia
Valentina is our Food Editor, who dreams up our tasty dishes and recipes for our social channels. She has loads of experience cooking up a storm in Italian kitchens, so it's no surprise she can't live without good-quality olive oil (don't come between her and her olive oil) and fresh pasta.
---
Let us take care of dinner
After getting creative in the kitchen, give yourself the weekend off by letting us take care of dinner. Check out our delicious meals here.