Recipes
Vegan Crispy Tofu Banh Mi
4min read
This fresh and crunchy vegan banh mi is the sandwich we'll be eating all summer (and autumn, winter and spring) long. It comes together with two different sauces - a bright lime vegan mayo and a peanut sauce, which each coat opposite sides of the roll - and is filled with crispiness and flavour thanks to crunchy fried tofu and pickled vegetables.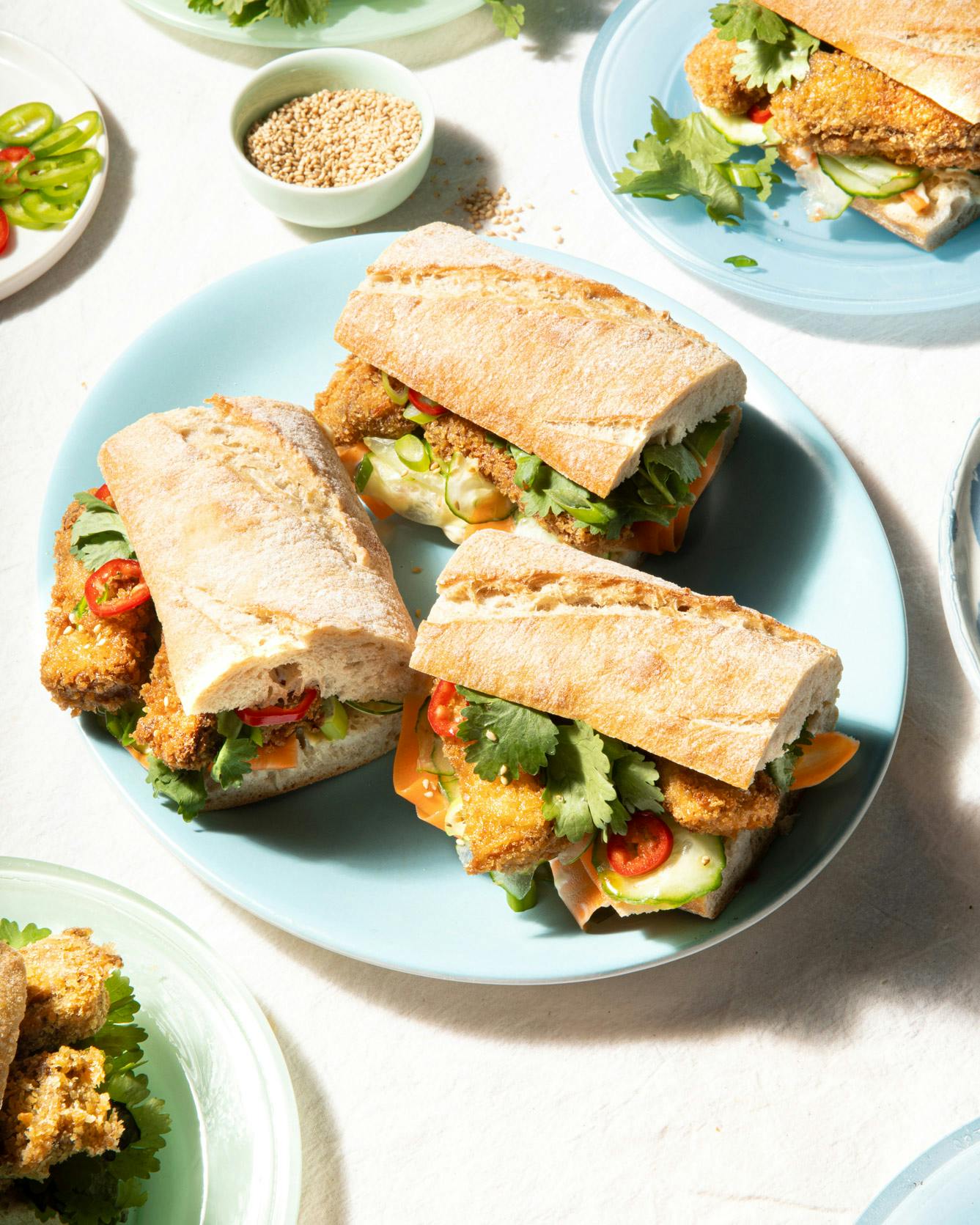 Ingredients
Tofu:
280g tofu 
3 tbsp (20g) flaxseeds 
60g warm water
60g plain flour
1 tsp ground coriander 
1 tsp salt 
115ml plant based milk 
70g panko breadcrumbs
Vegetable oil, for frying 
Lime Mayo:
5 tbsp (75g) plant based mayo 
1 lime, juiced and zested
Peanut Sauce:
100g peanut butter
1 tbsp (15ml) soy sauce 
1 tbsp (15ml) maple syrup 
3 tbsp (45ml) water
1 lime, juiced
To Serve: 
200g pickled crisp vegetables (like carrots, cucumber and daikon) 
4 crusty rolls or baguettes 
4 spring onions, thinly sliced (around 80g)
10g fresh coriander
Method
STEP 1
Start by preparing the tofu. In a small bowl, combine the flaxseeds and 60ml warm water. Let the mixture sit to thicken for at least 10 minutes. 
STEP 2
In the meantime, fill a heavy set pot - like a dutch oven - with at least 10cm of vegetable oil and heat it until it reaches 180˚C. 
STEP 3
Slice the tofu into rectangular slices that are around roughly 2cm thick. Thoroughly pat them dry. 
STEP 4
To a large bowl, add the flour, salt, coriander, plant based milk and the thickened flax mixture and whisk until combined. 
STEP 5
Into a separate bowl, add the panko breadcrumbs. Working in batches, dip 5-6 slices of tofu into the bowl with batter and then into the bowl with panko, until fully coated.
STEP 6
Use a slotted spoon to transfer the coated pieces of tofu into the hot oil, and fry them for 5-6 minutes, until golden brown and crisp. Once fried, transfer them to a tray lined with a few sheets of kitchen roll. Repeat the frying process with the remaining tofu. 
STEP 7
Next, prepare the mayo and peanut sauce. In a small bowl, whisk together the mayo, lime juice and lime zest. In a separate bowl, whisk together the peanut butter, soy sauce, maple syrup, lime juice and water. Set the two sauces aside. 
STEP 8
To assemble the banh mi, slice four rolls or small baguettes (lengthwise) ¾ of the way. Open the roll and spread the bottom of the roll with a spoonful of the prepared mayo and the top of the roll with a spoonful of the peanut sauce.
STEP 9
Top the mayo with the pickled vegetables, a few pieces of fried tofu, sliced spring onions and coriander. Close the rolls and press together. 
---
By Valentina Concordia
Valentina is our Food Editor, who dreams up our tasty dishes and recipes for our social channels. She has loads of experience cooking up a storm in Italian kitchens, so it's no surprise she can't live without good-quality olive oil (don't come between her and her olive oil) and fresh pasta.
---
Let us take care of dinner
After getting creative in the kitchen, give yourself the weekend off by letting us take care of dinner. Check out our delicious meals here.