Recipes
Vegan Enchiladas
8min read
The secret to preparing vegetables that mimic how meat acts and tastes in a recipe is pretty straight forward: just treat it like meat. What we mean by that is to just adapt and replicate the processes typically associated with cooking meats, when cooking plants. Our new series, "How to Replace Meat in Everything" explores just how to do that in an easy, unfussy and delicious way. 
These vegan enchiladas hit the texture jackpot (creamy, chewy AND crispy) and whilst every element has its part to play in creating layers of flavour, the deeply savoury roasted tofu here takes centre stage for its crispiness and smokiness. Whilst these enchiladas are definitely not a one-pot wonder, what they demand in pots the return generously in comfort, satisfaction and flavour.
A few enchilada notes before you jump in. For starters, I realise the ingredients list is long. Longer than most recipes on Planted, most likely. That's because enchiladas are made up of a few separate components which each carry their weight - flavour and texture wise. What the tofu brings in crispness, the beans bring in body and satisfaction and the sauce brings in creaminess. The good news, however, is that the ingredients list is mainly made up of the same spices and elements, rather than an array of different ones for each component - so what looks hefty is actually 9-10 ingredients used in repetition. And don't worry - where ½ an ingredient is used in one section, the remaining ½ is used somewhere else in the recipe - I would never instruct you to open ½ lime or ½ jalapeño only for the other half to be stored and forgotten about. 
In the recipe, I suggest you can use corn or wheat tortillas. Whilst traditional enchiladas call for corn tortillas - rather than wheat - great corn tortillas aren't the easiest to find. If you have a brand of corn tortillas you love and are able to get your hands on easily, use those. When using corn tortillas for enchiladas, it's really helpful to fry them in a few tbsp of oil for around 10-15 seconds per side. It might sound like a bit of a hassle, but it makes them endlessly easier to work with and helps them hold their shape when baking. If you can't find corn tortillas, go for your favourite brand of wheat tortillas.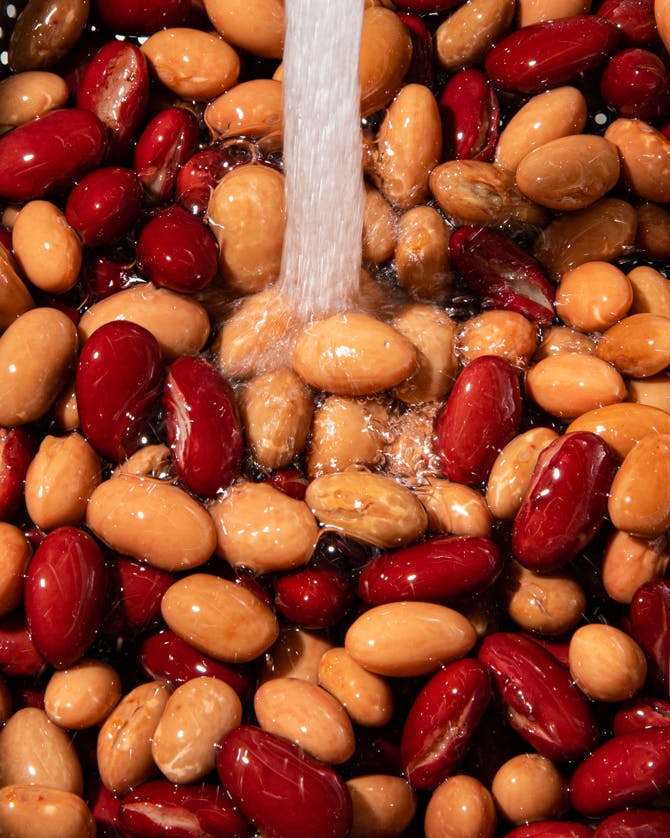 Whilst traditional enchilada sauces are made up of dried guajillo, morita, ancho and poblano chillies - which are boiled to hydrate and soften them and then blended with toasted spices and tomato paste - I've only been able to find those chillies online. In order to make the recipes in this series as accessible and supermarket-friendly as possible, the sauce here is made up of toasted spices, jalapeño, tomato paste and ancho chilli paste, which together create a deeply flavoured and balanced sauce reminiscent of a traditional enchilada sauce. 
One more thing! Spice wise, I'd say this recipe is at medium spice level. If you're sensitive to spice, I'd suggest leaving out the jalapeño and ancho chilli paste, but including the chilli powder as it contributes to flavour as well as heat. 
Ingredients
Tofu:
2 tbsp/30g sunflower or olive oil
2 tbsp/30g tomato paste
1 tsp ground cumin
1 tsp ground coriander
1 tsp smoked paprika
1 tsp chilli powder
2 cloves garlic, grated
½ tsp salt, divided
300g firm tofu 
Beans: 
1 tbsp/15g sunflower or olive oil 
1 white onion (100g), finely chopped
1 tsp ground cumin, divided
1 tsp ground coriander, divided
1 tsp chilli powder 
½ tsp salt
1 red pepper (150g), chopped 
½ jalapeño, deseeded and finely chopped
2 tbsp/30g tomato paste, divided
2 x 400g kidney, black or borlotti beans
500ml vegetable stock
½ lime, juiced
Enchilada Sauce: 
1 tsp ground coriander
1 tsp ground cumin
2 tsp ground chilli powder
3 tbsp/45g olive oil
3 tbsp/25g plain flour 
2 cloves garlic, grated 
1 tsp salt 
½ jalapeño, de-seeded and finely chopped 
1 tsp ancho chilli paste (sub for ½ tsp chilli powder) 
3 tbsp/45g tomato paste
500ml vegetable stock 
½ lime, juiced 
To Assemble & Serve:
6 tortillas (read notes in intro)  
100g plant based cheddar, grated
1 white onion (100g), finely sliced
1 avocado, cubed
1 lime, sliced 
5g fresh coriander
Salsa
Method
STEP 1
Preheat the oven to 180˚C fan/200˚C conventional. 
STEP 2
Start by preparing the tofu. Pat the tofu dry, then use your hands to crumble it into a roasting tin. 
STEP 3
In a small bowl, combine the oil, tomato paste, cumin, coriander, paprika, chilli powder, grated garlic and salt, and whisk to combine. Pour the mixture over the tofu, and use your hands to toss it together, ensuring every piece is coated. Roast the tofu for 16-18 minutes, until crisp. Set it aside. 
STEP 4
Next, prepare the beans. Heat 1 tbsp of oil in a pot over medium heat. Add the chopped onion and a big pinch of salt, and stir to coat it in oil. Sauté the onion for 8-10 minutes, until soft and starting to caramelise. 
STEP 5
Stir in the cumin, coriander, chilli powder and salt. Cook the spices for 1-2 minutes, until fragrant. Add the chopped red pepper and jalapeño pepper, and cook them down for 3-4 minutes, until they're starting to soften. 
STEP 6
Next, stir in the tomato paste and cook it down for 2-3 minutes, until darkened in colour and starting to stick to the bottom of the pot. 
STEP 7
Drain and rinse the beans and stir them into the pot. Next, add the vegetable stock. Lower the heat to medium low and simmer the beans in the stock for 12-14 minutes, until thickened and creamy. Stir in the lime juice, taste for seasoning and add extra salt or lime juice to taste. 
STEP 8
Last, prepare the enchilada sauce. Add the coriander, cumin and chilli powder to pot over medium low heat, and toast them for 2-3 minutes until fragrant. Add the olive oil and let it heat up for 1 minute before stirring in the flour. 
STEP 9
Stir the flour into the oil, and cook it for 3-4 minutes, stirring constantly - this will remove the 'raw' flour flavour. Next, stir in the chilli paste, tomato paste, jalapeño, salt and garlic. Cook that for 2-3 minutes until the tomato paste has darkened in colour. 
STEP 10
Whilst constantly whisking, slowly pour in the vegetable. Once all of stock has been incorporated, raise the heat to medium, and continue slowly whisking as it thickens. 
STEP 11
Simmer the sauce for 8-9 minutes, whisking often, until it has thickened and reached the consistency of a bechamel. Stir in the lime juice, taste for seasoning and adjust to taste. 
STEP 12
Now it's time to assemble the enchiladas. Lightly oil a rectangular baking dish and pour 2 ladlefuls of the enchilada sauce into it, spreading it evenly along the baking dish. 
STEP 13
Place your first tortilla onto a chopping board. Fill it with around ½ cup beans and a couple spoonfuls of roasted tofu. Fold the top and bottom sides of the tortilla into the centre, then wrap the right side into the centre, and use your hands to wrap the left side into the centre whilst rotating it so the seam-side is facing down. Carefully transfer it into the prepared baking dish. Repeat the process with the remaining five tortillas. 
STEP 14
Once they're all in the baking dish, top them with ½ (50g) of the grated cheese. Pour the remaining sauce evenly over and around the tortillas. Top the tortillas with the remaining cheese and a drizzle of oil. 
STEP 15
Bake the enchiladas for 20-22 minutes, until bubbling and golden brown. In the meantime, prepare the salsa.
STEP 16
Once the enchiladas are baked, let them cool for 15 minutes before serving. 
STEP 17
Top them with the salsa, sliced white onion, avocado, fresh coriander and extra lime juice. 
---
By Valentina Concordia
Valentina is our Food Editor, who dreams up our tasty dishes and recipes for our social channels. She has loads of experience cooking up a storm in Italian kitchens, so it's no surprise she can't live without good-quality olive oil (don't come between her and her olive oil) and fresh pasta.
---
Let us take care of dinner
After getting creative in the kitchen, give yourself the weekend off by letting us take care of dinner. Check out our delicious meals here.
Shop now