Recipes
Falafel Shakshuka
6min read
Up your Sunday brunch game with this vegan Falafel Shakshuka recipe. It has a real depth of flavour, is deeply tomatoey, has hint of sweetness and just the right touch of spice. Serve with toasted flatbreads for the ultimate breakfast experience.
Breakfast Queen and Planted Guest Writer, Georgie, has created the perfect Sunday brunch recipe for you all - her take on a classic Shakshuka recipe. Pair this with our four-ingredient flatbread recipe and your favourite oat-milk coffee to start your weekend off in the tastiest way possible.
Ingredients
1 tbsp olive oil
1 red onion, finely chopped
1 aubergine, chopped into small cubes
2 cloves garlic, minced
1 tsp smoked paprika
1 tbsp harissa paste
500ml passata
25g dried apricots, finely diced
10 falafels, either homemade or shop bought 
15g (½ bunch) fresh parsley, roughly chopped
Pomegranate seeds
Sea salt & freshly ground black pepper
For the Tahini Dressing:
2 tbsp tahini
Juice ½ lemon
To serve: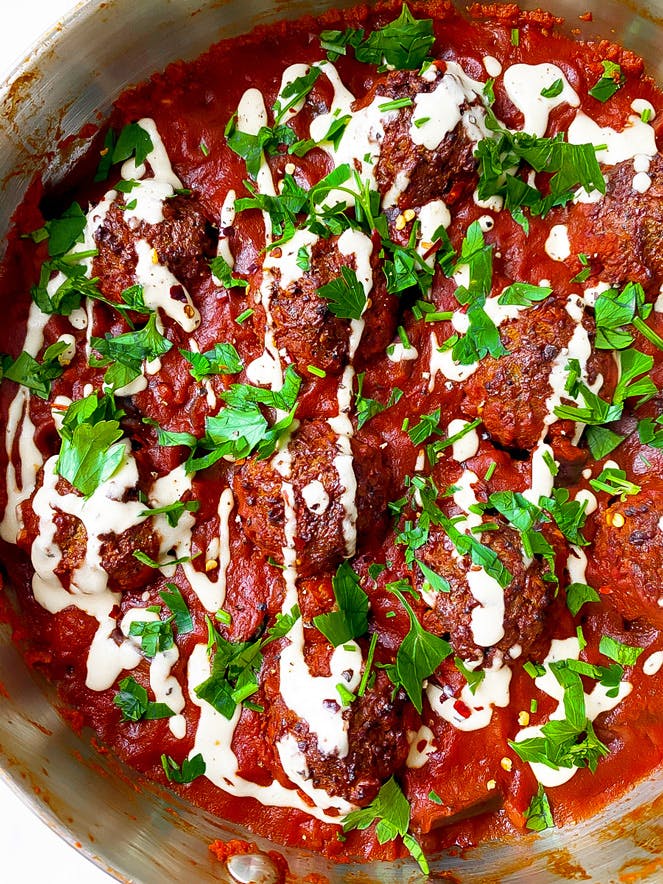 Method
STEP 1
Heat the oil in a large frying pan (one that has a lid!) over a medium heat. Once hot add the onion and sweat for 3-4 minutes, until slightly softened. Add the aubergine and continue to cook for a further 6-8 minutes, or until the aubergine is softened and the onion is translucent. 
STEP 2
Add the garlic, smoked paprika and harissa paste into the pan, then give everything a good stir to combine. Cover the pan with a lid and continue to sweat for another 3-4 minutes, or until everything is lovely and soft. 
STEP 3
Add the passata, dried apricots and 400ml of water into the pan. Season generously and bring to a simmer. Let the pan gently bubble away for 20 minutes, uncovered, until rich and thick. Taste the tomato sauce and adjust the seasoning. 
STEP 4
Dot the falafel around the pan, leaving the top poking out of the tomato sauce. Cover the pan and simmer for a further 10 minutes. 
STEP 5
Meanwhile, make the tahini dressing by mixing together the tahini and lemon juice with a big pinch of salt and 2 tbsp of water to loosen. Taste and adjust the seasoning. 
STEP 6
Remove the lid from the pan and drizzle over the tahini dressing, sprinkle with chopped parsley and pomegranate seeds, before finishing with a crack of black pepper. Serve with toasted flatbreads.
---
By Georgie Mullen
Georgie (@georgieeatsuk), recipe developer and food writer is sharing some of her vegan recipes with us as a Guest writer on Planted. When she's not making everyone jealous of her creations over on her instagram, you'll find her surfing, swimming, paddle-boarding...(living by the beach has its perks!). We knew we'd get on well when she told us her favourite food was hummus.
---
Let us take care of dinner
After getting creative in the kitchen, give yourself the weekend off by letting us take care of dinner. Check out our delicious meals here.