Vegan fish and chips that pulls, flakes, fries and tastes just like the real thing. I don't want to be one of those people that say "you can't even tell the difference", because you usually can, but I think I've become one.
This vegan fish and chips is tofu, aubergine, and jackfruit free. Instead, it relies on banana blossom. Banana blossom is unlike anything I have cooked with before. It's a really incredible ingredient. What is it? Great question. It's a tear-shaped red/purple-skinned flower that grows at the end of a banana fruit cluster. Although relatively new to the UK where it's primarily being used as a meat-substitute for its flaky texture, banana blossom originates from South East Asia where it's eaten raw and cooked in a wide range of dishes, such as salads, curries, stir fries and more. It doesn't taste at all like banana, but rather has a neutral taste, which absorbs the flavours of what it's paired with. That's why, generally, the longer you marinate it the more it will taste like the flavours you're trying to adapt it to. This recipe calls for anything from 2 hours to 24 hours of marinating, but 24 hours will give you the best results.

The first time I bought it, I ordered banana blossom online but since then I've started seeing it in most supermarkets I've gone into - Tesco's, Waitrose, Budgens and most Asian supermarkets. Look for tins containing simply banana blossom, water, salt as these will give you more cooking and flavour flexibility.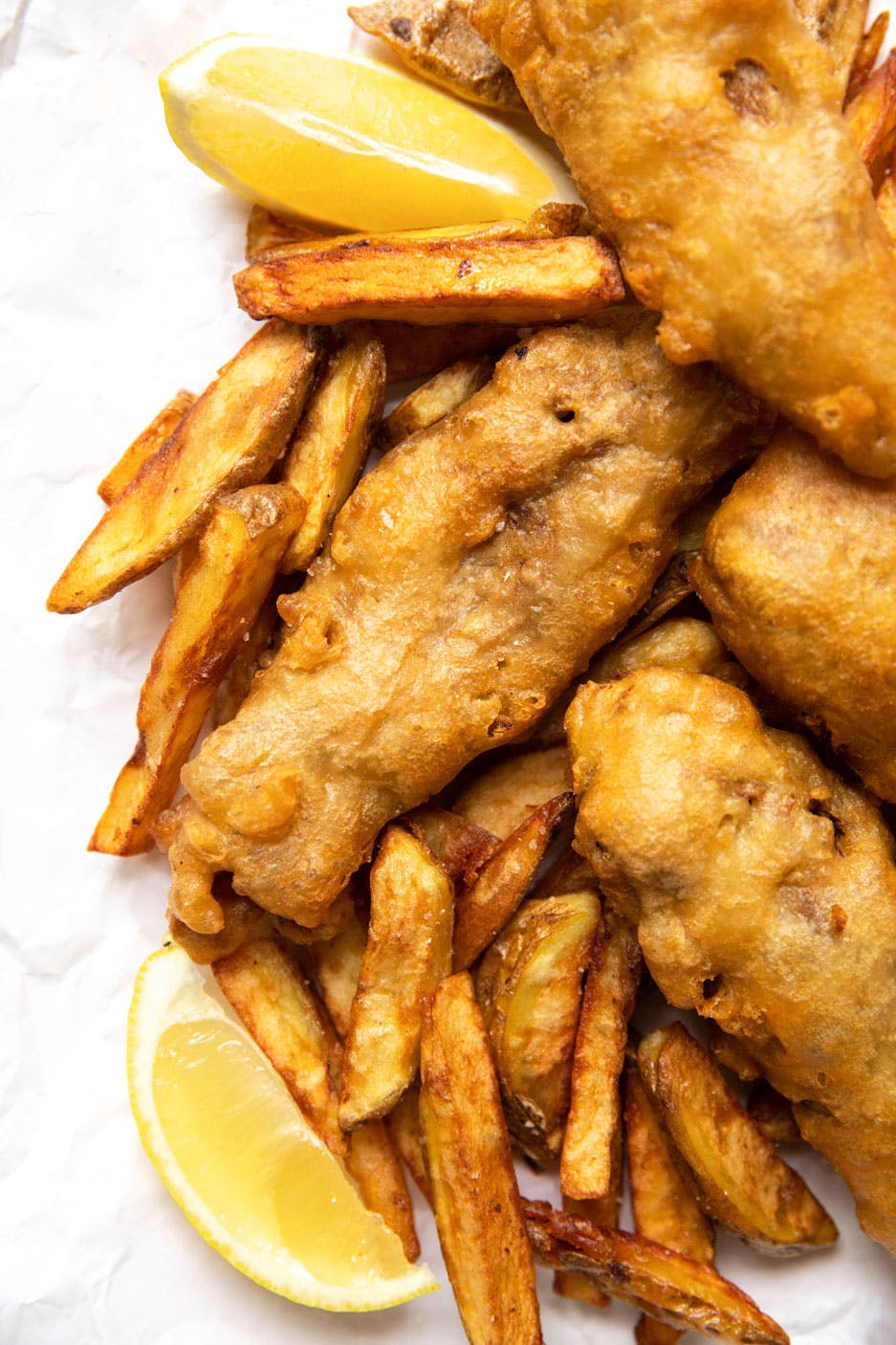 Marinade:
2x 510g tins banana blossom
20ml white wine 
60ml tamari (or soy sauce)
60ml olive oil
2 cloves garlic, smashed
Batter:
50 + 100g self raising flour, divided
1 tbsp cornstarch 
½ tsp salt
180ml beer or sparkling water
Vegetable oil, for frying 
Chips: 
800g maris piper potatoes
Vegetable oil, for frying 
½ tsp salt

To serve:
Tartar sauce
Ketchup
Lemon wedges
STEP 9
To make chips, slice the potatoes with their skins-on into finger sized pieces. Heat the same oil you fried the banana blossoms with. Working in two batches, fry the chips for 12-15 minutes, until golden brown and soft. Once cooked, transfer them to a bowl or tray lined with kitchen paper and season with salt. 

Note: If you want to bake the chips instead, heat the oven to 180˚C. Place the sliced potatoes in a pot of cold water and bring them to a boil over medium heat. Simmer them for 5-6 minutes. Drain the potatoes and dry them slightly using a kitchen towel of kitchen paper. Transfer them to a roasting tray and drizzle them with 2 tbsp olive oil and ½ tsp salt. Bake for 35-40 minutes, until crispy and golden.