Recipes
Vegan Fish and Chips
5min read
Vegan fish and chips that pulls, flakes, fries and tastes just like the real thing. I don't want to be one of those people that say "you can't even tell the difference", because you usually can, but I think I've become one.
This vegan fish and chips is tofu, aubergine, and jackfruit free. Instead, it relies on banana blossom. Banana blossom is unlike anything I have cooked with before. It's a really incredible ingredient. What is it? Great question. It's a tear-shaped red/purple-skinned flower that grows at the end of a banana fruit cluster. Although relatively new to the UK where it's primarily being used as a meat-substitute for its flaky texture, banana blossom originates from South East Asia where it's eaten raw and cooked in a wide range of dishes, such as salads, curries, stir fries and more. It doesn't taste at all like banana, but rather has a neutral taste, which absorbs the flavours of what it's paired with. That's why, generally, the longer you marinate it the more it will taste like the flavours you're trying to adapt it to. This recipe calls for anything from 2 hours to 24 hours of marinating, but 24 hours will give you the best results.

The first time I bought it, I ordered banana blossom online but since then I've started seeing it in most supermarkets I've gone into - Tesco's, Waitrose, Budgens and most Asian supermarkets. Look for tins containing simply banana blossom, water, salt as these will give you more cooking and flavour flexibility.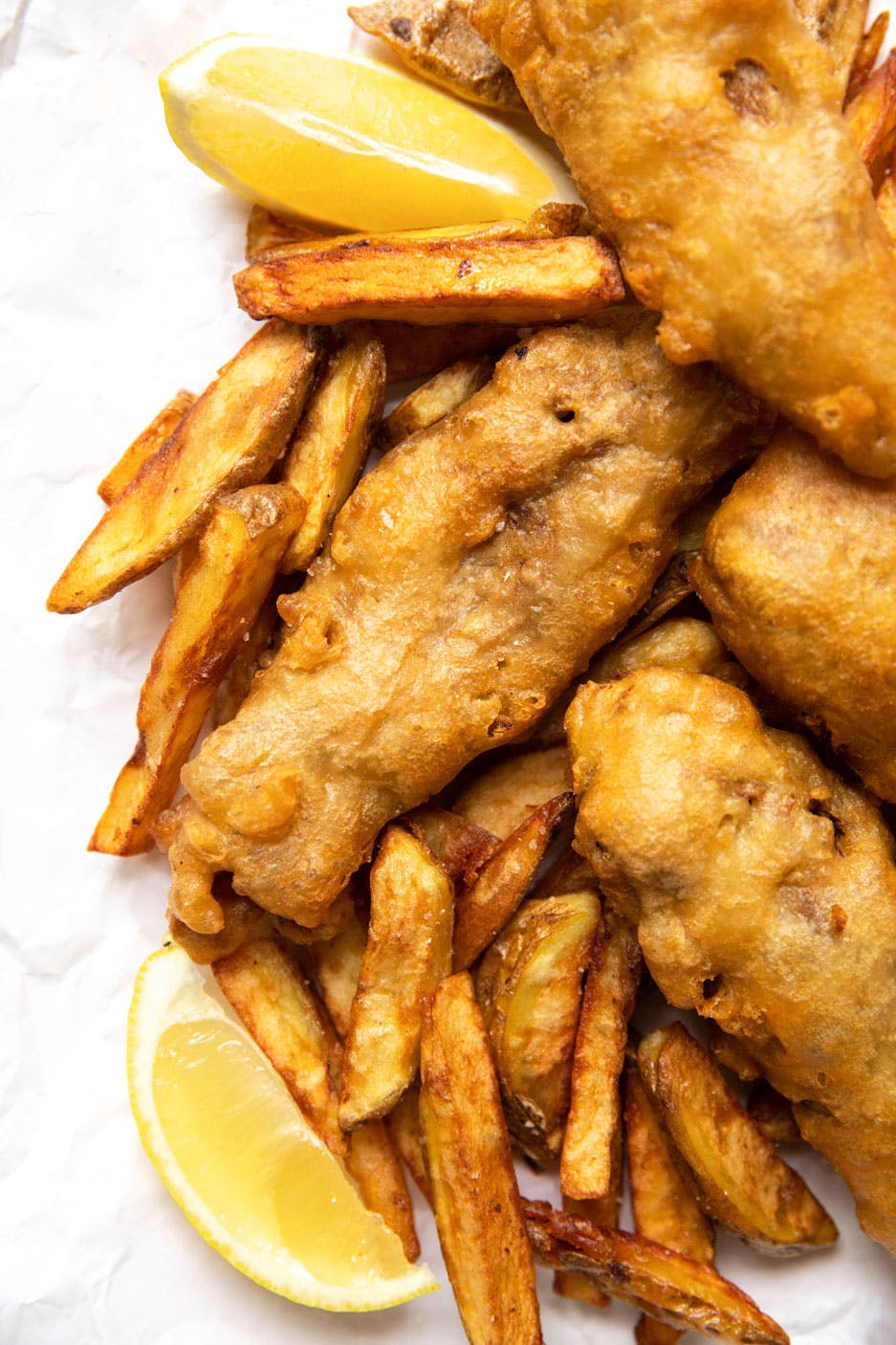 Ingredients
Marinade:
2x 510g tins banana blossom
20ml white wine 
60ml tamari (or soy sauce)
60ml olive oil
2 cloves garlic, smashed
Batter:
50 + 100g self raising flour, divided
1 tbsp cornstarch 
½ tsp salt
180ml beer or sparkling water
Vegetable oil, for frying 
Chips: 
800g maris piper potatoes
Vegetable oil, for frying 
½ tsp salt

To serve:
Tartar sauce
Ketchup
Lemon wedges
Method
STEP 1
Drain the banana blossom and rinse it in cold water for 2-3 minutes - this removes any remains of brine from it. Once rinsed, transfer it to a shallow and wide baking dish. 
STEP 2
In a bowl, combine white wine, tamari, olive oil and garlic and whisk to combine. Pour the marinade over the banana blossom and massage it in using your hands. Cover the baking dish and let the banana blossom marinate for at least 2 hours - or overnight for best results. 
STEP 3
Once it has marinated, add 50g of flour to a small bowl (the banana blossom will be coated in this before being battered) and prepare a tray or cutting board to place the individual 'fillets'.
STEP 4
Remove a few large pieces of banana blossom from the tray, and squeeze to compact them together to form a fillet and to drain out most of the marinade from them. Coat the fillet in flour and place on the tray or cutting board. Repeat with the rest of the banana blossom until you have 8 fillets.
STEP 5
Add the remaining 100g of flour to a large bowl along with cornstarch and salt. Whisk to combine. Stir in the beer and mix until fully incorporated. 
STEP 6
Pour 1L of sunflower or vegetable oil into a large heavy-set and sturdy pot and heat it over high heat to 190˚C, or until a small piece of batter dropped into the pan starts bubbling rapidly and floats to the top. 
STEP 7
Dip one floured fillet into the batter to coat, then quickly place it into the heated oil to fry. Quickly repeat that process with a second fillet - to cook 2 at the same time.
STEP 8
Fry for 3-4 minutes on each side, until they reach a dark golden brown colour. Once cooked, transfer both to a tray lined with kitchen paper. Repeat with the remaining fillets. 
STEP 9
To make chips, slice the potatoes with their skins-on into finger sized pieces. Heat the same oil you fried the banana blossoms with. Working in two batches, fry the chips for 12-15 minutes, until golden brown and soft. Once cooked, transfer them to a bowl or tray lined with kitchen paper and season with salt. 

Note: If you want to bake the chips instead, heat the oven to 180˚C. Place the sliced potatoes in a pot of cold water and bring them to a boil over medium heat. Simmer them for 5-6 minutes. Drain the potatoes and dry them slightly using a kitchen towel of kitchen paper. Transfer them to a roasting tray and drizzle them with 2 tbsp olive oil and ½ tsp salt. Bake for 35-40 minutes, until crispy and golden. 
STEP 10
Serve two fried 'fillets' per person, along with chips, tartar sauce, ketchup and lemon wedges.
---
By Valentina Concordia
Valentina is our Food Editor, who dreams up our tasty dishes and recipes for our social channels. She has loads of experience cooking up a storm in Italian kitchens, so it's no surprise she can't live without good-quality olive oil (don't come between her and her olive oil) and fresh pasta.
---
Let us take care of dinner
After getting creative in the kitchen, give yourself the weekend off by letting us take care of dinner. Check out our delicious meals here.
Shop now