Recipes
Vegan Hot Cross Bun Bread and Butter Pudding
6min read
It's a big claim, but this vegan hot cross bun bread and butter pudding might just be the best thing to have ever happened to day-old hot cross buns. It's rich, spiced, warming and buttery and will probably make you want to bake hot cross buns (and not eat them straight away) all year long.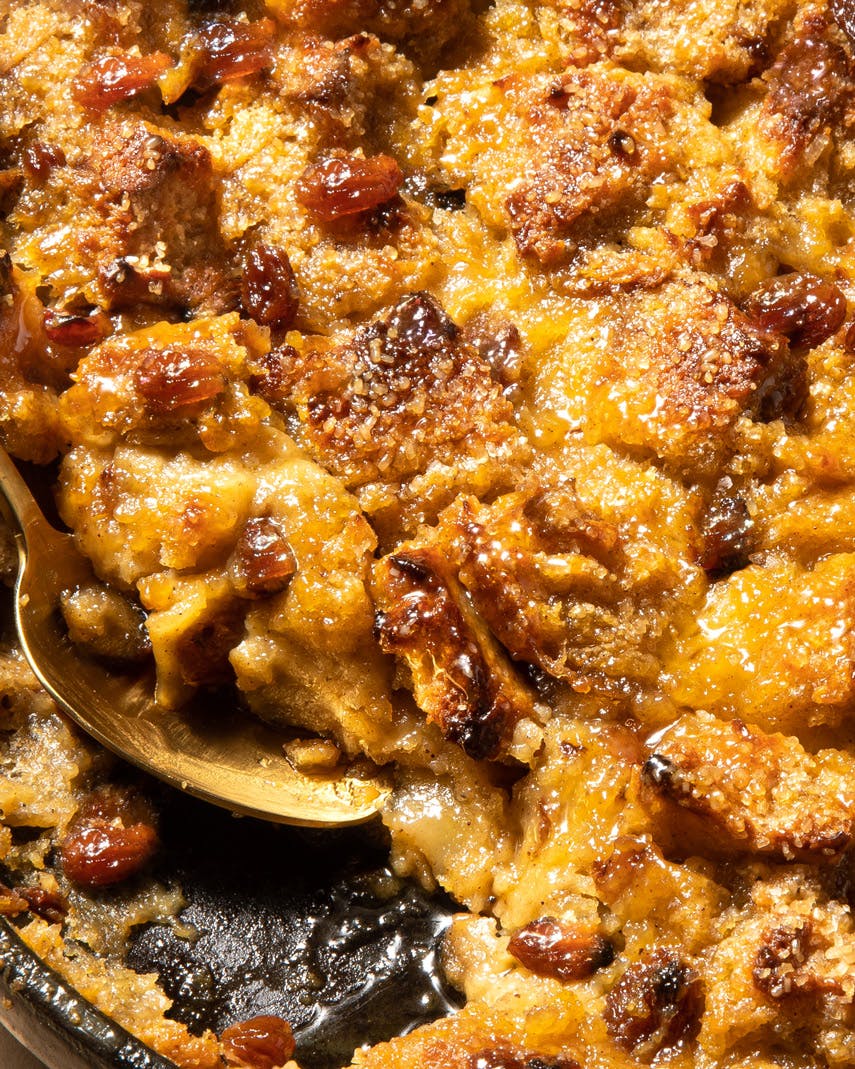 Ingredients
Dough:
6-7 hot cross buns, at least 1-2 days old  
60g + 20g plant based butter, divided
50g sultanas 
500ml plant based custard (we used oatly)
60ml plant based milk
½ tsp cinnamon
½ tsp salt 
40g cane sugar 
4 tbsp marmalade
Method
STEP 1
Slice the hot cross buns in half and spread them with 60g of plant based butter. Slice the halved buns into large chunks, and add them to a small baking dish or cast iron pan.
STEP 2
Sprinkle the sultanas evenly over and between the hot cross bun pieces.
STEP 3
In a small saucepan, whisk together plant based custard, plant based milk, cinnamon and salt over medium heat until it reaches a simmer. 
STEP 4
Pour the custard mixture evenly over the hot cross buns. Use a spoon to make sure all of the hot cross bun pieces are submerged in the custard.
STEP 5
Let the hot cross buns soak in the custard for at least 1 hour (but preferably 2-3) - this helps the buns absorb the custard and will create a better texture in the final pudding.
STEP 6
Preheat the oven to 190˚C. Sprinkle the pudding with the cane sugar, and dollop 20g of plant based butter over the top of the pudding. 
STEP 7
Bake the pudding for 30-35 minutes, until it's golden brown and bubbling. 
STEP 8
Remove it from the oven and brush it with the marmalade while it's still warm. Serve the pudding on its own or with ice cream. 
---
By Valentina Concordia
Valentina is our Food Editor, who dreams up our tasty dishes and recipes for our social channels. She has loads of experience cooking up a storm in Italian kitchens, so it's no surprise she can't live without good-quality olive oil (don't come between her and her olive oil) and fresh pasta.
---
Let us take care of dinner
After getting creative in the kitchen, give yourself the weekend off by letting us take care of dinner. Check out our delicious meals here.
Shop now