Recipes
Vegan Keto Granola
3min read
This vegan keto granola highly addictive and endlessly customisable. It's gluten-free, grain-free and makes for the perfect breakfast, snack or pick me up.
As long as you keep the ratios the same, you can personalise this granola to suit whatever nut, seed, spice or oil you have on hand. The combination of cardamom and cinnamon is my go-to whenever I make granola favourite - as it reminds me of living in Copenhagen and eating one cinnamon or cardamom bun a day - so I'd suggest trying it if you haven't yet. You could also add pumpkin spice and nutmeg instead, or swap one of the nuts for hazelnuts and add cacao for a chocolate granola. Go wild.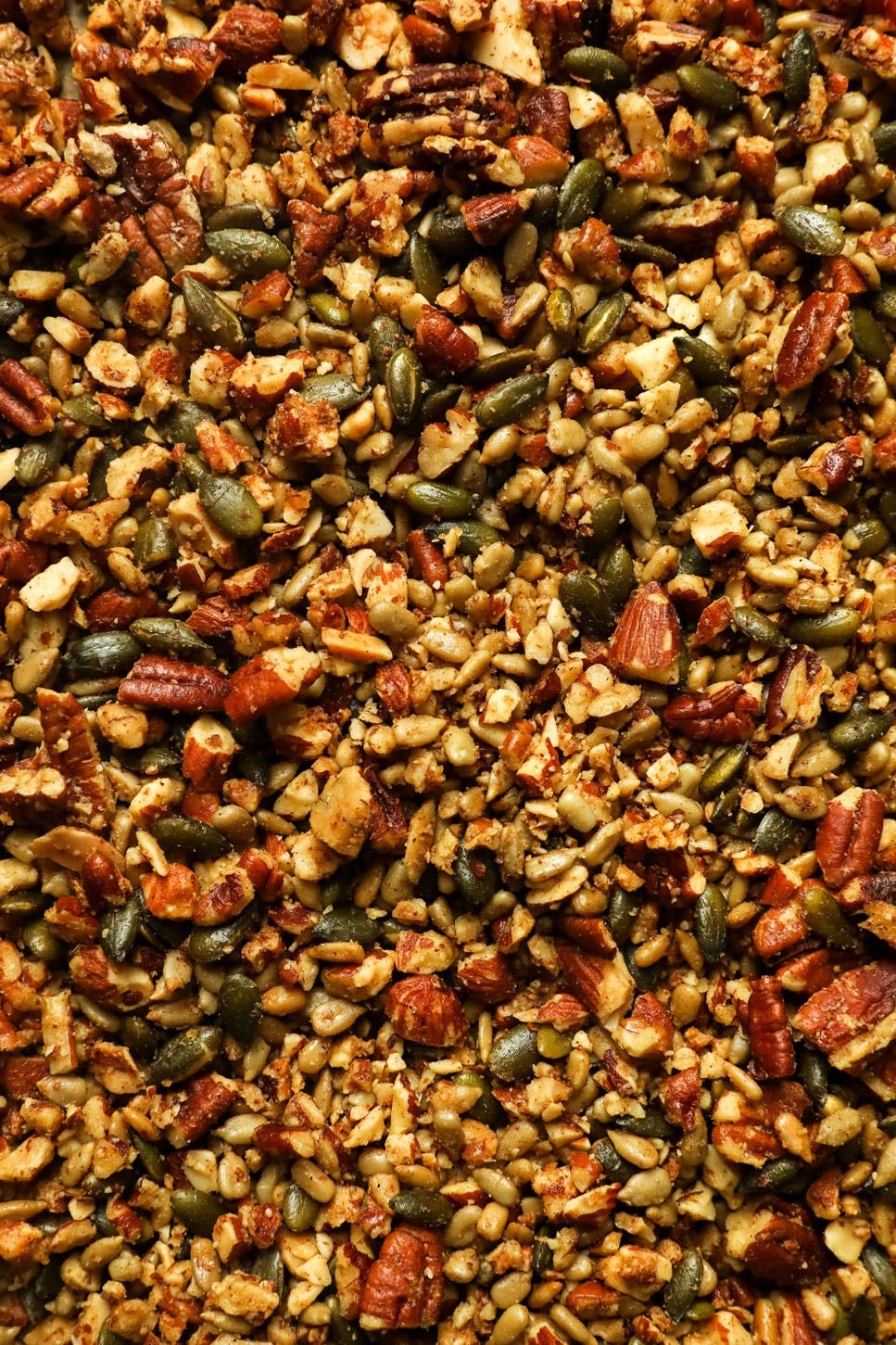 Ingredients
100g almonds
100g pecans
80g sunflower seeds
50g pumpkin seeds
½ tsp ground cardamom
½ tsp ground cinnamon
¼ tsp salt
50ml olive or coconut oil
1 tsp vanilla extract
2 tbsp sweetener of choice, optional
Method
STEP 1
Preheat the oven to 170˚C. 
STEP 2
Add almonds to a food processor and pulse for 30-40 seconds, until broken down. Add pecans, and pulse for 30 more seconds. Transfer the nuts into a large bowl, along with sunflower seeds and pumpkin seeds.
STEP 3
Add cardamom, cinnamon and salt and stir to combine. Stir in the oil, vanilla extract and sweetener if using. Mix until the nuts and seeds are fully coated. 
STEP 4
Spread the granola onto a parchment lined baking sheet. Bake the granola for 20-25 minutes, stirring it every 10 minutes, until it's golden brown. 
STEP 5
Let the granola cool for 15 minutes. Store in an airtight container or jar for up to 2 weeks. 
---
By Valentina Concordia
Valentina is our Food Editor, who dreams up our tasty dishes and recipes for our social channels. She has loads of experience cooking up a storm in Italian kitchens, so it's no surprise she can't live without good-quality olive oil (don't come between her and her olive oil) and fresh pasta.
---
Let us take care of dinner
After getting creative in the kitchen, give yourself the weekend off by letting us take care of dinner. Check out our delicious meals here.
Shop now