Recipes
Vegan Lace Cookies
5min read
These vegan lace cookies are crispy, caramel-y (it's a word) and extremely addicting. They're also gluten free and take around 20 minutes to prepare - that's a record.
These vegan lace cookies were created as an ode to the iconic Ikea oat biscuits I would beg be bought for me as a child and would consequently devour in the car until I had a sugar rush (and crash). They were crispy, thin, sweet, salty and balanced with just the right amount of chocolate. Although I haven't had an Ikea oat biscuit in a long time, I'm feeling confident in the fact that these lace cookies do them justice. Watching them bake is also a mesmerising experience - nothing happens for around 6 minutes, and just when you're starting to think they've failed, they suddenly spread, sizzle and crisp up before your eyes. Best of all, they require just one saucepan (no bowl!) and twenty minutes - if that's not perfection I don't know what is.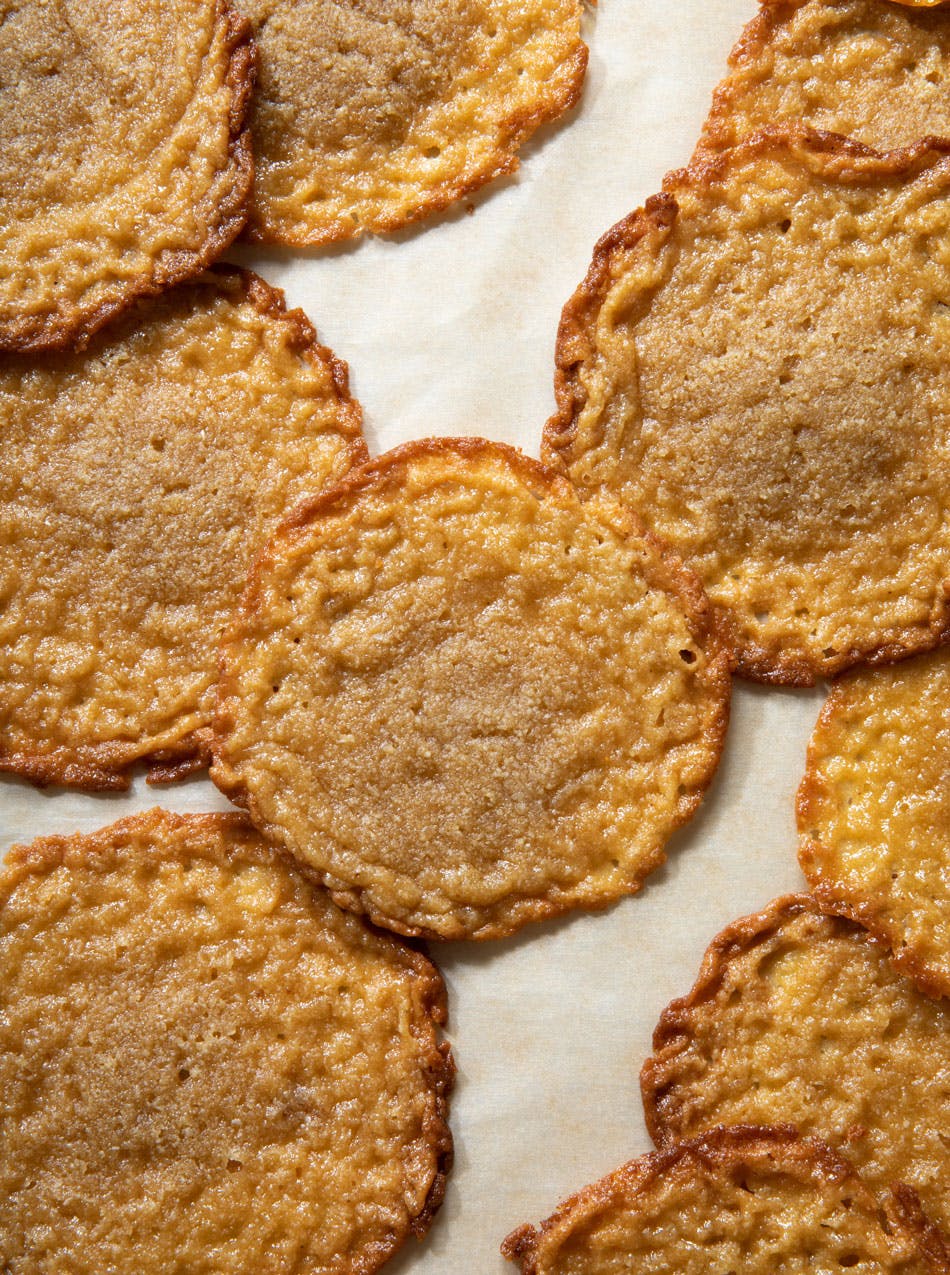 Ingredients
110g plant based butter 
130g light brown sugar
20g golden syrup
1 tsp vanilla extract
80g almond flour
2 tbsp oat flour, plain flour or gluten free blend
¼ tsp salt 
80g dark chocolate, for drizzling
Method
STEP 1
In a small saucepan, combine plant based butter, light brown sugar and golden syrup and heat over medium heat, until the sugar has dissolved (2-3 minutes). 
STEP 2
Fold in the vanilla extract, almond flour, regular flour and salt. Set the dough aside for 10 minutes, to thicken. 
STEP 3
In the meantime, preheat the oven to 175˚C and line two large baking trays with parchment paper. 
STEP 4
Once the dough has rested, drop heaped teaspoons of dough onto the prepared trays, leaving at least 8cm of space between them.
STEP 5
Transfer the trays into the oven and bake for 7-9 minutes, until crisp around the edges. The cookies will look like they haven't spread at all until minute 6 or so, and will then suddenly spread, bubble and crisp - so keep an eye on them! 
STEP 6
Let the cookies cool on the trays for 15 minutes, before transferring them to a cooling rack to cool entirely. 
STEP 7
Once cooled, melt the chocolate. Drizzle over the cookies and let cool for 5 minutes before tucking in. 
---
By Valentina Concordia
Valentina is our Food Editor, who dreams up our tasty dishes and recipes for our social channels. She has loads of experience cooking up a storm in Italian kitchens, so it's no surprise she can't live without good-quality olive oil (don't come between her and her olive oil) and fresh pasta.
---
Let us take care of dinner
After getting creative in the kitchen, give yourself the weekend off by letting us take care of dinner. Check out our delicious meals here.
Shop now