Recipes
Vegan Lemon and Raisin Scotch Pancake Recipe w/ Cardamom Caramel 
3min read
This fluffy vegan pancake recipe brings together nostalgic flavours of lemon and raisin scotch pancakes with a slightly more grown-up cardamom caramel. 
What was a better after-school treat that lemon and raisin scotch pancakes? Now, this warming recipe is primed to become a working-from-home favourite. 
These vegan scotch pancakes are light and airy because of their whisked aquafaba, and their tangy lemon and raisin sweetness is perfectly balanced by the slightly bitter and tart cardamom caramel. We know you're just going to lap this recipe up whether you're 12, 38 or 74!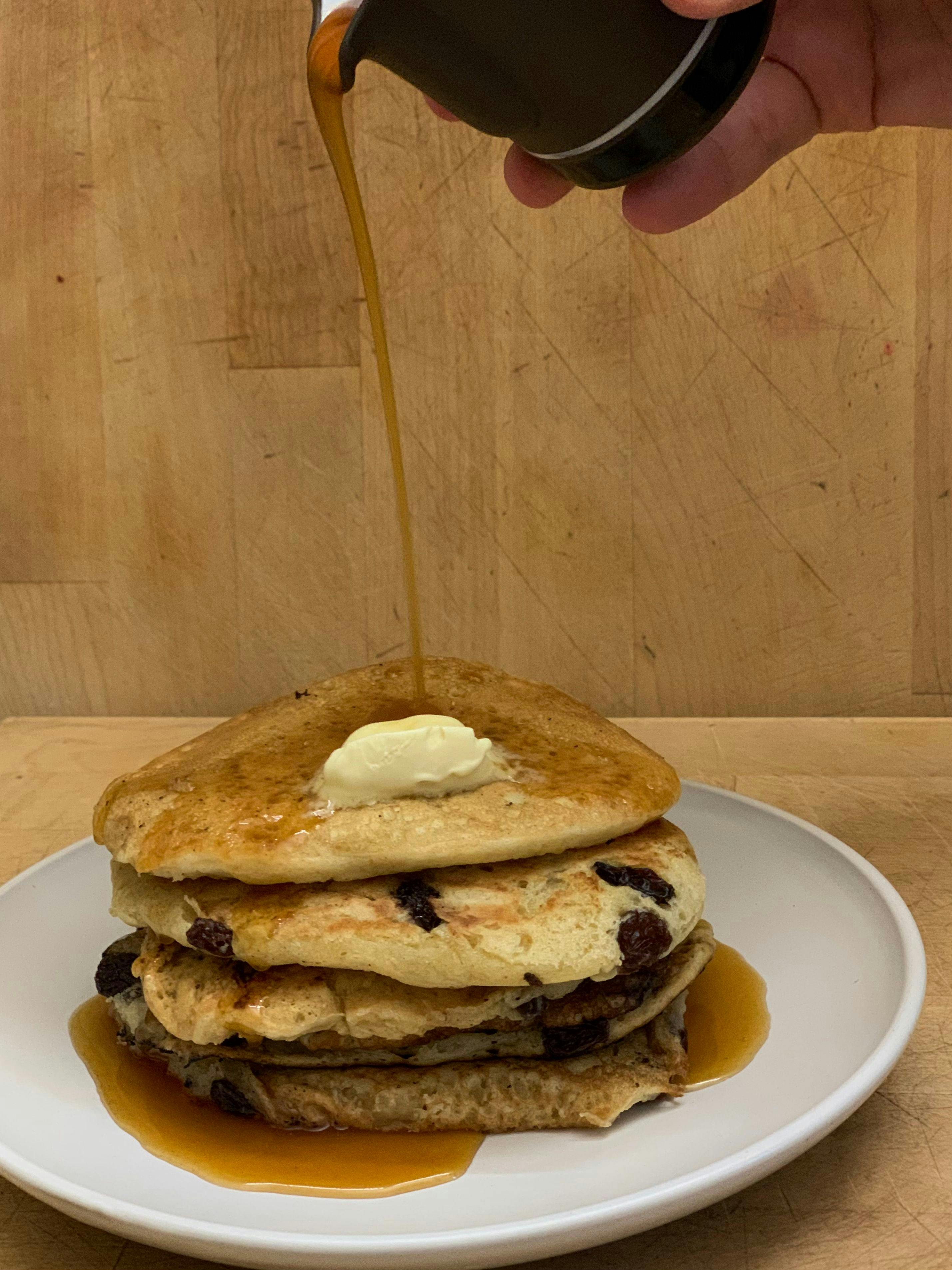 Feel free to go as wild with topping as fancy. We kept it pretty paired back and simple here to really let the flavours sing, but fresh fruit, nuts, seeds or anything else you're craving would work wonders too – did someone say vegan ice cream…?
Ingredients
Caramel:
4 cardamom pods (crushed)
100g caster sugar
50ml water
Juice ½ lemon
2 tbsp oat-cream
Pancakes:
280g plain flour
2 tsp baking powder
½ tsp bicarbonate of soda
1 tsp salt
150ml aquafaba (1 tin's worth of chickpea water)
60g caster sugar
300ml unsweetened plant-milk (we used oat)
Zest 1 lemon
Juice ½ lemon
100g raisins
Method
STEP 1
Make the caramel by combining the first four ingredients in a medium saucepan on low heat. Gently swill until all the sugar has dissolved and keep below boiling point for 6 minutes, or until your syrup starts to darken in colour, then turn off the heat.
STEP 2
Add roughly two tablespoons worth of oat-cream to your syrup and stir with a wooden spoon until smooth. Strain your caramel through a small sieve into a jug to cool. 
STEP 3
Sieve the first four dry (pancake) ingredients into a medium-sized bowl, stir and set to one side. In a new large bowl, hand whisk your plant-milk, remaining lemon juice and lemon zest. Slowly add the combined dry ingredients, whisking gently all the time. 
STEP 4
Using an electric whisk on its highest setting, whisk your aquafaba in a large bowl for around 3 minutes. Add the sugar and continue to whisk for another 3 minutes, or until stiff peaks have formed then set aside.
STEP 5
Once smooth, slowly fold the aquafaba into the pancake batter a little at a time, making sure to keep as much air in the mixture as possible.
STEP 6
Heat a non-stick pan or skillet over medium heat and add ½ tsp of plant-butter. Once hot, cook two pancakes at a time using about ¼ cup of pancake batter to the pan twice. Scatter a handful of raisins over the cooking pancake batter.
STEP 7
Cook the pancakes for about 3 minutes, then once bubbles appear on top, flip and cook for another 2 minutes. Repeat with the rest of the batter and serve with a knob of plant-butter and the cardamom caramel.
---
by Fabian Jackson
Fabian is one of our lovely Content Marketing Assistants who loves writing almost as much as he loves coffee, old episodes of Escape to the Country (no judgement here), and cooking up a storm in his kitchen.
---
MORE GREAT READS