Recipes
Vegan Lemon and Pistachio Biscuits
5min read
If lemon drizzle cake and shortbread decided to have a child, it would be these lemon and pistachio biscuits. They're sweet, buttery, crumbly (in a good way) and extremely addicting.
When baking anything, but especially when baking biscuits, I find it's extremely important to pay attention to the fat source I'm using. That's because not all vegan butters are created equal. In fact, the fat content in plant based butter can range from 40% to 80% - that's a huuuuge difference! That difference is made up with a higher water content which translates into cookie doughs that fall apart and, once baked, tougher biscuits. Nobody likes a tough biscuit. Whilst they might look similar, the results are worlds apart. Next time you're looking for a baking spread or butter, flip the contained around to the ingredients list, which nearly always states that fat percentage. For perfect and buttery cookies, I try to look for plant based butters that are made up of 70%-80% fat and I always turn to Naturli butter block when I can get my hands on it. It's the closest thing to regular butter I've found so far, both in how it tastes and acts in cooking and baking.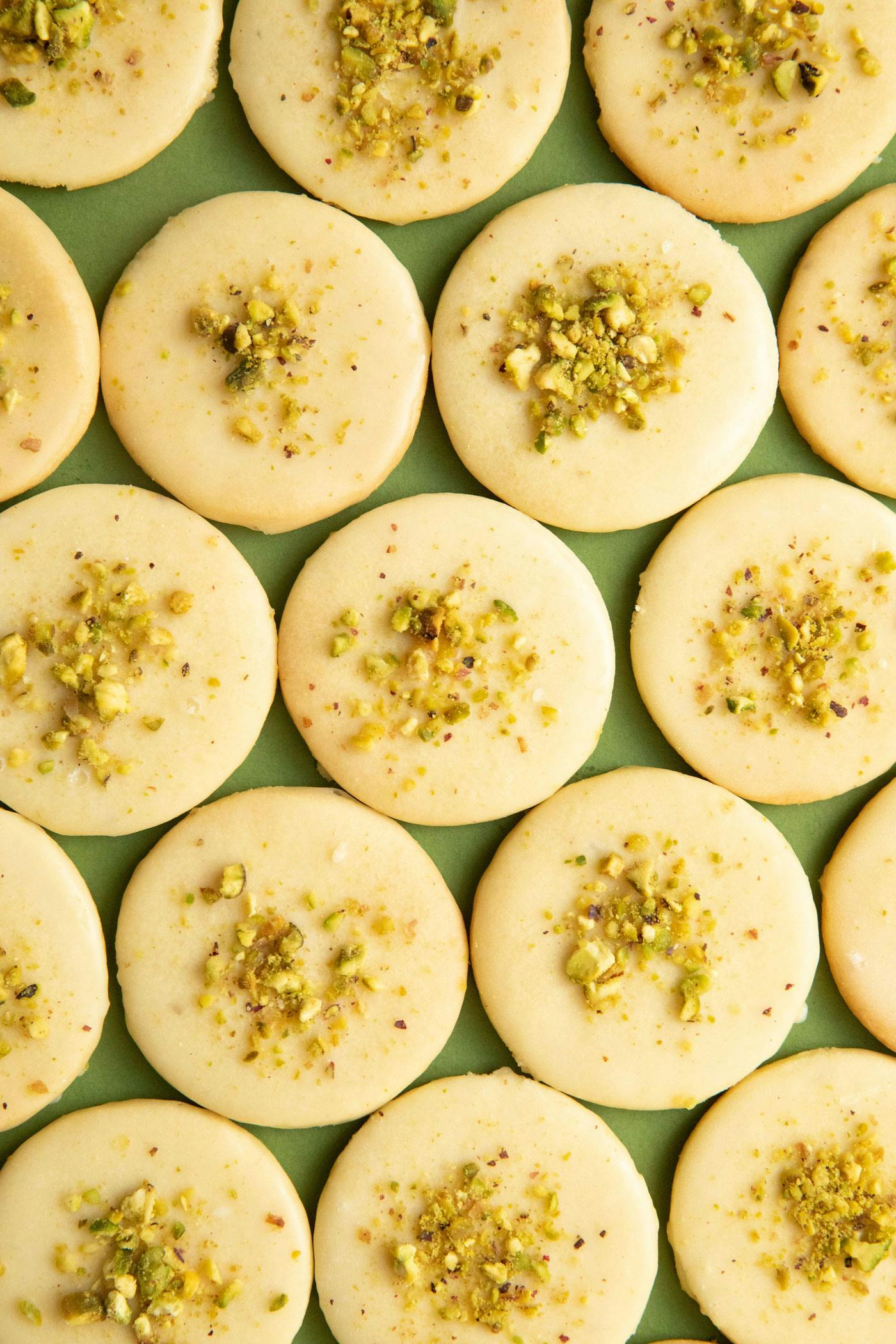 Ingredients
Biscuits:
1 tbsp ground flax seeds
170g plant based butter block*, softened
150g caster sugar 
1 tsp vanilla extract
1 tbsp plant based milk 
1 tbsp cornstarch 
250g plain flour 
½ tsp baking soda 
½ tsp salt 
1 tsp lemon zest

Glaze & Topping: 
160g icing sugar, sifted
1 tbsp lemon juice
1 tsp vanilla extract
3 tbsp plant based milk 
50g pistachios, chopped
*Naturli Vegan Butter Block gives best results
Method
STEP 1
Combine flax seeds with 3 tbsp warm water in a small bowl. Whisk to combine and let sit for 10 minutes to thicken. 
STEP 2
In the bowl of a stand mixer or a large bowl, combine plant based butter and sugar. Mix on medium speed (either with a stand mixer or electric mixer) for 2-3 minutes, until the mixture is fluffy.
STEP 3
Add the thickened flax mixture, milk and vanilla extract and mix for 1 more minute. Add the cornstarch and mix for a final minute.
STEP 4
Into a large bowl, sift flour, baking soda, and salt. Whisk to combine. 
STEP 5
Add the dry ingredients and the lemon zest to the wet and mix on low speed until combined. The dough should be soft but not wet - if it does feel wet, add an extra tbsp of flour. 
STEP 6
Wrap the dough in parchment paper or cling film and let it rest in the fridge for 60-90 minutes. Preheat the oven 170˚C and line a large tray with parchment paper. 
STEP 7
Once rested, remove the dough from the fridge and split it into two parts. Place one half back in the fridge. Place the remaining section of dough between two sheets of lightly floured parchment paper and roll it out to 3/4 cm thickness. 
STEP 8
Use a cookie cutter to cut out the cookies and place them on the prepared parchment lined tray. Collect the scraps and continue re-rolling until all the cookies are cut. Repeat with the second portion of dough.
STEP 9
Bake the biscuits for 9-10 minutes, until slightly golden around the edges. Let them cool completely. 
STEP 10
Once the biscuits have cooled, prepare the glaze. In a large bowl combine icing sugar, lemon juice, vanilla extract, and plant based milk and whisk to combine. 
STEP 11
Dip the biscuits faced-down in the glaze, then place on a cooling rack (with parchment paper below it). Sprinkle the glazed biscuits with chopped pistachios as you go. 
STEP 12
Let the biscuits dry completely before tucking in. Store the biscuits in an airtight container for up to 5 days.
---
By Valentina Concordia
Valentina is our Food Editor, who dreams up our tasty dishes and recipes for our social channels. She has loads of experience cooking up a storm in Italian kitchens, so it's no surprise she can't live without good-quality olive oil (don't come between her and her olive oil) and fresh pasta.
---
Let us take care of dinner
After getting creative in the kitchen, give yourself the weekend off by letting us take care of dinner. Check out our delicious meals here.