Recipes
Vegan Linzer Biscuits
5min read
Sweet, buttery and nutty vegan Linzer biscuits. The nostalgic Austrian Christmas biscuit just had a vegan makeover, and they live up to their iconic reputation.
Linzer biscuits might look a little complicated to make, but they're basically an arts and crafts session in disguise. You have full creative freedom when choosing shapes, mixing and matching cut outs and choosing the colour of your filling. Apricot, redcurrant, strawberry and raspberry jam all taste delicious sandwiched between the buttery almond-y biscuits, but use whatever you have on hand.

What gives the biscuits their nutty flavour is ground almonds, which you can either buy ready made or grind yourself. As opposed to almond flour - which consists of finely ground blanched almonds - ground almonds retain their skin, which gives them a coarser texture and slightly stronger flavour. If all you can find is almond flour, use that and add 1/4 tsp almond essence. You can also sub the ground almonds for ground hazelnuts, which is the way they're typically made in the Austrian classic.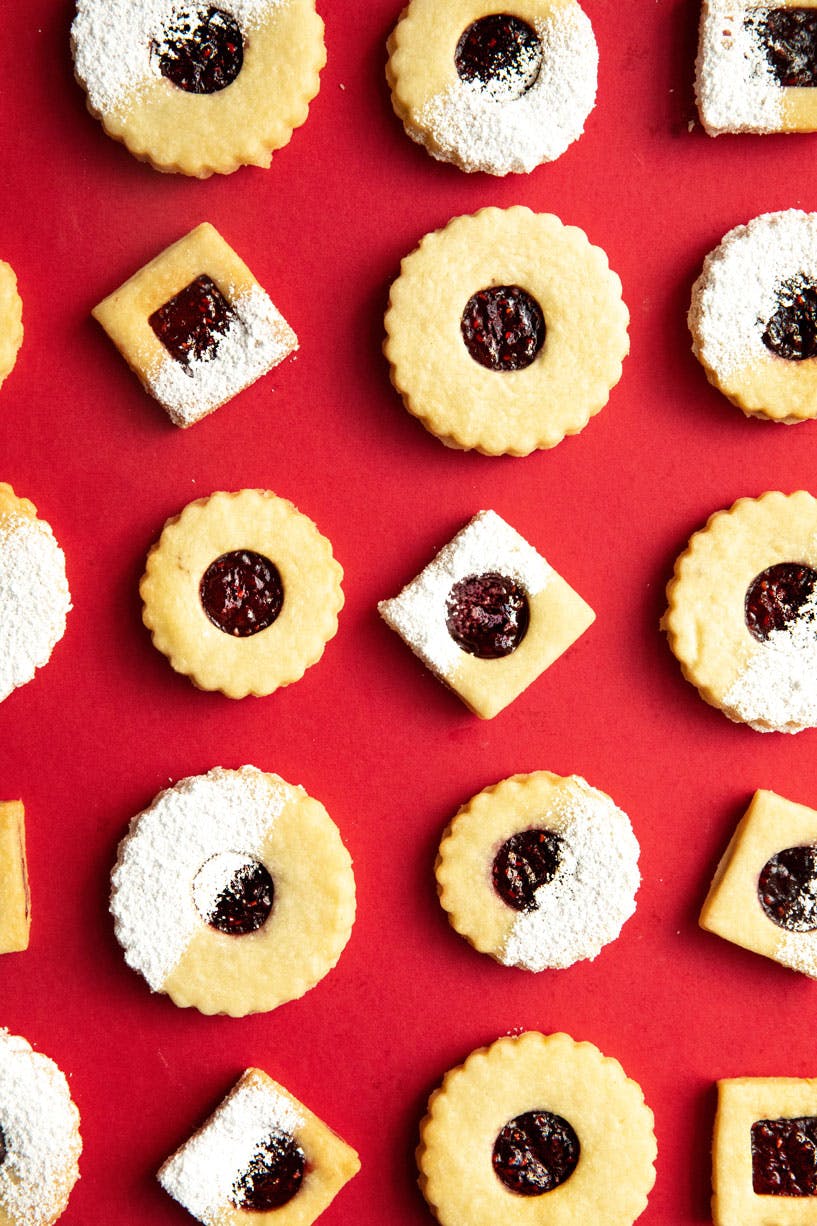 Ingredients
250g plain flour
90g caster sugar 
50g ground almonds
½ tsp salt
200g cold plant based butter block*, cubed
1 tsp vanilla extract
1 tsp lemon zest
1-2 tbsp ice water
180g raspberry or strawberry jam 
60g icing sugar, to top
*Naturli Vegan Butter Block gives best results
Method
STEP 1
Add plain flour, caster sugar, ground almonds and salt to a food processor and pulse to combine. Add cubed butter, and pulse for 2-3 minutes, until the butter has completely broken down and the mixture is crumbly.
STEP 2
Add the vanilla extract and lemon zest, and pulse 5-6 more times. With the food processor running, add 1 tbsp of iced water, until a ball of dough forms in the food processor - adding an extra tbsp of iced water if necessary to achieve that. 
STEP 3
If you're making these by hand rather than with a food processor, add the plain flour, caster sugar, ground almonds and salt to a large bowl and whisk to combine. Add the cubed butter and use a pastry cutter or cold hands to incorporate the butter into the flour. Try to work quickly to avoid warming the butter. Tip the mixture onto a lightly floured surface. Add the vanilla extract, lemon zest and 1 tbsp ice water and mix until a dough comes together. Add an extra tbsp of water if necessary.
STEP 4
Transfer the dough onto a sheet of parchment or cling film, and wrap. Let rest in the fridge for at least 1 hour.
STEP 5
Preheat the oven 170˚C and line a large tray with parchment paper. 
STEP 6
Once the dough has rested, remove it from the fridge and split it into two parts. Place one half back in the fridge. Place the remaining section of dough between two sheets of lightly floured parchment paper and roll it out to ½ cm thickness. 
STEP 7
Use a cookie cutter to cut out the cookies and place them on the parchment lined tray. Cut out a top on half of bases, using a smaller cookie cutter than the original. 
STEP 8
Collect the scraps of dough, and repeat the process between the same sheets of parchment. Transfer to the baking tray. 
STEP 9
Bake the first batch of cookies for 11-12 minutes, until slightly golden around the edges. Let cool for 5 minutes, then transfer to a cooling rack to cool completely. 
STEP 10
Whilst the first batch bakes, repeat the process with the second portion of dough. 
STEP 11
Once all the cookies are baked and cooled, they're ready to be filled. Flip the bases (the ones without a cutout) around and spread them with jam, leaving a 2cm jam-free border around each cookie. 
STEP 12
Lightly coat the tops with icing sugar. Sandwich the cookies by placing the icing sugared top onto the bases. 
STEP 13
Store in an airtight container for up to a week.
---
by Valentina Concordia
Valentina is our Food Creative, who dreams up our tasty dishes and recipes for our social channels. She has loads of experience cooking up a storm in Italian kitchens, so it's no surprise she can't live without good-quality olive oil (don't come between her and her olive oil) and fresh pasta.
---
MORE GREAT READS