It's spring roll time! Hype up your party snacks or picnic basket with these veganised Filipino lumpia. Experience bliss with crunchy savoury rolls, filled with flavourful minced veggies and vegan mince, served with sweet chilli sauce.
Lumpia is a favourite Filipino party snack and locally translates to roll/wrap. It has loads of variety, from its filling, wrap pastry and way of cooking, not just in the Philippines but also across Asia. This veganised lumpia is inspired by the traditional Filipino version called Lumpiang Shanghai. Locally it's deep-fried, filled thin, egg crepes with cooked ground pork and veggies and despite the name, did not originate from Shanghai but named after its resemblance to Chinese cuisine. It's such an adaptable recipe, it can easily be made vegan or veggie – see below for proof!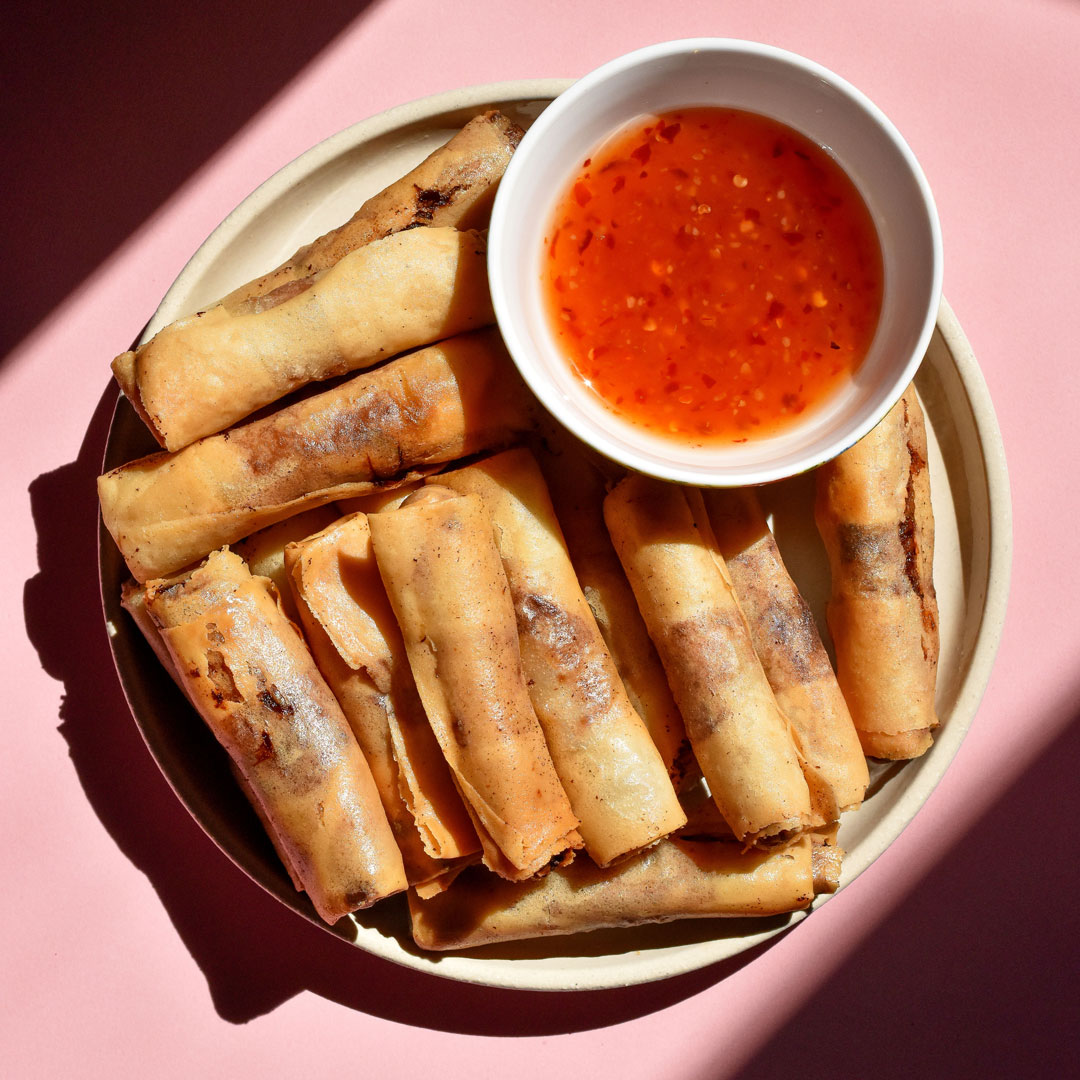 For the lumpia filling:
2 carrot, minced
60g sweetheart cabbage, shredded
1 celery stalk, minced
4 garlic cloves, minced
1 onion, minced
150g vegan mincemeat or minced mushrooms
2 tbsp soy sauce
2 tsp ground black pepper
Salt, to taste
For assembling and frying:
25 spring roll/filo pastry sheets (9x9")
2 cups vegetable oil
water, for binding
1 tsp cornstarch, optional
To serve:
sweet chilli sauce
STEP 3
Cooking lumpia can be laborious but it's quite social amongst Filipinos pre-party time. A typical setting would be with friends and family gathered around the table rolling pastry sheets and wrapping filling whilst chatting. Growing up, we would normally have our nan assemble us into this small production line, where you are assigned one of the following roles - either as the mincer, the roller or the wrapper (the most popular job!)
To fill your lumpia, scoop ½ tablespoon of mixed filling onto your pastry sheet, along the side closer to you. Fold the sides inwards towards the filling. Dab your fingers in water to moisten the pastry edges, which will make it easier to fold. I tend to add a bit of cornstarch in the water to make a watery paste, as we'd normally have eggs to help with the binding. Roll away from you, whilst trying to pull as you roll for a tighter wrap. Use water to seal the edges and make sure to rest them on the folded edge to tighten seal and prevent unraveling before cooking. We tend to make a big batch at a time, as you can always freeze ready made spring rolls for the next gathering, thawing it just before cooking.