Recipes
Vegan Mac and Cheese
6min read
A very low maintenance yet super cheesy and creamy classic vegan mac and cheese that comes together in 30 minutes. Ps. it's also nut, seed and tofu free.
Just like a regular mac and cheese does, this version comes together over the stove with a creamy béchamel. It's then folded through cooked macaroni and topped with vegan cheddar which bubbles and crisps up in the oven. In the recipe I suggest using vegan cheddar cheese but if you have a favourite vegan cheese on hand you want to add, feel free to sub 50-60% of the cheddar with it. If you are going the full cheddar route and aren't sure which to choose, violife, ASDA, Waitrose cheddars are my favourite in general and for this vegan mac and cheese - they melt and bubble just as they should and don't have an overpowering or artificial flavour.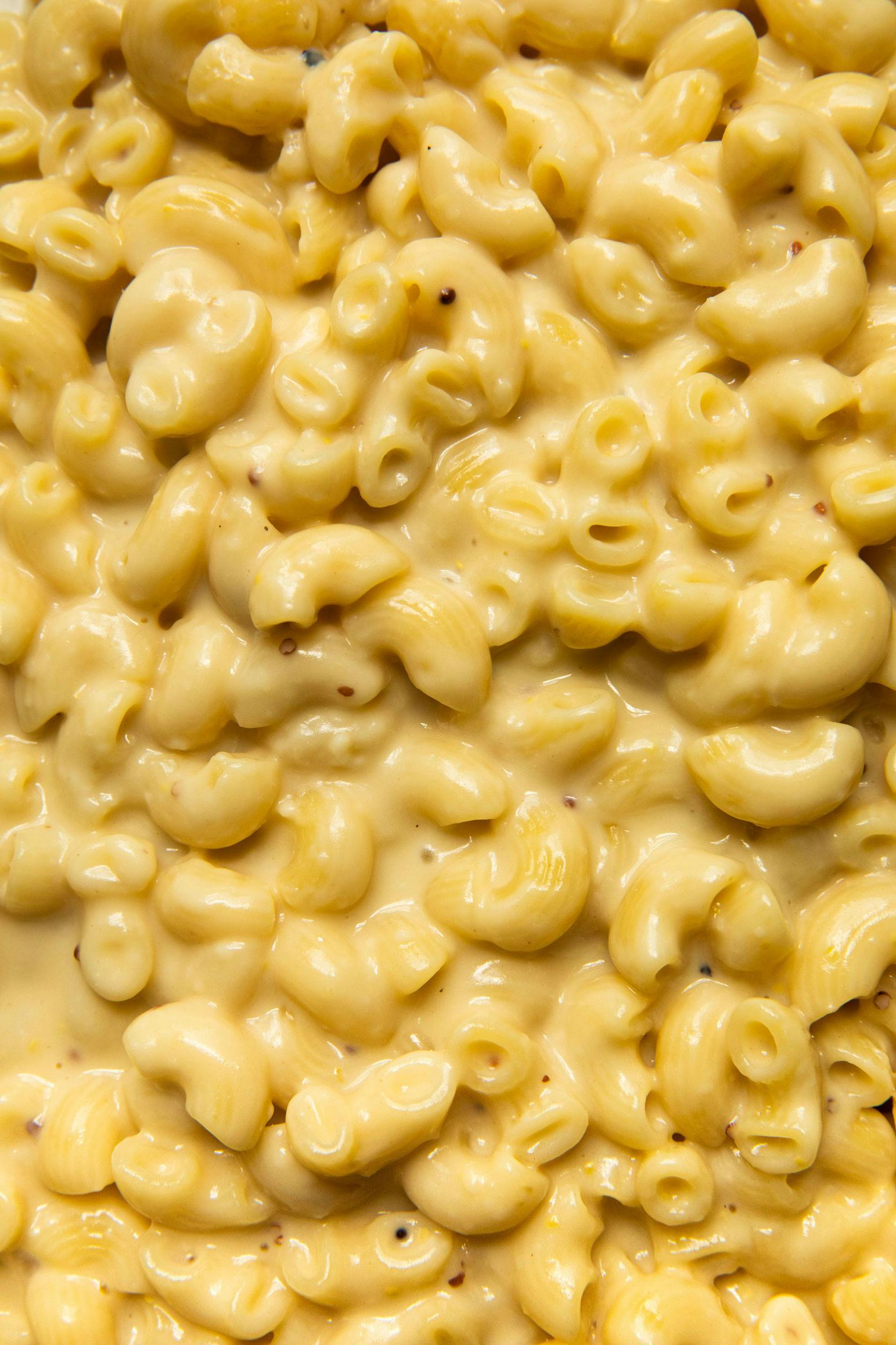 Ingredients
60g plant based butter
50g plain flour 
1 tsp salt
1L high-fat plant based milk (like oatly whole)
½ tsp freshly ground black pepper
½ tsp nutmeg
2 tsp grainy mustard 
200g vegan cheddar, grated
500g macaroni
Method
STEP 1
Preheat your oven to 220˚C and grease a baking dish with plant based butter.
STEP 2
Melt the butter in a large pot over medium heat. Stir in the flour until it forms a paste. Lower the heat, and whisk in 200ml of milk and salt until smooth and clump-free. 
STEP 3
Slowly whisk in the remaining milk 200ml at a time - allowing the mixture to thicken between each addition. 
STEP 4
Once all of the milk has been incorporated, stir in the black pepper, nutmeg and mustard. Taste for seasoning and adjust to taste.  Add 140g of grated vegan cheddar and stir for 2-3 minutes, until it has melted. 
STEP 5
In the meantime, cook 500g macaroni in salted boiling water for 1 minute less than the package instructions. Before draining the macaroni, reserve 100ml of the water the macaroni is cooking in. 
STEP 6
Once drained, fold the macaroni into the cheese sauce along with the 100ml cooking water and stir to combine. Transfer the mac and cheese into the baking dish. 
STEP 7
Top with 60g grated vegan cheddar. Bake for 20-25 minutes, until the top is golden and bubbling. Let cool for 10 minutes before serving.
---
by Valentina Concordia
Valentina is our Food Creative, who dreams up our tasty dishes and recipes for our social channels. She has loads of experience cooking up a storm in Italian kitchens, so it's no surprise she can't live without good-quality olive oil (don't come between her and her olive oil) and fresh pasta.
---
MORE GREAT READS
Let us take care of dinner
After getting creative in the kitchen, give yourself the weekend off by letting us take care of dinner. Check out our delicious meals here.