Recipes
Vegan Marble Biscuits
5min read
For the tie dye enthusiasts, we present you with these chocolate and vanilla marbled biscuits. They're easier than they look and make for the perfect edible gift. Nothing says love like tie dye.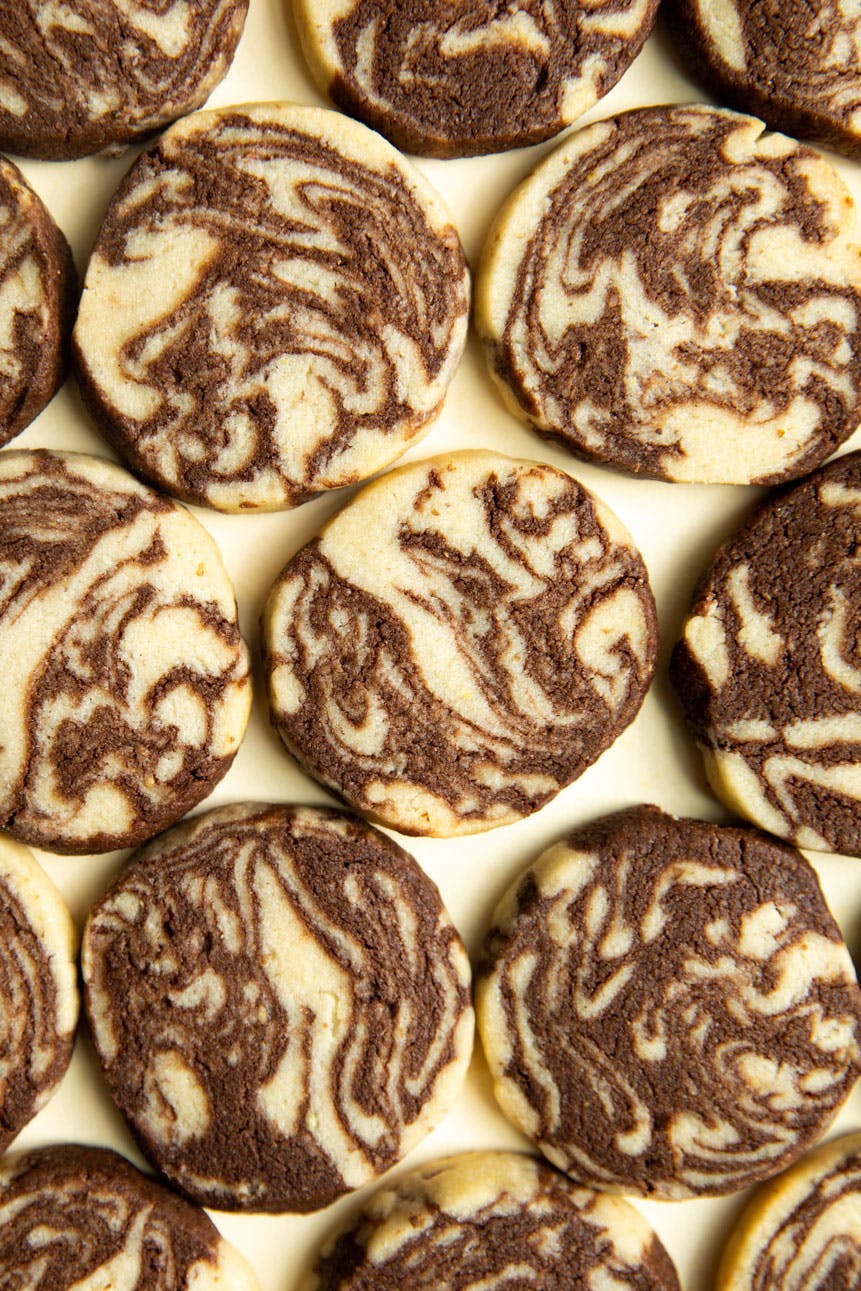 Ingredients
2 tbsp ground flax seeds
280g butter 
150g sugar 
1 tsp vanilla extract
190g + 140g plain flour, divided
45g cocoa 
½ tsp salt
Method
STEP 1
Combine flax seeds with 6 tbsp warm water in a small bowl. Whisk to combine and let sit for 10 minutes to thicken. 
STEP 2
In a large bowl combine 190g flour and ¼ tsp salt - mix to combine. In a separate bowl, combine 140g flour, cocoa powder and ¼ tsp salt - again, mix to combine. 
STEP 3
In the bowl of a stand mixer or a large bowl, combine plant based butter and sugar. Mix on medium speed (either with a stand mixer or electric mixer) for 2-3 minutes, until the mixture is fluffy. Add the thickened flax mixture and vanilla extract and mix for 1 more minute. 
STEP 4
Divide the mixture between the two bowls with the flour. Incorporate the butter mixture into the dry ingredients using a spatula or clean hands, one bowl at a time, until the dough comes together. 
STEP 5
Wrap each dough separately, using cling film or parchment paper. Place both doughs in the fridge and let rest for 40-60 minutes. 
STEP 6
Once rested, remove both portions of dough from the fridge. Split each portion of dough in half, leaving you with two portions of chocolate dough and two portions of vanilla dough. 
STEP 7
Use your hands to shape each portion of dough into a rough square. Lightly flour a surface and place one vanilla square of dough onto it. Place a square with a chocolate dough on top of it, followed by one vanilla square and then the last chocolate square. You should now have one large brick of dough which alternates between chocolate and vanilla. 
STEP 8
Use your hands to first press the layers together, and then knead the dough for 10-15 motions to create swirls of chocolate and vanilla dough.
STEP 9
Split the dough in half, and use your hands to form each half into a log. Wrap each log in cling film or parchment paper and let sit in the freezer for 20 minutes. 
STEP 10
Preheat the oven to 170˚C and line two large baking trays with parchment paper.
STEP 11
Remove the two portions of wrapped dough from the freezer. Unwrap the first log of dough and use a sharp knife to slice it into 1cm rounds. Transfer the rounds onto the prepared baking tray, 2-3cm apart. Repeat with the second log of dough. 
STEP 12
Bake for 12-13 minutes, until golden around the edges. Let cool for 5 minutes before transferring them to a cooling rack to cool completely. 
STEP 13
Store in an airtight container for up to 5-6 days. 
---
by Valentina Concordia
Valentina is our Food Creative, who dreams up our tasty dishes and recipes for our social channels. She has loads of experience cooking up a storm in Italian kitchens, so it's no surprise she can't live without good-quality olive oil (don't come between her and her olive oil) and fresh pasta.
---
MORE GREAT READS