Recipes
Vegan Mulled Wine
by Iona Berry
4min read
It's not the festive season until you have your first mulled wine of the year. Fill your house with the heady aroma of cinnamon and cloves with our festive mulled wine recipe.
It's not the festive season until you have your first mulled wine of the year. There's nothing quite like sipping on the fruity, sweet and aromatic taste of mulled wine. The heady aroma of cinnamon and cloves cooking on the stove has the power to evoke memories and can transcend you to thinking you are sipping on glühwein at a german Christmas market (without actually leaving your house).
Use this recipe as a guide but feel free to tailor make the spices you use if you particularly like one of the flavours and if you are looking for more of a kick then add a few tablespoons of cherry brandy or cointreau.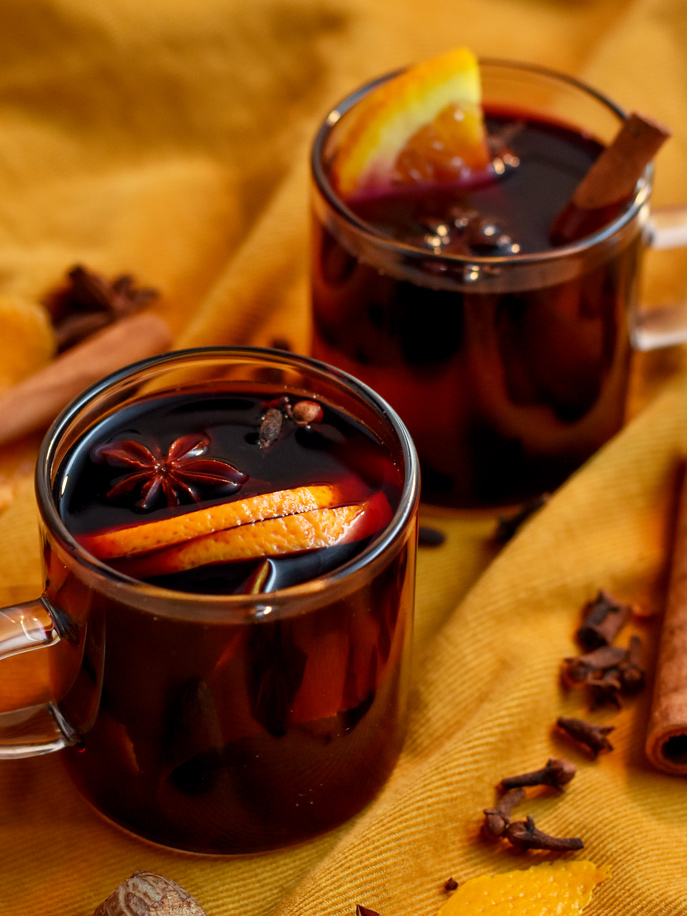 Ingredients
1 bottle of vegan red wine (I like to use a spicier wine like syrah or merlot)
100g sugar 
2 cinnamon sticks 
A pinch of grated nutmeg
2 sliced oranges (you can use the zest if you want it extra aromatic)
1 sliced lemon 
1 star anise 
4 cloves 
1 vanilla pod (optional as they tend to be quite pricey and the wine will still be delicious without)
Method
STEP 1
Combine all of the ingredients in a saucepan and simmer for 25 minutes (take care not to let the wine boil). You can also make this using a slow cooker (1-2 hours depending on your slow cooker).
STEP 2
Check the sweetness is to your taste and then strain out the fruits and aromatics. Serve warm in a heatproof glass and garnish with a cinnamon stick, star anise and orange peel.
---
By Iona Berry
Iona is our Development Chef, aka our go-to girl for developing, testing and tasting delicious dishes for you to all enjoy at home. When she's not in the kitchen, you'll find her either running or cycling, or trying out food markets and new restaurants around London. Continuous market research it would seem.
---
Let us take care of dinner
After getting creative in the kitchen, give yourself the weekend off by letting us take care of dinner. Check out our delicious meals here.
Shop now