Recipes
Vegan Mushroom Risotto
6min read
This very creamy, very savoury and very mushroom-y vegan risotto is as perfect for chilly and cosy nights as it is for a hearty left-over lunches. Although not the most hands-off recipe, the twenty five or so minutes spent stirring are all for an excellent cause: a silky smooth bowl that will warm you up from the inside out.
The secret to a super creamy and silky risotto lies the technique rather than in the ingredients. The stock should always be kept on heat at a gentle simmer, and it should never (ever) be just lukewarm or at room temperature, as it shouldn't lower the temperature of the simmering risotto when introduced to it. Said stock should then only be added when the previous ladleful has been absorbed. Last but not least, the risotto should be stirred constantly while it cooks, as it encourages the starches to release from the rice, giving risotto its velvety perfect texture.
No time to cook? No problem, our chefs have got you covered with our delicious Three Mushroom Risotto dish - ready to heat and eat in minutes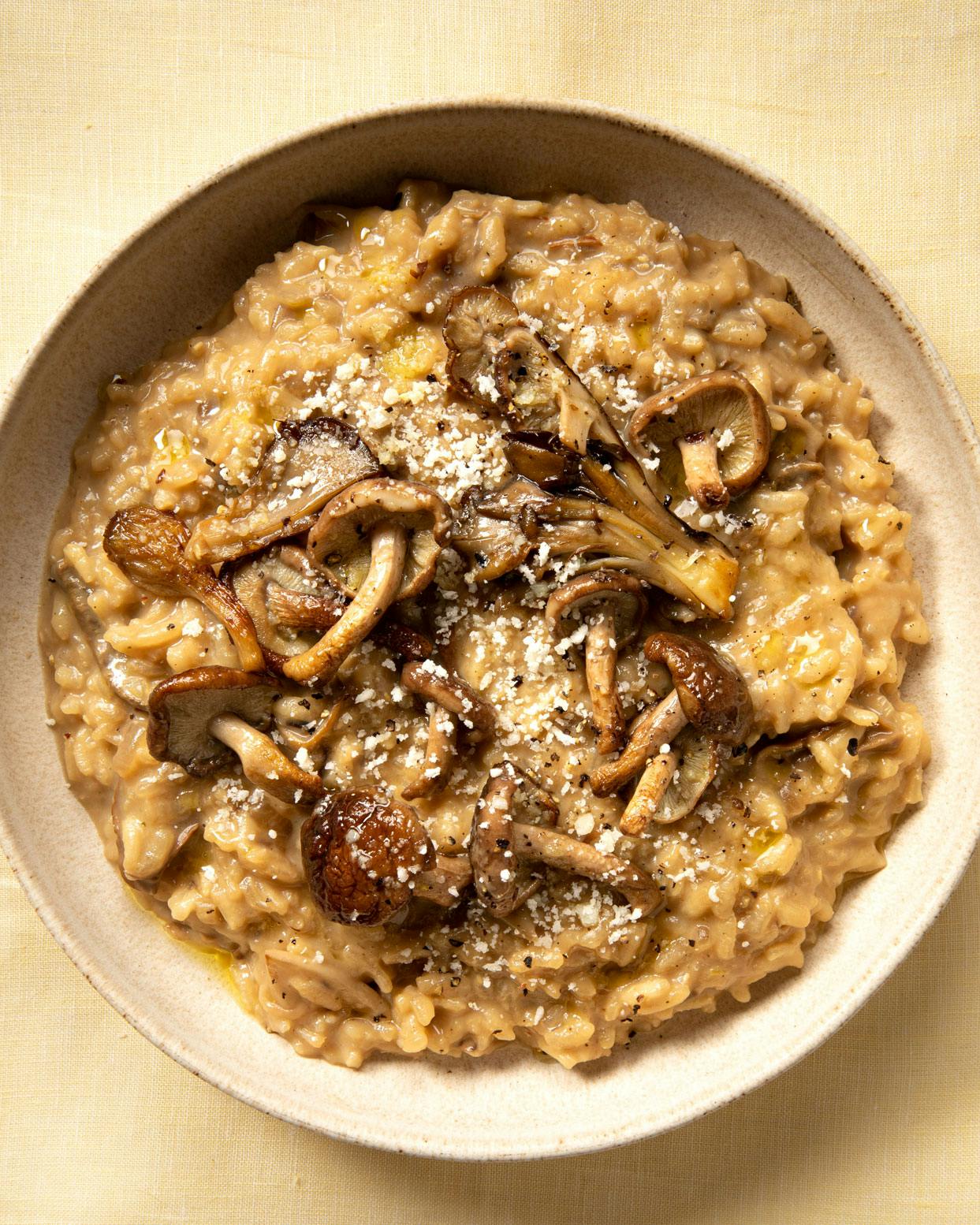 Ingredients
1L vegetable stock
20g dried porcini mushrooms
2 tbsp (30g) olive oil 
200g white onion, finely chopped
1 clove garlic, minced
250g mixed mushrooms, torn or halved
½ tsp salt
300g arborio rice 
4 tbsp (60ml) white wine 
30g vegan parmesan, optional
2 tbsp (30g) plant based butter, optional
Black pepper, to taste
Method
STEP 1
Start by heating up one litre of vegetable stock in a saucepan over medium low heat. Add the porcini mushrooms and lower the heat. The stock should gently simmer throughout the whole cooking process. 
STEP 2
In a separate pot, heat olive oil over medium heat. Add the finely chopped onion, and sauté for 8-10 minutes, until soft and translucent. Add the minced garlic, and sauté for another 4-5 minutes. 
STEP 3
Add the torn or halved mushrooms to the pot, stir to coat in oil, and let cook untouched for 3-4 minutes, until starting to brown. Stir them, and continue to let cook untouched for 2-3 minutes. Stir in the salt. Remove half of the mushrooms from the pan, transfer them to a small dish and reserve for later. 
STEP 4
Add the rice, and stir to coat in the oil and mushrooms. Toast the rice by letting it cook in the pot for 2-3 minutes, stirring constantly, before adding any liquid. This helps the rice cook evenly once liquid is added.
STEP 5
Add the white wine, and cook down for 1-2 minutes, until evaporated. 
STEP 6
Reduce the heat to medium low. Add a couple ladlefuls of hot stock (with the poricini mushrooms) to the rice (around 200ml), and stir constantly while the rice absorbs the stock. 
STEP 7
Repeat the process until the risotto is creamy and loose, and you've used all of the stock (20-25 minutes).  
STEP 8
Remove the risotto from the heat, and stir in the vegan parmesan, butter and a pinch of black pepper. Taste for seasoning and adjust to taste. 
STEP 9
Divide amongst bowls and serve topped with the reserved sautéed mushrooms, a drizzle of olive oil, extra vegan parmesan (if using) and freshly ground black pepper. 
---
By Valentina Concordia
Valentina is our Food Editor, who dreams up our tasty dishes and recipes for our social channels. She has loads of experience cooking up a storm in Italian kitchens, so it's no surprise she can't live without good-quality olive oil (don't come between her and her olive oil) and fresh pasta.
---
Let us take care of dinner
After getting creative in the kitchen, give yourself the weekend off by letting us take care of dinner. Check out our delicious meals here.