Recipes
Vegan Nachos
4min read
Smoky, fresh, cheesy and spicy vegan nachos - ready in under thirty minutes. These serve four people but in our humble opinion, the crispy tempeh in them makes it acceptable to eat these all on your own, on the couch, for dinner. They're packed with flavour as is, but you're welcome to top them with your ride-or-die nacho toppings like guacamole and sour cream, or to drown them in hot sauce for an extra kick.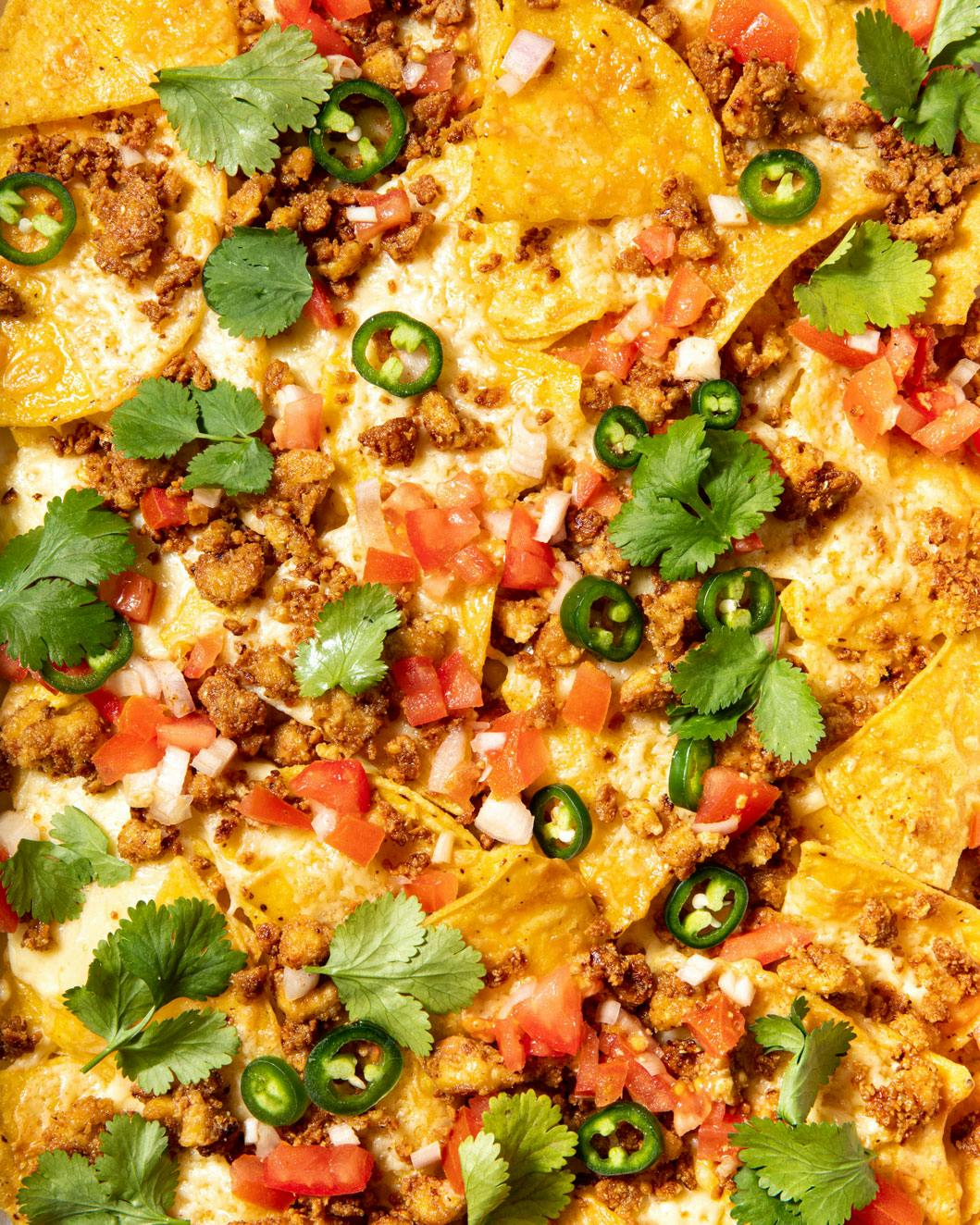 Ingredients
Nachos:
3 tbsp neutral oil 
200g tempeh
¼ - ½ tsp salt 
1 tsp cumin
½ tsp smoked paprika
1 lime, juiced
200g tortilla chips
200g plant based cheddar cheese
To serve:
300g tomatoes 
100g white onion (one small)
1 tbsp olive oil
10g fresh coriander 
2 jalapeños, sliced 
1 lime, sliced
Hot sauce, optional
Method
STEP 1
Preheat the oven to 180˚C fan/ 200˚C convention. 
STEP 2
Heat 2 tbsp of oil in a non-stick pan over medium heat. Crumble the tempeh apart with your hands into small rough pieces and add them to the pan. 
STEP 3
Stir the tempeh pieces around to coat them in oil and sprinkle in ¼ tsp salt. Cook them for 10-12 minutes, stirring often, until they're crisp around the edges. 
STEP 4
Stir in the cumin and smoked paprika, and add an extra tbsp of oil to prevent the tempeh from sticking. Cook the tempeh for 2-3 more minutes. 
STEP 5
Add the juice of ½ lime then taste it for seasoning - adding an extra ¼ tsp of salt to taste. Set the tempeh aside. 
STEP 6
Spread the tortilla chips evenly onto a large roasting dish. 
STEP 7
Next, grate the cheese using the largest side of a box grater. Sprinkle half of the cheese over the tortilla chips, making sure to get it into any gaps and cracks. Next, sprinkle half of the cooked tempeh onto the cheese. Top it with the remaining cheese.
STEP 8
Transfer the tray into the oven and bake it for 7-8 minutes, until the cheese is bubbling. 
STEP 9
In the meantime, prepare the salsa. Finely chop the tomatoes and white onion and transfer them to a bowl. Finely chop half of the fresh coriander and add it to the bowl, along with 1 tbsp olive oil, the juice of ½ lime, and a pinch of salt. Stir it to combine, then set it aside. 
STEP 10
Remove the tortillas from the oven, and top them with the remaining tempeh. Dollop the salsa on top, along with the sliced jalapeños, fresh coriander leaves, extra lime juice and hot sauce, if using. 
---
by Valentina Concordia
Valentina is our Food Creative, who dreams up our tasty dishes and recipes for our social channels. She has loads of experience cooking up a storm in Italian kitchens, so it's no surprise she can't live without good-quality olive oil (don't come between her and her olive oil) and fresh pasta.
---
MORE GREAT READS