Recipes
Vegan Nasi Goreng
3min read
Don't know what to do with your leftover rice? Well, we've got a delicious vegan solution for you! Nasi Goreng, an Indonesian-style fried rice, is famed for its aromatic, sweet yet savoury depth of flavour.
Meaning 'fried rice' in Bahasa Indonesia, Nasi Goreng is a staple favourite across South East Asia, with cooked rice, bumbu (aromatic paste) and kecap manis (sweet soy sauce) forming its mouth-watering base. We then add green beans for crunch, and serve with finely chopped spring onions, crispy shallots, fresh tomatoes and cucumber, for a deeper layer of flavour and texture.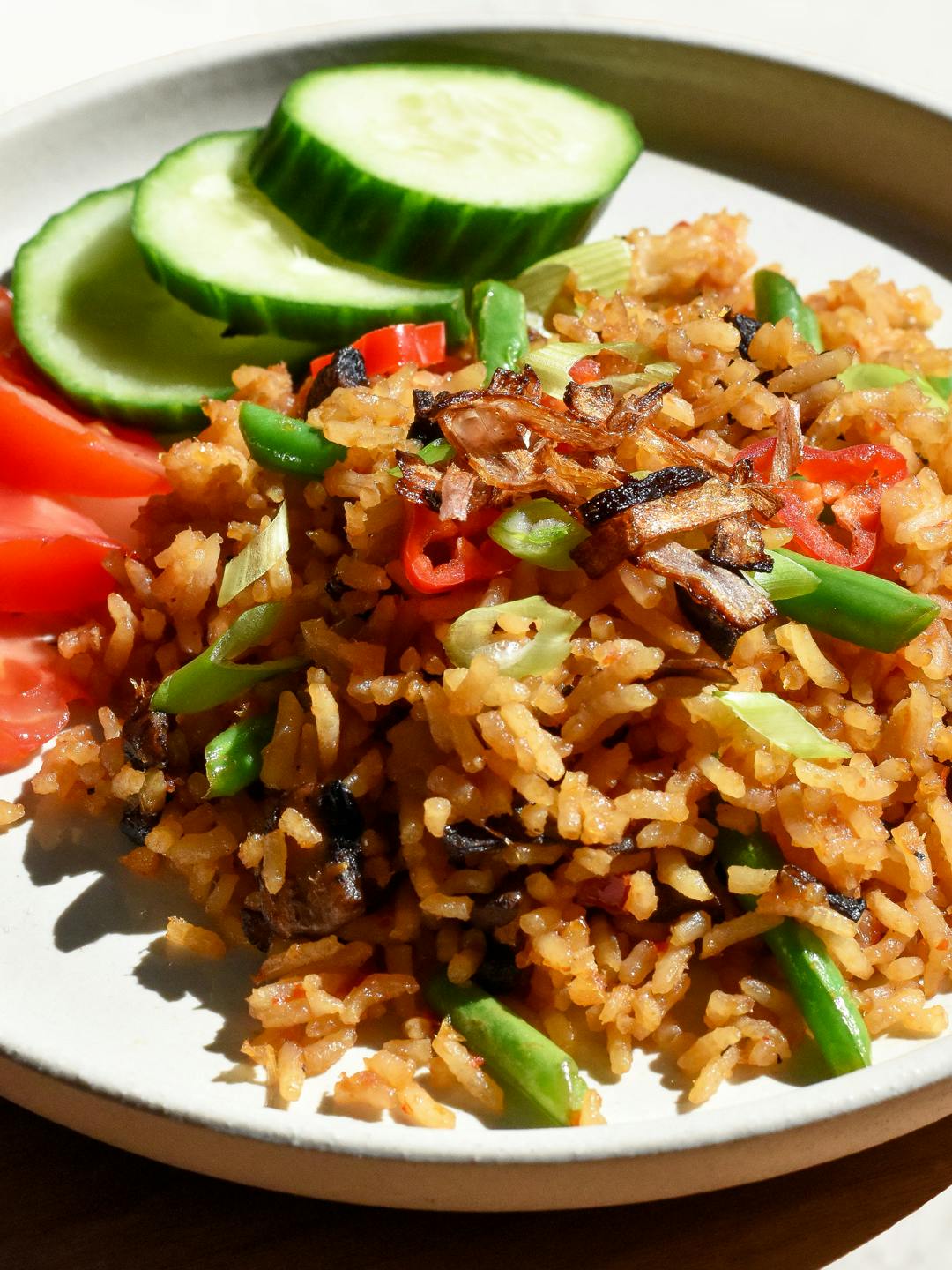 Ingredients
250g chestnut mushroom (optional)
500g cooked long grain rice (leftover rice works best!)
3 cloves garlic
3 red chillies, separated
3 shallots, separated
4 tbsp vegetable oil, separated
5 tbsp kecap manis
120g green beans
For Kecap Manis
8 tbsp soy sauce
8 tbsp brown sugar
Garnish
1 spring onion, finely sliced
3 salad tomatoes, sliced
1 cucumber, sliced
Method
STEP 1
Roasted mushrooms (optional)
Preheat the oven at 200 C for 10 mins. Place chopped mushrooms on a baking tray and add a pinch of salt and pepper and a drizzle 1 tablespoon of vegetable oil. Toss and roast in the oven for about 25 minutes.
STEP 2
Kecap Manis (sweet soy sauce)
Kecap Manis is a type of sweet soy sauce you can normally buy at the supermarket. However, if you don't have it readily available, you can make it by bringing soy sauce and brown sugar to boil for around 7 minutes until it has a maple syrup-like consistency (I've used 8 tablespoons of each for this). For our Nasi Goreng, I've used 5 tablespoons of kecap manis, but you can always make a bigger batch and keep in the fridge for later!
STEP 3
Crispy Shallots (optional)
If you fancy extra depth of flavour and texture, crispy shallots are normally added as garnish for any nasi goreng dish. Finely chop 1 shallot lengthwise and fry in 3 tbsp vegetable oil until golden brown. Remove shallots from the pan and set aside for later. Keep the oil to cook the rice with to make the most of all the extra sweetness of flavour from the shallots.
STEP 4
Bumbu (spice paste)
Using either a food processor or mortar and pestle, make a paste by blending 2 shallots, 3 cloves of garlic and 2 deseeded medium red chillies. You can always adjust the amount of chilli to taste, depending on how spicy you like your nasi goreng. Blend until almost smooth. Set aside.
STEP 5
Nasi Goreng (fried rice)
Place a wok over a medium heat with the shallot oil (3 tbsp vegetable oil if you didn't do the shallots). Fry the bumbu (paste) for 2 minutes. Then mix in chopped green beans and cook for 4 minutes. Add 4 tbsp of kecap manis (sweet soy sauce) and stir. Add your cooked rice and roasted mushrooms and stir all together. Add salt to taste.
STEP 6
Serve with a sprinkle of chopped spring onions, finely chopped chillies and crispy shallots, with a side of sliced tomatoes and cucumber.
---
by Aliza de Lima
Aliza is our Junior Creative, in between running out for copious amounts of coffee and snacks (give her a biscuit and she's your best friend). On her day off you'll find her exploring an exhibition, and having a chat over our Mac & Greens.
---
MORE GREAT READS
Let us take care of dinner
After getting creative in the kitchen, give yourself the weekend off by letting us take care of dinner. Check out our delicious meals here.