Recipes
Vegan Paella
6min read
Easy to make and impossible to put down, this crispy, deeply flavoured paella can be on your table in less than 25 minutes.
I waited all summer to start developing this recipe, as I knew my mum was coming to visit. She made paella every weekend when I was growing up and we lived in Madrid, so it wouldn't have been right to attempt making it on my own. There are many recipes and methods as well as many dos and don'ts. I learned a couple of them this past month with my mum, who gave me a lesson on a couple of the techniques and non negotiables in making deeply favoured and crispy paella. 
The first non negotiable is on the ingredients side - namely that using saffron and good quality vegetable stock are essential. They distinguish paella from simply being rice with vegetables. Although this dish can be delicious on its own, saffron gives paella its robust and smoky flavour. It's a flavour that is hard to put a finger on, but that makes simple ingredients taste extremely special. Although expensive, a little goes a very long way. I tend to buy saffron threads - rather than powder - and either get it at my local Spanish restaurant or at speciality shops. You can also easily find it online, but I sometimes find it hard to tell the quality of it when buying it online, and prefer the experience of buying it in person. In terms of vegetable stock, when making paella, I try to make my own or buy the best I can find. This is because the rice is absorbing flavour from the liquid it's cooking in - the more flavourful the stock, the more layers and flavour the paella will have.
The second non negotiable of cooking paella is to not touch the rice once you add the vegetable stock to the pan. This allows for the rice at the bottom of the pan to caramelise and toast, creating a crusty bottom called 'socarrat'. It's what my sister and I used to fight over when eating Paella as kids, and what we still fight over now. Some restaurants in also place the paella pan in the oven at the end of cooking to achieve extra crispiness, which is what my mum learned to do and what is instructed here at the end of this recipe. 
Socarrat can be hard to achieve on first paella tries, comes with practice, and is also made easier depending on what type of pan you're using. If you don't have a paella pan, use a large aluminium pan or anything that isn't non-stick, as non-stick pans aim to prevent the very feature that we are trying to achieve - sticking! Happy paella making - I wish you a lot of socarrat and flavour.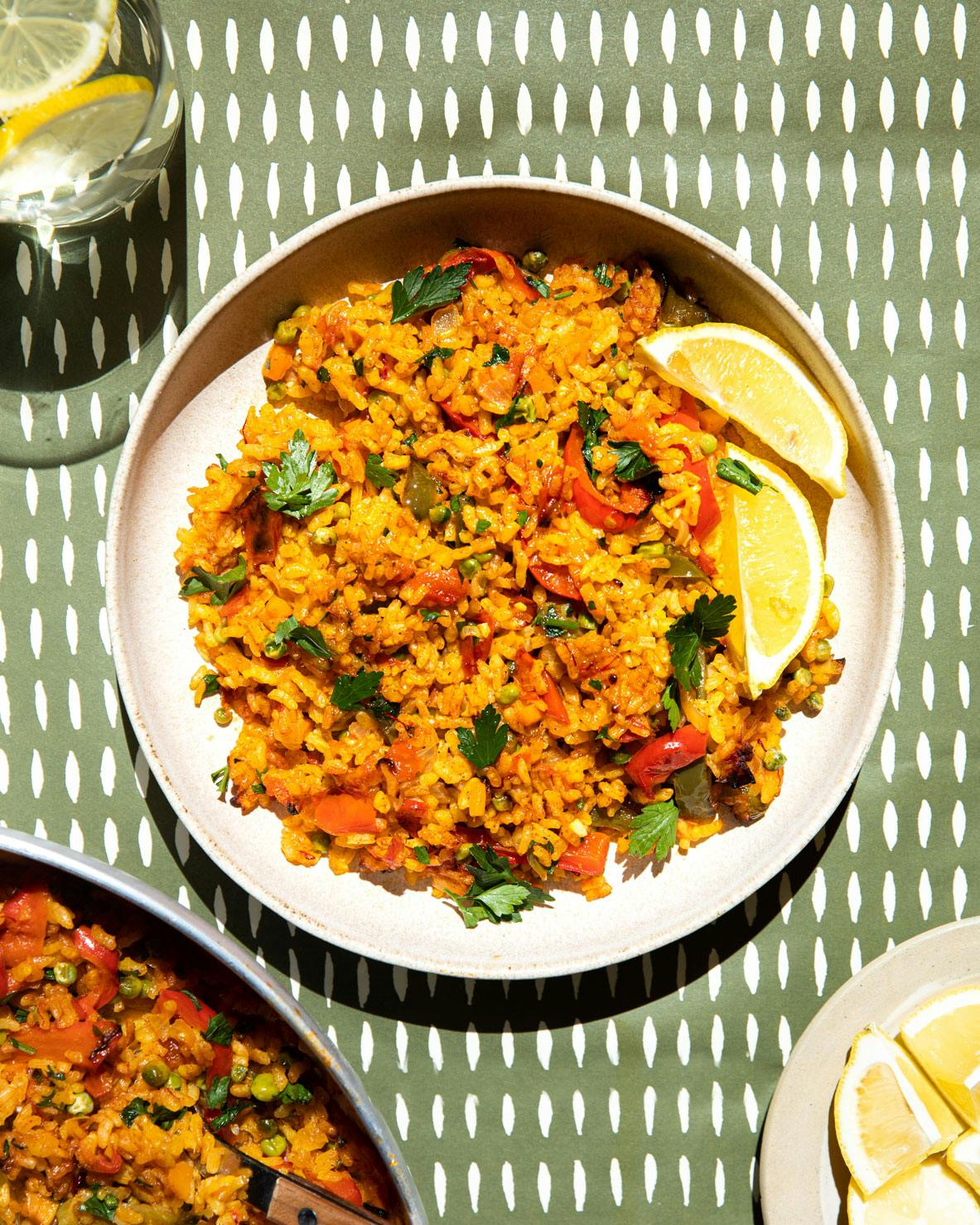 Ingredients
6 tbsp olive oil 
1 onion, finely diced
1 carrot, finely diced
3 cloves garlic, minced 
1 red pepper, sliced
1 green pepper, sliced 
1 tsp paprika 
2 large tomatoes, chopped 
1 tsp salt
100g frozen peas 
250g paella rice
80ml white wine 
1 litre good quality vegetable stock
12 saffron threads 
20g fresh parsley, chopped 
1 lemon, sliced into wedges
Method
STEP 1
Heat 4 tbsp of oil in a paella pan or regular large pan over medium heat. Add diced onion and carrots, and sauté for 8-10 minutes, until translucent. Add garlic and sauté for another 3-4 minutes. Add sliced red peppers, green peppers, tomatoes, paprika and salt and sauté for 4-5 minutes, until the peppers and tomatoes soften.
STEP 2
Stir in the peas and paella rice. Add the white wine and let it reduce for 2-3 minutes. Add the vegetable stock and sprinkle in the saffron. Simmer on low heat for 15-16 minutes, without stirring or moving the rice, until the liquid has almost all been absorbed.   
STEP 3
In the meantime, preheat the oven to 220˚C. Drizzle the paella with 2 tbsp of olive oil, transfer the paella pan into the oven, and bake for 8-10 minutes, until crispy. Remove the paella from the oven and let it sit for 15 minutes. 
STEP 4
Stir in chopped parsley and a squeeze of lemon before serving. Serve warm with lemon extra lemon wedges.
---
By Valentina Concordia
Valentina is our Food Editor, who dreams up our tasty dishes and recipes for our social channels. She has loads of experience cooking up a storm in Italian kitchens, so it's no surprise she can't live without good-quality olive oil (don't come between her and her olive oil) and fresh pasta.
---
Let us take care of dinner
After getting creative in the kitchen, give yourself the weekend off by letting us take care of dinner. Check out our delicious meals here.
Shop now