Recipes
Vegan Parkin
5min read
As tempting as it is to eat this vegan parkin right out of the oven, it becomes more gingery, soft, sticky and flavourful the longer you store it. If you can't resist and want to serve it right away, make a batch of vegan custard to go with it - it enhances its flavour and softens the cake.
While parkin gets most of its gingerbread flavour from - you guessed it - ginger, it relies on a mixture of golden syrup and treacle for its molasses-y and deep flavour. Those two ingredients are also responsible for the cake's sticky and syrupy texture, which develops over time as it sits and rests. If you don't have treacle, but have blackstrap molasses on hand, use that but make sure to add an extra 30g of golden syrup as molasses has a stronger and more bittersweet flavour than treacle. If you don't have any light brown sugar on hand, feel free to use dark brown or even caster sugar. Ingredients aside, most of the flavour and texture profile in parkin is developed by wrapping the cake and letting the cake sit for 5-10 days, once baked and cooled. If you're looking to make this and serve it on the same day, make a batch of the custard in the recipe below to spoon on top, which complements and boosts the gingerbread flavours and softens the cake slightly.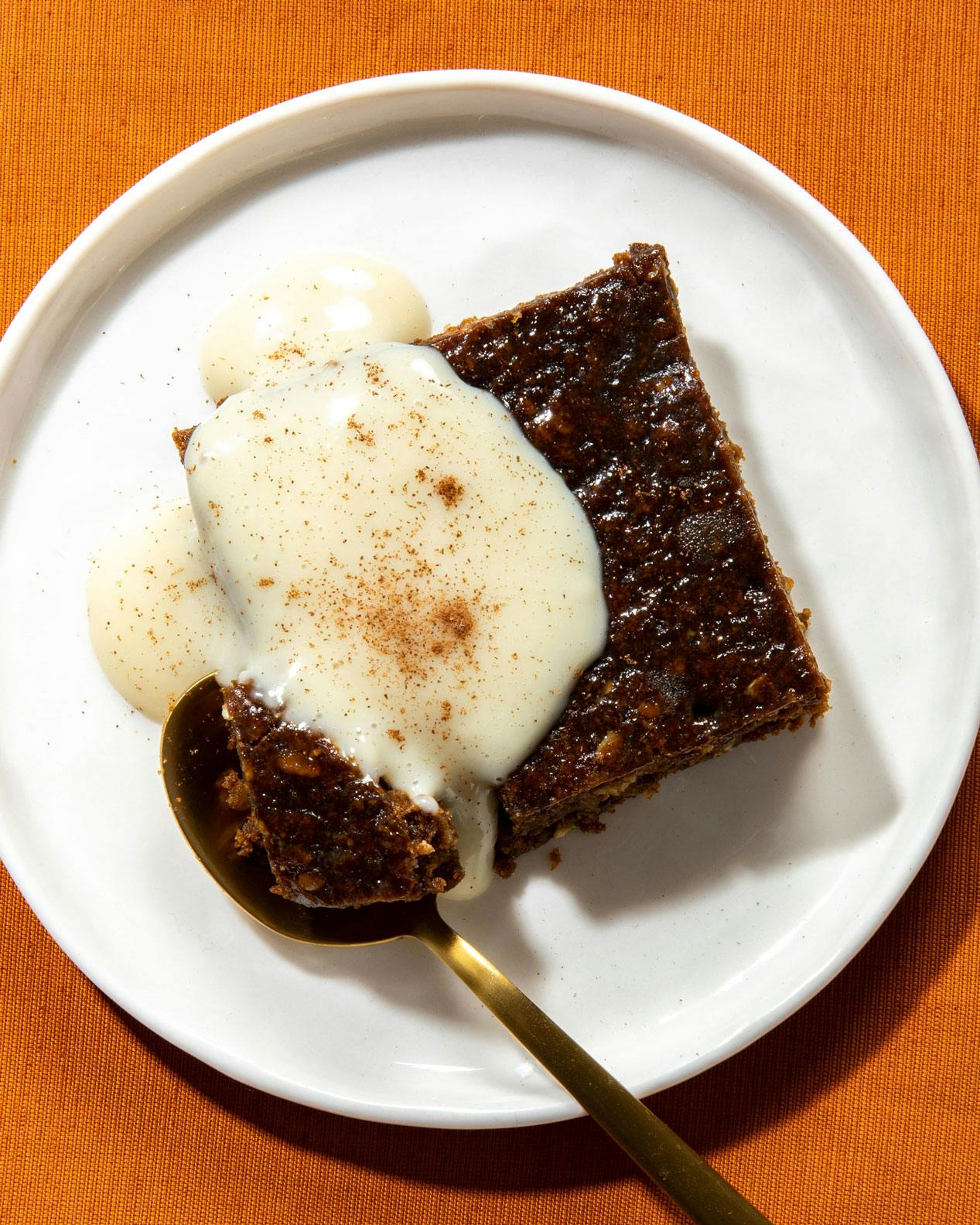 Ingredients
Parkin:
200g plant based butter
120g golden syrup 
80g light brown sugar 
80g treacle
90g oats
180g flour 
¼ tsp salt 
1 tsp baking powder
Custard (optional):
200ml plant based milk
30g caster sugar 
1 tsp vanilla paste or extract
1 tsp lemon juice
35g cornstarch 
Pinch of salt
Method
STEP 1
Preheat the oven to 170˚C and line a square baking tin with parchment paper. 
STEP 2
Add butter, treacle, golden syrup and light brown sugar to a small saucepan and heat over medium low heat. Stir whilst the butter melts and until the sugar dissolves (2-3 minutes). Remove from heat and set aside. 
STEP 3
In a large bowl combine flour, oats, salt and baking powder and whisk together. Fold the wet ingredients into the dry, until no dry spots remain. 
STEP 4
Pour the batter into the prepared baking tin. Bake the parkin for 45-50 minutes, until a toothpick inserted in the centre comes out clean. 
STEP 5
Once baked, remove the parkin from the oven and let it cool for 10 minutes before removing it from the tin and letting it cool completely. Once cool, wrap the parkin in foil and let it sit - ideally for up to a week - the longer the better!
STEP 6
If you're serving the parkin the same day as baking it, prepare the custard. Add milk, caster sugar, vanilla paste, lemon juice and a pinch of salt to a small saucepan and heat over medium heat, stirring until the sugar dissolves. 
---
By Valentina Concordia
Valentina is our Food Editor, who dreams up our tasty dishes and recipes for our social channels. She has loads of experience cooking up a storm in Italian kitchens, so it's no surprise she can't live without good-quality olive oil (don't come between her and her olive oil) and fresh pasta.
---
Let us take care of dinner
After getting creative in the kitchen, give yourself the weekend off by letting us take care of dinner. Check out our delicious meals here.
Shop now