I know buying ready made pesto is easy, so easy - I did it for a long long time. It's only once you make your own that you realise homemade pesto is in a whole other league of flavour, is so much more customisable, and just has a better feel than what usually comes in a jar. Everyone in Italy makes pesto differently and there are hundreds of ways of making authentic Italian pesto. What they all have in common, however, is using good quality ingredients as well as using enough basil, olive oil and salt. One thing that does vary is the type of nut that is being used. In Genova they stick to pine nuts alone, whereas in Sicily they tend use pistachios - I love them both and alternate based on what I have. Use what you have on hand and try them both to find your favourite.
Traditional pesto tends to have either parmesan or pecorino cheese, which gives it extra tanginess and richness. When testing this, I made a couple batches of it with nutritional yeast to try to replicate that flavour, but I found it slightly overpowering and felt it detracted from everything else going on. I tried a batch without and felt it was flavourful and rich enough on it's own. If you're a big fan of nutritional yeast, feel free to add a tablespoon's worth to test out whether it works for you - you might love it.

If you're making this recipe for a couple people rather than six, instead of halving the recipe, I'd suggest making the same quantity and simple storing it in the fridge for a week or in the freezer for a couple of months. There are so many ways to use good pesto - in salads, in sandwiches and even on its own as a snack with some fresh tomatoes. I can confidently say you will finish your jar before the week is up.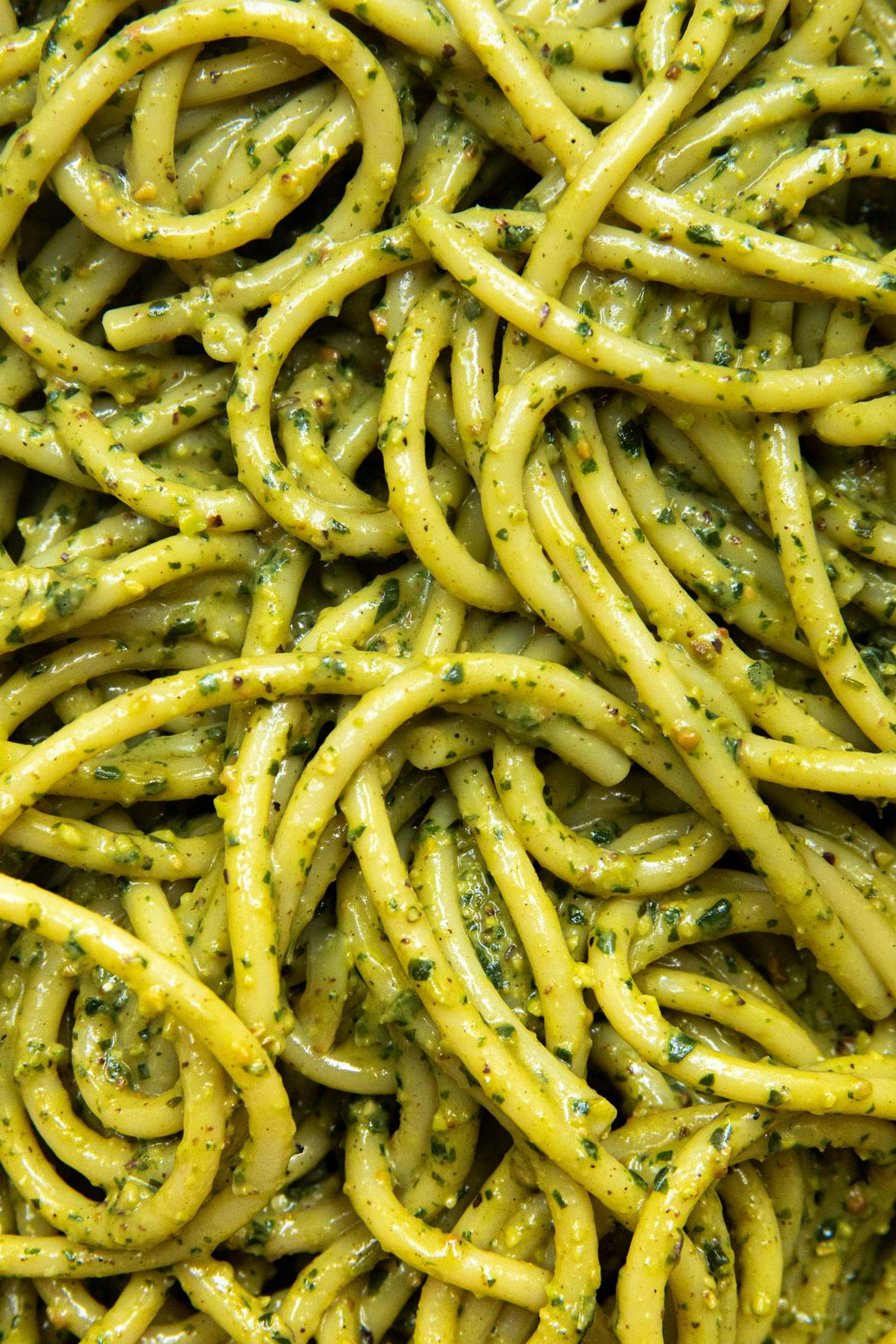 2 garlic cloves, peeled
40g pine nuts or pistachios 
80g fresh basil 
½ - 1 tsp salt, to taste
100ml olive oil
550g spaghetti or rigatoni 
20g vegan parmesan, for serving (optional)